Zestosterone Formula
Helps Maintain Healthy Testosterone Levels*
Supports Prostate Health*
Supports Strength and Libido*
Testosterone is the male hormone you can't ignore if you want to stay the man you know you can be.
Read More
Package Description:
60 veg. caps, 30 day supply
Serving Size:
2 veg. caps
Number of Servings:
30
Availability:
IN STOCK (USA Only)
Leaves warehouse
in 1-2 business days.
Testosterone—It's What Makes a Man a Man™
Testosterone is the male hormone you can't ignore if you want to stay the man you know you can be. Men generally have all the testosterone they need—when they're young. Testosterone's lauded benefits—a lean and fit body, vigorous libido, abundant energy, a sharp mind and more—might be taken for granted by guys in their 20's and 30's. Not so, in the 40's, 50's and beyond. Maintaining healthy T-levels already within the normal range is an important goal for many men who want to promote healthy aging.*
The Purity Products R & D team has formulated Zestosterone™, a unique blend of researched nutraceutical ingredients that can help maintain healthy testosterone levels.*
Support Testosterone
Finally, there's a science-based natural way to be proactive about testosterone! Purity's "Zestosterone™ Proprietary Blend contains calcium fructoborate, a unique and patented form of the trace mineral boron naturally found in fruit and vegetables. Boron is believed to play an important role in the metabolism of vitamin D and steroid hormones.*
In a 2011 published study, male volunteers gained higher testosterone levels after taking boron supplements for only one week. Other studies suggest boron has beneficial effects on prostate health.* By delivering boron as patented calcium fructoborate, Zestosterone™ takes advantage of the latest breakthroughs in the science about boron for testosterone support.*
By delivering boron as patented calcium fructoborate, Zestosterone™ takes advantage of the latest breakthroughs in the science. Unlike other testosterone formulas, only Zestosterone includes the patented form of boron to boost T levels in the short term support while also supplying a clinically tested dose of Vitamin D to promote healthy T levels over the long term.* We call that the Zestosterone Advantage.
Matching the Science on Vitamin D and Testosterone
Among its many benefits, Vitamin D is also helpful for testosterone support.* Zestosterone™ provides the exact amount used in a recent study showing that 3332 IU of vitamin D given as a daily supplement raised testosterone levels in men deficient in Vitamin D. (Pilz S, et al. Effect of vitamin D supplementation on testosterone levels in men. Horm Metab Res. Dec 10, 2010.)
Testosterone is a pivotal hormone positively correlated to a man's energy level, strength, fitness, mood, brain function, vigor, virility and libido. To further support healthy testosterone levels, Zestosterone™ also features three ingredients specially selected for testosterone and prostate health supporting benefits:
Don't Forget About Prostate Support -- with Beta Sitosterol
In conjunction with maintaining healthy testosterone levels, keeping the prostate in good shape is vital for overall male health as we age. Beta-Sitosterol, one among a family of substances found in plants called "phytosterols," is an effective natural solution for supporting prostate and urinary function in men.* In a multi center, placebo-controlled trial reported in the British Journal of Urology, 177 men took beta sitosterol daily for 6 months. Results confirmed the ability of beta sitosterol to support healthy prostate and urinary function.* Zestosterone™ delivers 130 mg of beta sitosterol per serving, the precise amount given in this landmark study.
OptiZinc® and Grape Seed Extract
Zestosterone also provides the full daily allowance of a premium grade OptiZinc® (US patents 4,764,633 and 5,278,329), a crucial "male mineral" that supports fertility, libido and helps keep the prostate healthy.* Zinc is needed for the function of nearly 300 enzymes in the body, and it is involved in many areas of health including immunity and reproductive health.* To round out the formula, Leucoselect®, a top-quality grape seed extract, is added for the circulatory support that's important to healthy reproductive function in men.*
10 Strategies for OptimumTestosterone
If you're a man, keeping your testosterone level up is probably one of your health goals. After all, testosterone--primary male hormone—is often said to be "what makes a man a man." Short of using testosterone replacement therapy, which of course should only be attempted under the guidance of a physician, are there things men can do to maintain healthy testosterone levels? While there's no magic bullet, a number of health strategies—nutritional and lifestyle approaches—show promise. Here are 10 to think about.
Optimum health on all levels requires a nutritious diet with the right balance of protein, fat and carbohydrates. To maintain a healthy testosterone level, eating the right fats is especially important. Studies have found that low fat diets can decrease testosterone, so don't skimp on the fat, just make sure you include polyunsaturated fats—both omega-3s and omega 6s--and monounsaturated fat. Saturated fat, such as found in meat is OK; in fact we need saturated fat to produce testosterone. In fact, there's evidence that eating a vegetarian diet may make it harder to keep testosterone up. (Volek JS, et al. Testosterone and cortisol in relationship to dietary nutrients and resistance exercise. J Appl Physiol 1997; 82:49-54.)

This is high on the list. Stress is a natural part of life and there's no need to try and avoid stress altogether, even if that were possible. But there's no debate about the negative effects of chronically high stress—psychological stress in particular-- on health, although we usually think about the heart and cardiovascular systems as most vulnerable to its deleterious effects. But excessive, uncontrolled stress is, in a word, bad for testosterone. This has been studied, the physical and psychological strain of intense military training, for example, has been shown to lower testosterone levels in young men. (Gomez-Merino D, et al. Immune and hormonal changes following intense military training. Mil Med 168(12):1034-8, 2003) How does stress affect testosterone? There's a direct biochemical connection through cortisol, a hormone we produce every day. Cortisol acts to raise blood glucose levels, and this is a normal part of the fight-or-flight mechanism that ensures we have the energy to flee a life-threatening situation. Chronic stress can lead to chronically elevated cortisol levels, which in turn can suppress production of testosterone in the testes. So, to keep testosterone up, keep stress under control. (Hardy MP, Ganjam VK. Stress, 11ß-HSD, and Leydig cell function. J Androl 1997;18(5):475-9.)

Being overweight is another health thief that can also rob you of testosterone. An elevated Body Mass Index (BMI; a measure of body fat) not only lowers testosterone, there's evidence it increases estrogen. Hammoud A, et al. Effect of Roux-en-Y gastric bypass surgery on the sex steroids and quality of life in obese men. J Clin Endocrinol Metab 2009;94(4):1329-32.) To avoid this anti-testosterone double whammy, by all means keep your BMI in the ideal range.

Moderate exercise, especially resistance calisthenics such as squats and bench presses that use large muscle groups, are known to produce a temporary testosterone boost. But don't overdo it. A 2008 study found that excessive endurance training decreases both free and total testosterone. (Hackney AC. Effects of endurance exercise on the reproductive system of men: the exercise-hypogonadal male condition. J Endocrinolo Invest 2008; 31(10):932-8.) Moderate regular workouts to keep your cardiovascular system healthy and body weight down, along with a sensible routine of resistance exercises, is the best approach.

On the subject of exercise, a simple exercise that you can do while standing in line at the bank, one that requires no equipment whatsoever, is the Kegel. Commonly recommended for women, expectant mothers in particular, "Kegels" strengthen the muscles of the pelvic floor. You've actually been doing Kegels since the first time you had to "hold it in" as a kid. To perform a Kegel, simply contract the muscles as if you were caught in traffic with the need to urinate. (Variations of Kegel exercises are done in Oriental exercise systems such as "Qigong" to strengthen the "Qi" or life energy.) The benefits are many; increased blood flow to the lower pelvic muscles is good for the prostate and has been shown to improve erectile function.( Dorey G, et al. Pelvic floor exercises for erectile dysfunction. BJU 2005;96(4):595-7.)

It goes without saying that getting enough sleep is prerequisite to health. Testosterone production increases during sleep, so we can't shortchange on adequate sleep and expect to have optimal testosterone. In a study reported in the Journal of the American Medical Association, sleep deprivation caused steep declines in testosterone levels. And this was in young men; middle-age and older men might have fared worse. (Research Letter. Effect of 1 Week of Sleep Restriction on Testosterone Levels in Young Healthy Men. JAMA. 2011;305(21):2173-2174.) Along with sufficient restful sleep, relaxing, stress-fighting techniques such as meditation, yoga and Tai Chi, should help you maintain testosterone in a healthy range. Try it out.

Key testosterone support vitamins include vitamin C, vitamin and B vitamins.

Vitamin C: Vitamin Chas been shown to blunt increase cortisol in marathon runners and as we've seen, anything we can do to keep cortisol from elevating is helpful for testosterone support. (Peters EM, et al. Vitamin C supplementation attenuates the increases in circulating cortisol, adrenaline and anti-inflammatory polypeptides following ultramarathon running. Int J Sports Med 2001;22(7):537-43.) Animal studies showed a positive effect of vitamin C on testosterone and sperm quality. (Sönmez M, et al. the effect of ascorbic acid supplementation on sperm quality, lipid peroxidation and testosterone levels of male Wistar rats. Theriogenology 2005; 63(7):2063-72.) Vitamin C is one of the basic dietary antioxidants, and there is evidence from animal studies that it may protect the testes from the damaging effects of toxins, while preserving testosterone at the same time. (Das UB, et al. Protective effect of ascorbic acid on cyclophosphamide- induced testicular gametogenic and androgenic disorders in male rats. Asian J Androl 2002;4(3):201-7.

Vitamin D: This versatile vitamin (actually it's a hormone) does many thing for us, and a recent study tells us it may raise testosterone levels, especially vitamin D –deficient men who are also overweight. Given the prevalence of obesity—coupled with growing agreement among scientists that most of us get far too little—we should not neglect this all-important vitamin if we want to keep testosterone up to par. (Pilz S, et al. effect of vitamin D supplementation on testosterone levels in men. Horm Metab Res 2011;43(3):223-5.)

B vitamins: B vitamins, especially pantothenic acid, are stress fighters. A good multivitamin supplement will give you enough.

Zinc: Low testosterone is a direct effect of zinc deficiency. Make sure you get enough of the "male mineral." (Prasad AS, et al. Zinc status and testosterone levels of healthy adults. Nutrition 1996; 12(5);344-80.) Zinc is an absolute must for health of your reproductive system.

Selenium: Selenium is another essential mineral that plays a key role in the male reproductive system. Sperm motility as well as the biosynthesis of testosterone requires selenium. (Margaret P, Rayman D. The importance of selenium to human health. Lancet 2000; 356(9225):233-41.)

Boron: Boron is a hormonal support mineral; studies have shown it raises testosterone in women, and for men, it increases free testosterone, the portion of total testosterone. This is important because free testosterone is the form of the hormone in the bloodstream that's available for use by the body. The rest is bound to a carrier protein called Sex Hormone Binding Globulin (SHBG). As we age, SHBG tends to rise.Boron supplementation helps to unbind testosterone from SHBG, giving us a little more "free T." (Does this sound like potential T-shirt material (no pun intended)? Maybe Free the Bound T!) (Naghii MR, et al. Comparative effects of daily and weekly boron supplementation on plasma steroid hormones and proinflammatory cytokines. J Trace Elem Med Biol 2011;25(1):54-8.)

Caution: The dietary supplement marketplace has seen a floodtide in recent years of "herbal Viagra" products that claim to turn you into the Italian stallion and add 4-6 inches to your penis size overnight. Most contain a repetitive mix of herbs that do neither thing. (The latter claimed effect is physiologically impossible; as a urologist will tell you, a man has what he is genetically endowed with and that's about it, sorry. The best you can do is to reach your maximum erectile length through blood flow.) Use with extreme caution, the only reason these products can accurately be called "herbal Viagra" is that they are often spiked with Viagra. Unfortunately, such products are illegal drugs and potentially dangerous.

That said, are there herbs and other nutraceutical ingredients that can help keep testosterone, and your anatomy, up? The science in this arena is far from mature, but a few hold promise:

Fenugreek: This common herb may turn out to be a testosterone booster. In a 2007 study, thirty men took 500 mg of fengreek or a placebo daily while also participating in a resistance training program. Those in the fenugreek group had increases in both total and free testosterone, along with increased lean body mass. (Wilborn C, et al. Effects of a purported aromatase and 5a-reductase inhibitor on hormone profiles in college-age men. Int J Sport Nutr Exerc Metab 2010;20(6):457-65.)

Ginseng: This long-popular herb is well established as a tonic for the whole body, including the reproductive system. It may possibly boost testosterone, especially in men with waning fertility. (Salvati G, et al. Effects of Panax ginseng C.A. Meyer saponins on male fertility. Panimerva Med 1996;38(4):249-54.)

Saw Palmetto: The Saw palmetto berry is rich in fatty acids and other fat-like compounds (sterols) which are known to benefit the prostate. While it has no direct effect on testosterone in the bloodstream, Saw palmetto helps prevent testosterone in the prostate gland from turning into DHT, which in turn can promote prostate enlargement. It does this by inhibiting 5-alpha reductase, an enzyme that converts T to DHT. (Raynaud JP, et al. Inhibition of type 1 and type 2 5alpha-reductase activity by free fatty acids, active ingredients of Permixon. J Steroid Biochem Mol Biol 2002;82(2-3):233-9.)

L-Arginine: This amino acid is effective at supporting healthy erectile function. It works by stimulating release of nitric oxide which relaxes blood vessels in the penis, allowing for unimpeded blood flow and a complete erection. L-arginine is especially effective when combined with other circulation enhancers like pycnogenol. While L-arginine has no known direct effect on testosterone, men taking the combination for erectile support in controlled clinical trials show measureable increases in T, likely due to the fact that their sexual activity increases. (Stanislavov R, et al. Improvement of erectile function with Prelox: a randomized, double-blind, placebo-controlled, crossover trial, Int J Impot Res, 2008;20:173-80.)

L-Citrulline: L-citrulline is an amino acid that is converted to L-arginine in the bloodstream. L-citrulline has been found to improve erection hardness. (Cormio L, et al. Oral L-citrulline supplementation improves erection hardness in men with mild erectile dysfunction. Urology. 2011 Jan;77(1):119-22.)

Plenty has been written on this subject, but one thing is clear. Sexual activity, and stimulation, increases testosterone. T is of course good for sex and the reverse is true. The two go hand in hand like, well, love and marriage. Enough said.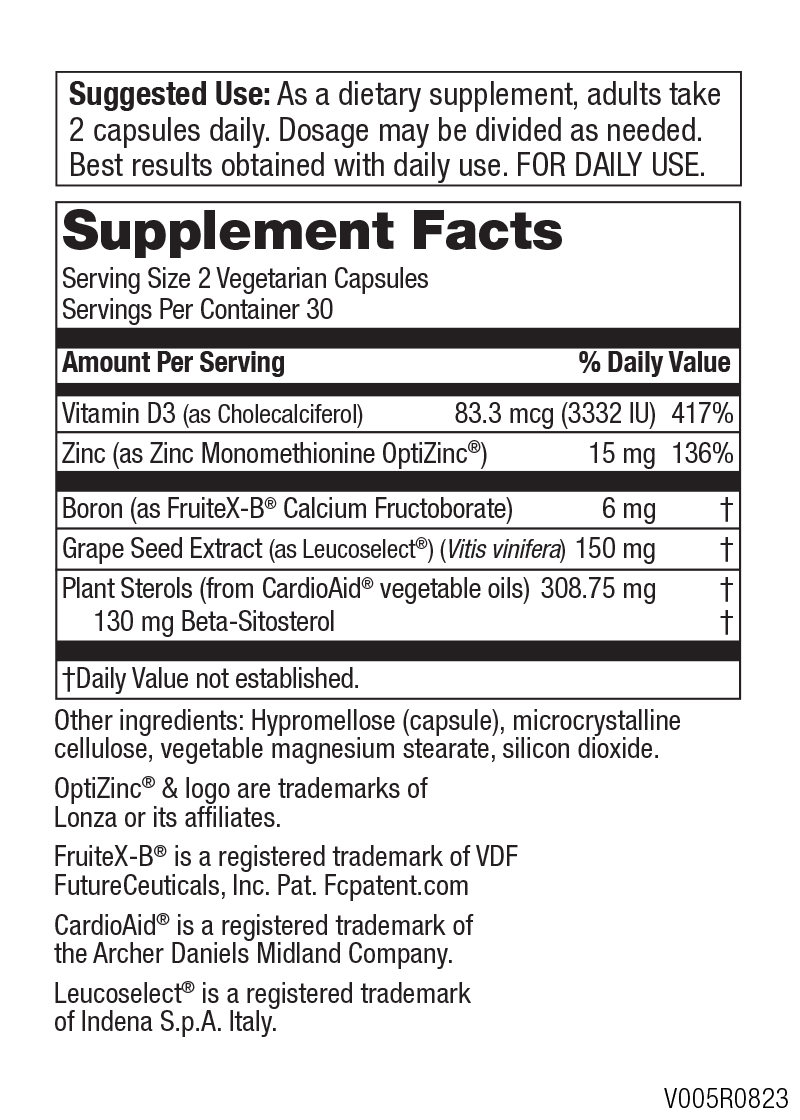 The Super Saver Advantage:
Super Saver saves you 25% and Discounted Shipping
With Super Saver you enjoy the convenience of automatic delivery and you save at least 25%! You will automatically receive a fresh supply at the shipping frequency you select. You are in charge, and you can customize or cancel your order at any time.
Order Line (24 Hr): 1-800-256-6102 Customer Care: 1-888-769-7873
Customer Care Hours: Mon-Thu 9am-9pm ET,
Fri 9am-7pm ET, Sat 9am-5pm ET
200 Terminal Drive, Plainview, NY 11803 © 2014 Purity Products
*These statements have not been evaluated by the Food and Drug Administration. These products are not intended to diagnose, treat, cure or prevent any disease.