Wrinkle Factor Ceramide Technology
Promotes a youthful skin appearance*
Maintains the skin's protective barrier against moisture loss*
Helps maintain healthy skin hydration*
Wrinkle Factors harnesses the powers of ceramides, a cutting edge lipid technology that beautifies skin while it naturally hydrates and locks in moisture.
Read More
Package Description:
30 capsules
Serving Size:
1 capsule
Number of Servings:
30
Availability:
IN STOCK
Leaves warehouse
in 1-2 business days.
Wrinkle Factor™ harnesses the powers of ceramides, a cutting edge lipid technology that beautifies skin while it naturally hydrates and locks in moisture. Ceramides were previously popular in luxurious skin creams and serums, but with Wrinkle Factor™ you can now enjoy the skin boosting benefits of ceramides from the inside out.:
Helps Maintain Healthy Skin Hydration*
Promotes a Youthful Skin Appearance*
Maintains the Skin's Protective Barrier Against Moisture Loss*
Nourishes the skin with Ceramides, lipids found in the skin that work from within to keep skin moisture inside*
Helps keep skin soft and supple*
Wrinkle Factor™ A Protective Barrier for the Skin to Seal in Moisture
It's no secret that the aging process can dramatically influence the visible appearance of the skin, particularly skin elasticity and moisture. One of the key reasons skin loses its essential moisture is the normal age-related decline in the production of a key structural compound called ceramides. Ceramides are the naturally occurring skin lipids which form the intercellular cement that composes the skin's hydrolipidic barrier. As such, ceramides are largely responsible for maintaining skin hydration, and protecting skin from the ravages of the outer environment.
Billions of dollars are spent annually on topical skin moisturizers as aging individuals attempt to rejuvenate and rehydrate aging skin. Once it was understood how ceramides work to preserve and enhance skin health and appearance, the cosmetic industry widely embraced ceramides for use in topical formulations primarily aimed at hydration therapy. Incredibly, it was recently discovered that ceramides can effectively be delivered via oral ingestion. A groundbreaking study showed that this new oral ceramide compound resulted in a dramatic improvement in skin hydration in 95% of the women who used it.
Purity's innovative new Wrinkle Factor™ delivers these amazing compounds in easy to swallow capsules, replenishing ceramides from the inside out, and over the course of several weeks, transforming the health and appearance of the skin. By helping to replace lost ceramides in the skin, Wrinkle Factor™ supports the skin's protective layer that keeps moisture from escaping, resulting in softer, healthier skin.*
The Beauty From Within Solution for Soft, Healthy Skin
Wrinkle Factor™ nourishes the skin with two important natural active lipids which act in synergy to hydrate and improve dry skins: Ceramides and DGDG (digalactosyl-diglyceride). Ceramides are naturally occurring lipids which form the intercellular cement that composes the skin hydrolipidic barrier, which helps "seal in" moisture. The digalactosyl-diglyceride, or DGDG, is another key lipid that bolsters skin by making it softer and firmer. In a randomized, double-blind, placebo-controlled trials women who supplemented with Lipowheat daily for three months experienced improved skin hydration with less skin dryness. The source of natural ceramides in Wrinkle Factor™ is Lipowheat™, a patented extract is made from wheat lipidsderived from whole wheat grains using a proprietary, non-polluting, mild extraction process. Lipowheat™ is vegetarian, organic and gluten free. Wrinkle Factor™ also provides Biotin an important vitamin for healthy skin and Bioperine® to enhance absorption.*
---
Scientific References
Guillou S, et al. The moisturizing effect of a wheat extract food supplement on women's skin: a randomized, double-blind placebo-controlled trial. Int J Cosmet Sci 2001; 33(2):138-43.
Djedour A - A very promising new glucolipidic surfactant: Lipowheat, International Journal of Cosmetic Science 2005, 27 301-8.
Boisnic S - "Intèrêt clinique d'un ingrédient alimentaire à visée hydrantante: Lipowheat Edudie randomisée en double avegule versus placebo." J. Med Esth. Et Chir. Derm., 2007, vol 34, 136:239-242.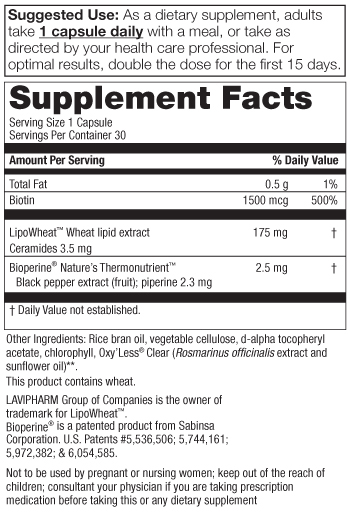 The Super Saver Advantage:
Super Saver saves you 25% and Discounted Shipping
With Super Saver you enjoy the convenience of automatic delivery and you save at least 25%! You will automatically receive a fresh supply at the shipping frequency you select. You are in charge, and you can customize or cancel your order at any time.
Order Line (24 Hr): 1-800-256-6102 Customer Care: 1-888-769-7873
Customer Care Hours: Mon-Thu 9am-9pm ET,
Fri 9am-7pm ET, Sat 9am-5pm ET
200 Terminal Drive, Plainview, NY 11803 © 2014 Purity Products
*These statements have not been evaluated by the Food and Drug Administration. These products are not intended to diagnose, treat, cure or prevent any disease.