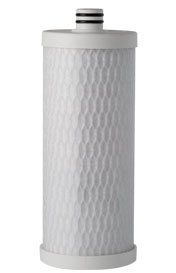 Water Pure Plus Replacement Filter
Removes virtually 100% of chlorine, lead, mercury, asbestos, cryptosporidium, rust and sediments
Saves a typical family over $1,000 a year that you would normally pay for bottle water
Environmentally friendly, no more having to deal with carrying heavy plastic water bottles or disposal
With the Water Pure Plus countertop filtration system, delicious, fresh, filtered water is conveniently at your fingertips - anytime.
Read More
Package Description:
Filter life up to 600 gallons
Serving Size:
NA
Number of Servings:
NA
Availability:
IN STOCK
Leaves warehouse
in 1-2 business days.
New inventory just arrived!
Delicious tasting water that saves you money with every glass!
The Water Pure Plus Countertop System saves you time and money – our quarterly replacement filters are only $39.95. That's just $39.95 for hundreds of gallons of pure, freshly filtered water without the expense of buying bottled water or polluting the environment with plastic containers!

If you are drinking bottled water because it's healthier than tap water, then you realize the importance of drinking pure water. However do you COOK with tap water? Use tap water for coffee or making pasta or soups? Then you're just adding those contaminants (like chlorine and sediment) back into your food.

JUST PENNIES A DAY!

For just pennies a day, you'll have enough clean, pure water for rinsing fruits and vegetables, cooking soups, boiling pasta, making that all important first cup of coffee or tea and so much more. Just think of how much it would cost to boil one pound of pasta in 8 quarts of bottled water!

With the Water Pure Plus countertop filtration system, delicious, fresh, filtered water is conveniently at your fingertips - anytime. And the SAVINGS over bottled water are substantial. An average family of four may spend as much as $1300 a year on bottled water. With the Water Pure Plus system and quarterly filter changes, you'll spend less than 25¢ a day, over the course of a year. That's a savings of over $3.00 a day just on water!

Here are just a few more reasons to order your new Water Pure Plus Replacement Filters today:
Removes virtually 100% of Chlorine, lead, mercury, asbestos, cryptosporidium, rust and sediments
Saves a typical family over $1000 a year that you would normally pay for bottle water
Environmentally friendly, no more having to deal with carrying heavy plastic water bottles or disposal
Great for coffee, tea and cooking
Half-micron, 3 stage carbon based filter... which is better than most store bought brands that are one micron
Excellent design and durability for years of clean, pure filtered water for you and your whole family to enjoy
Quick and easy filter changes can be done in less than 30 seconds

Replacing a filter is Fast and Easy
It takes only a few seconds to perform a filter change. And, unlike those store brand "pitcher-filters" you only need to change the filter once every three months! Water Pure is 100% satisfaction guaranteed. Over 50,000 customers enjoy Water Pure every day - because it beats using bottled water. Now it's your turn!



The Super Saver Advantage:
Super Saver saves you 25% and Discounted Shipping
With Super Saver you enjoy the convenience of automatic delivery and you save at least 25%! You will automatically receive a fresh supply at the shipping frequency you select. You are in charge, and you can customize or cancel your order at any time.
Order Line (24 Hr): 1-800-256-6102 Customer Care: 1-888-769-7873
Customer Care Hours: Mon-Thu 9am-9pm ET,
Fri 9am-7pm ET, Sat 9am-5pm ET
200 Terminal Drive, Plainview, NY 11803 © 2014 Purity Products
*These statements have not been evaluated by the Food and Drug Administration. These products are not intended to diagnose, treat, cure or prevent any disease.