Ultra Protein Shake - Rich Chocolate Almond
100% Vegetarian Sourced Protein
Great Chocolate - Almond Flavor
Only 96 Calories
Consuming healthy amounts of protein is crucial for maintaining healthy muscle tissue as you age. With Ultra Protein Plus, getting your protein has never been this easy, or tasted this good!
Read More
Package Description:
948 grams, 30 day supply
Serving Size:
1 scoop
Number of Servings:
30
Availability:
IN STOCK
Leaves Warehouse in 1-2 business days.
All Natural, World Class, Veggie Protein Shake
Looking for the perfect energizing snack? Purity's new Ultra Protein Plus provides a rich source of al natural, plant-based Pea Protein was well as all of the indispensable amino acids essential to health. If you've ever had trouble digesting Whey Protein, that's not a problem with Ultra Protein Plus as it's lactose free, stomach friendly and easily absorbed. Remember healthy protein levels in the diet are crucial for maintaining healthy muscle tissue as you age. With Ultra Protein, getting your protein has never been easier.
TASTES GREAT & PACKED WITH VITAMINS AND MINERALS TOO!
Ultra Protein Plus is MORE than just a protein drink. At only 96 calories per scoop, (with 18 grams of protein), this low sugar shake contains no genetically modified plant compounds and is pesticide, gluten and lactose free. Ultra Protein Plus is also loaded with an additional arsenal of vitamins and minerals such as Natural Vitamin E, Vitamin C, Folic Acid, Vitamins B-12 & B-6, a full spectrum of 15 different amino acids and much more. Great for dieters, athletes, seniors, as a healthy snack or a quick meal on the go. Enjoy our classic Vanilla Bean or Rich Chocolate Almond flavors.
This product contains tree nuts.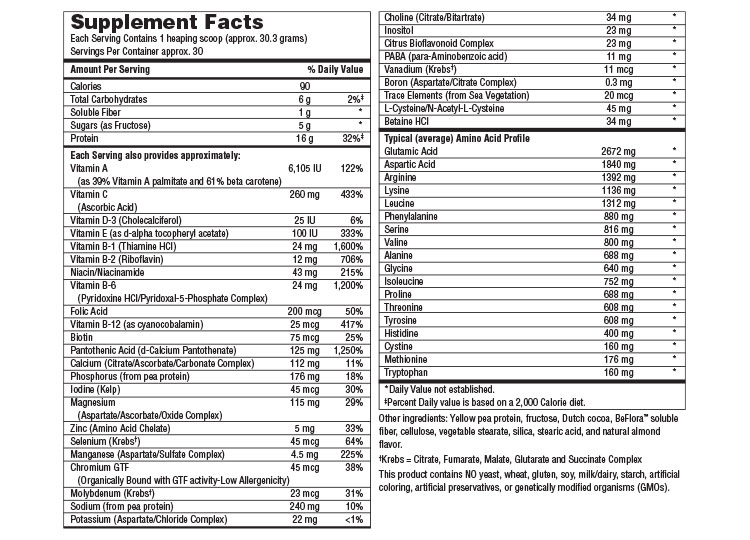 The Super Saver Advantage:
Super Saver saves you 25% and Discounted Shipping
With Super Saver you enjoy the convenience of automatic delivery and you save at least 25%! You will automatically receive a fresh supply at the shipping frequency you select. You are in charge, and you can customize or cancel your order at any time.
Order Line (24 Hr): 1-800-256-6102 Customer Care: 1-888-769-7873
Customer Care Hours: Mon-Thu 9am-9pm ET,
Fri 9am-7pm ET, Sat 9am-5pm ET
200 Terminal Drive, Plainview, NY 11803 © 2012 Purity Products
*These statements have not been evaluated by the Food and Drug Administration. These products are not intended to diagnose, treat, cure or prevent any disease.