Ultimate Vitamin C - Fabulous Flavonoids
Supports Healthy Immune Function*
Supports Collagen Biosynthesis, A Vital Factor in Maintaining Healthy Looking Skin*
Supports the Body's Natural Antioxidant Defense System*
Ultimate Vitamin C is an optimized Vitamin C formula enhanced with vitamin D and key co-factors to support the body's antioxidant and immune defenses.
Read More
Package Description:
60 Capsules, 30 day supply
Serving Size:
2 Capsules
Number of Servings:
30
Availability:
IN STOCK
Leaves warehouse
in 1-2 business days.
Vitamin C - Fabulous Flavonoids Formula Health Benefits
Supports Healthy Immune Function*
Supports Blood Vessel Health and Circulation*
Supports Healthy Collagen and Connective Tissue*
Supports Collagen Biosynthesis, A Vital Factor in Maintaining Healthy Looking Skin*
Supports the Body's Natural Antioxidant Defense System*
Helps to Protect Cellular and Tissue Health*
Immune, Heart, Bone, & Muscle Support*
Ultimate Vitamin C - Fabulous Flavonoids is an optimized Vitamin C formula enhanced with a wide array of flavonoids, plus vitamin D and key co-factors to support the body's antioxidant and immune defenses. Three different forms of vitamin C are included, to optimize the absorption of this essential vitamin for health and vitality.*
Fabulous Flavonoids - Amplifying the Antioxidant Power of Vitamin C
Pine Bark Extract: source of naturally-occurring flavonoids and antioxidants called "proanthocyanidins," that have been shown to help maintain healthy veins and support circulation.*
Diosvein: bioflavonoids from Sweet Orange; clinically researched as a natural solution for healthy circulation and venous support.*
Ferulic acid: a plant-derived antioxidant widely found in nature, ferulic acid has been shown to stabilize vitamin C, help protect cells against free-radicals and benefit the skin.*
Quercetin: another flavonoid antioxidant with a broad range of beneficial effects, including immune and skin health support.*
Cranberry, elderberry and apple extracts: cardiovascular and immune support.*
Cinnamon: one of the world's oldest spices, cinnamon delivers a number of health benefits. Studies show positive effects on cardiovascular health.*
Why Do We Need Vitamin C?
Everyone knows we need vitamin C every day to stay healthy. In fact, vitamin C plays vital roles on many levels in maintaining not only a healthy immune system but also keeping body tissues and structures strong. Vitamin C is a fundamental player in building the bricks and mortar of the body. Biosynthesis of collagen, the key connective tissue protein requires vitamin C. Connective tissue such as ligaments, tendons and cartilage need vitamin C to remain intact, which explains why in a severe state of vitamin C deficiency (known as "scurvy"), tissues lack the structural strength collagen provides and the body literally begins to fall apart.* Flavonoids have been shown to slow down the release of vitamin C into the blood which can be beneficial by virtue of keeping vitamin C blood levels healthy for a longer period in the body.*
How does Vitamin C Help Keep Skin Healthy?
Skin is a type of connective tissue. Like other connective tissues, skin is kept firm and strong by collagen. In its role as a collagen-builder, vitamin C stands out as a key skin health nutrient.*
Three Forms of Vitamin C
Ultimate C contains three forms of vitamin: ascorbic acid, magnesium ascorbate and ascorbyl palmitate. As a water-soluble vitamin, ascorbic acid is easily assimilated; in fact, studies have shown that pure ascorbic acid is absorbed as well, or better than so-called "natural" ascorbic acid in foods. Magnesium ascorbate is ascorbic acid buffered with magnesium, which has two benefits: 1) Magnesium buffers the acidity of ascorbic acid and 2) Magnesium is an essential mineral that supports general health on many levels. Ascorbyl palmitate is both water and fat-soluble.
Vitamin D
Long known as an essential vitamin for strong bones, due to its role in calcium metabolism, vitamin D has a key influence on a long list of biological functions that keep us healthy.* A flood of recent research shows vitamin D is important for cardiovascular health, immune support, healthy muscles and joints, brain health and much more.*
Suggested Use: Adults take 2 capsules daily.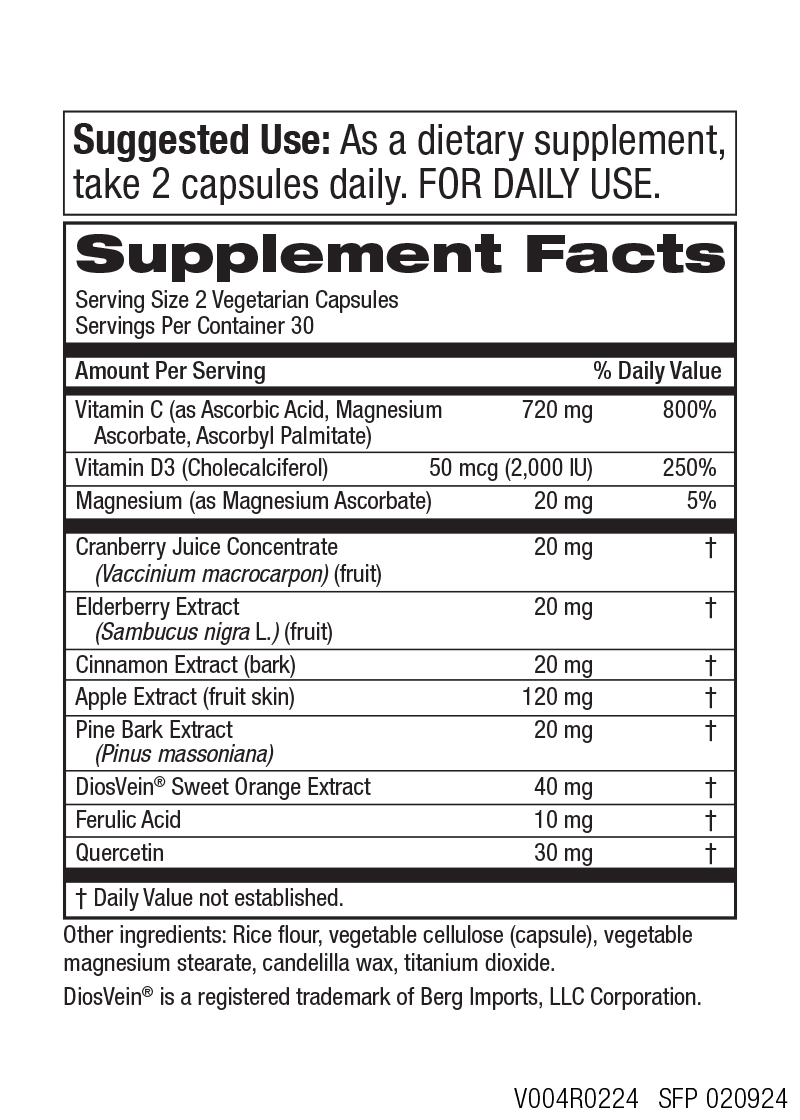 The Super Saver Advantage:
Super Saver saves you 25% and Discounted Shipping
With Super Saver you enjoy the convenience of automatic delivery and you save at least 25%! You will automatically receive a fresh supply at the shipping frequency you select. You are in charge, and you can customize or cancel your order at any time.
Order Line (24 Hr): 1-800-256-6102 Customer Care: 1-888-769-7873
Customer Care Hours: Mon-Thu 9am-9pm ET,
Fri 9am-7pm ET, Sat 9am-5pm ET
200 Terminal Drive, Plainview, NY 11803 © 2014 Purity Products
*These statements have not been evaluated by the Food and Drug Administration. These products are not intended to diagnose, treat, cure or prevent any disease.