Ultimate Sleep Formula
Supports overall sleep quality*
Promotes feelings of waking up more refreshed*
Active ingredients each shown to relieve occasional sleeplessness*
Ultimate Sleep Formula ushers in the next generation in natural sleep science. Unlike over-powering sleep aids, Ultimate Sleep Formula is designed for daily use, and works by naturally lulling or prepping the body into a relaxed state.
Read More
Package Description:
30 capsules
Serving Size:
1 capsule
Number of Servings:
30
Availability:
IN STOCK
Leaves Warehouse in 1-2 business days.
"This is important — sleep quality, dream quality, and feelings of waking up more refreshed were all enhanced by Suntheanine® and Lactium® (found in Ultimate Sleep Formula™). This is good news for people who don't get enough sleep, or those who want to optimize their sleep on a daily basis."
- Dr. Alan Pressman PhD, DC
Purity's Ultimate Sleep Formula™ ushers in the next generation in natural sleep science. Unlike over-powering sleep aids, the Ultimate Sleep Formula™ is designed for daily use, and it's active ingredients work by naturally lulling or "prepping" the body into a relaxed state. This helps the mind unwind – relieving stress and tension – and facilitates a more restful night's sleep.

Leveraging the science of two cutting edge nutraceuticals, Ultimate Sleep Formula™ is a dual action formula with Suntheanine® which stimulates the activity of relaxing alpha waves during sleep and Lactium® which reduces stress response in the brain.

Combining the attributes of these two advanced sleep technologies – Suntheanine® and Lactium® – can help people to (1) fall asleep faster (2) sleep more soundly and (3) awaken revitalized. Both Lactium® and Suntheanine® have been well researched separately in dozens of clinical studies with statistically significant results. Ultimate Sleep is safe, natural, effective and can be taken every day.
Suntheanine® - The Alpha Wave Secret
Clinical research suggests that 50 mg - 200 mg Suntheanine® naturally stimulates activity in the brain known as alpha waves, which are associated with a relaxed but alert mental state. Because this mechanism of action promotes a calming state without causing drowsiness, Suntheanine® can be used during day, or as a sleep aid.
Lactium®: How Does It Work?
Because Lactium® has a high and selective affinity for some receptors in the brain called GABA-A receptors, Lactium® stimulates the activity of Gamma-Amino Butyric Acid (GABA), a neurotransmitter known to play a role in the stress response in the brain.

This mechanism of action therefore results in Lactium's relaxing properties. Lactium® is a hydrolysate of milk proteins that contain a bioactive decapeptide with proven relaxing properties which may be used to help cope with normal stress from daily life. Lactium® allows you to regulate the body's mechanisms of adaptation and stress prevention.

Six rigorous scientific studies on humans established proof of Lactium's effectiveness in helping manage stress symptoms. It is these relaxing properties that make Lactium an ideal sleep support ingredient.*
Lactium® Research Conclusions
The study volunteers who took Lactium® at 150 mg a day (1 Ultimate Sleep Formula™ capsule) declared significant benefits of the main stress symptoms:
Sleep: + 66 %
Memory and concentration: + 139 %
Mood: + 95 %
Tenseness: + 105 %
Ingredients In The Ultimate Sleep Formula™ Deliver These Benefits:
Supports sound sleep and enhances dream quality*
Promotes healthy, restful sleep*
Increased sleep efficiency, which results in a feeling of extended sleep periods*
Relief from symptoms associated with occasional stress*
Facilitates relaxation prior to sleep*
Soothes occasional restlessness prior to sleep*
Improved diurnal (daytime) alertness*
Proven to enhance sleep quality index scores by objective measurements in clinical trials*
Lowers frequency of awakening during sleep*
Clinically demonstrated to support healthy sleep that leads to feeling more refreshed after awakening*
Clinical studies indicate that enhanced sleep quality provides healthy daytime mood*
Promotes relaxation to relieve occasional sleeplessness*
Ultimate Sleep promotes the maintenance of normal cognitive function by supporting healthy sleep patterns*
This product contains dairy.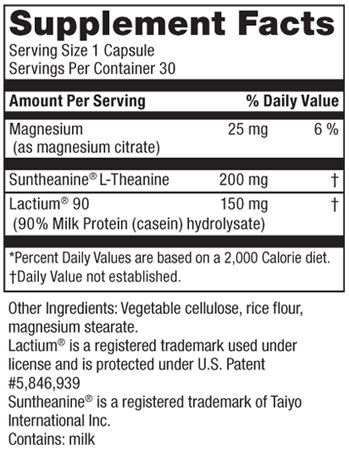 The Super Saver Advantage:
Super Saver saves you 25% and Discounted Shipping
With Super Saver you enjoy the convenience of automatic delivery and you save at least 25%! You will automatically receive a fresh supply at the shipping frequency you select. You are in charge, and you can customize or cancel your order at any time.
Order Line (24 Hr): 1-800-256-6102 Customer Care: 1-888-769-7873
Customer Care Hours: Mon-Thu 9am-9pm ET,
Fri 9am-7pm ET, Sat 9am-5pm ET
200 Terminal Drive, Plainview, NY 11803 © 2014 Purity Products
*These statements have not been evaluated by the Food and Drug Administration. These products are not intended to diagnose, treat, cure or prevent any disease.