Ultimate Prostate Formula
Support the Health of the Prostate*
Maintain Healthy Prostate Function*
Support Bladder Health and Normal Urine Flow*
As men age, taking care of their prostate health becomes increasingly important. Ultimate Prostate Formula™ delivers comprehensive support for a healthy prostate.*
Read More
Package Description:
90 tablets, 30 day supply
Serving Size:
3
Number of Servings:
30
Availability:
IN STOCK
Leaves warehouse
in 1-2 business days.
As men age, taking care of their prostate health becomes increasingly important. The Ultimate Prostate Formula™ delivers comprehensive support for a healthy prostate.*
The Ultimate Prostate Formula™ delivers key ingredients to nutritionally support a healthy prostate.* Each 3 tablet serving of the Ultimate Prostate Formula™ contains 1152 mg Saw Palmetto, 300 mg Stinging Nettle Extract, 300 mg of Phyto Sterols, 7 mg Lycopene, 15 mg zinc, selenium and more.
The Ultimate Prostate Formula™ can:
Support the Health of the Prostate*
Maintain Healthy Prostate Function*
Support Bladder Health and Normal Urine Flow*
This product contains soybean.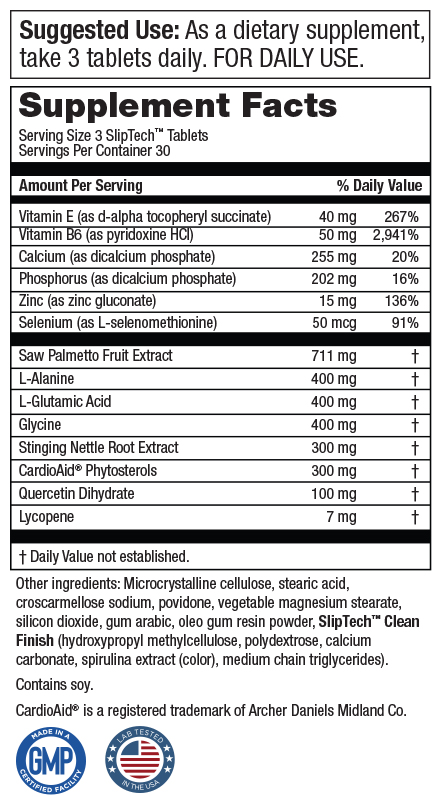 The Super Saver Advantage:
Super Saver saves you 25% and Discounted Shipping
With Super Saver you enjoy the convenience of automatic delivery and you save at least 25%! You will automatically receive a fresh supply at the shipping frequency you select. You are in charge, and you can customize or cancel your order at any time.
Order Line (24 Hr): 1-800-256-6102 Customer Care: 1-888-769-7873
Customer Care Hours: Mon-Thu 9am-9pm ET,
Fri 9am-7pm ET, Sat 9am-5pm ET
200 Terminal Drive, Plainview, NY 11803 © 2014 Purity Products
*These statements have not been evaluated by the Food and Drug Administration. These products are not intended to diagnose, treat, cure or prevent any disease.