Triple Greens Powder®
Supports Healthy Energy levels*
Heart and Brain Health Support*
Supports Healthy Immune Function*
Each delicious scoop of Triple Greens® delivers key fruits, vegetables and fiber needed to fill the nutritional gaps associated with a suboptimal diet.
Read More
Package Description:
364.8 grams, 30 day supply
Serving Size:
13 Grams
Number of Servings:
30
Availability:
IN STOCK
Leaves warehouse
in 1-2 business days.
Unleash The Power of Greens!
We are all looking for an easy, convenient way to live healthier, feel better and enjoy the benefits of fruits, vegetables, berries, fiber and dark greens in our diet. That's why we created Triple Greens®, to be your shortcut to better health.*
The Power of 9 Servings Of Greens In Every Scoop
Experts agree, one of the top secrets to radiant health, strong immunity and high energy levels, lies in eating a healthy diet, rich in phytonutrients, fruits and greens. As a matter of fact, we need more than just the standard 5 servings a day. Now the bar has been raised and 7-9 servings of fruits and vegetables are recommended EVERY day, and the vast majority of us fall short!
Did you know that only 4% of the population consumes the 7-9 servings (7 for women; 9 for men) of fruits and vegetables every day, as recommended by the National Cancer Institute. That's why Triple Greens® makes sense. It delivers incredible antioxidant and phytonutrient (plant antioxidant) power. Bursting with ORAC (antioxidant) power, the new apple flavored Triple Greens scored over 10,000 ORAC units per serving on its latest lab test - the antioxidant equivalent of over 9 servings of fruits and vegetables.
The Easy Way To Get Your Greens
Best of all, Triple Greens® tastes great! Each 13 gram scoop of the powder is reinforced with abundant levels of berries, fruits, vegetable extracts, wheat grass, spirulina, broccoli, spinach, kale, probiotics, green tea and much more. And no blender is needed, just mix in water or juice and enjoy.
Superior Quality Is The Key
All the ingredients used in Purity's Triple Greens® are of the highest quality and freshness. The fruits and vegetables are low temperature processed to retain their natural goodness. Preserving the purity of Nature's vital nutrients and antioxidants requires the most gentle 21st Century processing. The Freeze Drying and RapiDry™ technologies immediately lock in the goodness of nature...right on the farms...and right after the harvest! TargeTest™ bio-testing platform allows us to ensure the safety and specific bio-activity of our ingredients. This is done to retain the natural color, flavor, and nutritional value of each. The extracts used are selected for their high yield of active constituents. Many of the fruits and vegetables in Triple Greens® are organic and all are pesticide free.
Purity's Triple Greens® Delivers 3 Key Factors:
Super Fruits like strawberries, blueberries, bilberries, raspberries, bananas and cranberries for their healthy aging factors.*
Dark Greens like kale, spinach, broccoli, parsley and green tea for their immune and energy support.*
Healthy Fiber & Flax - 3 grams of fiber and 2 grams of flax powder per serving to support regularity and heart health*
Powerful Support With Triple Greens
As a dietary supplement, Triple Greens provides a smorgasbord of health sustaining fruit and vegetable concentrates.*
By taking Triple Greens you will fortify your body with the natural antioxidant protection of fruits and vegetables.*
Vegetable extracts contain phytonutrients that buttress the body's antioxidant defenses.*
Cruciferous vegetables such as broccoli and kale deliver multiple health benefits.*
Daily intake of vegetables is part of an optimal diet for maintaining cardiovascular health.*
Triple Greens contains a blend of powerful and naturally derived polyphenols, a family of antioxidants that have been scientifically proven to promote health throughout the body and prevent the accumulation of free-radicals in the body.*
This product contains soybean and wheat and/or wheat products.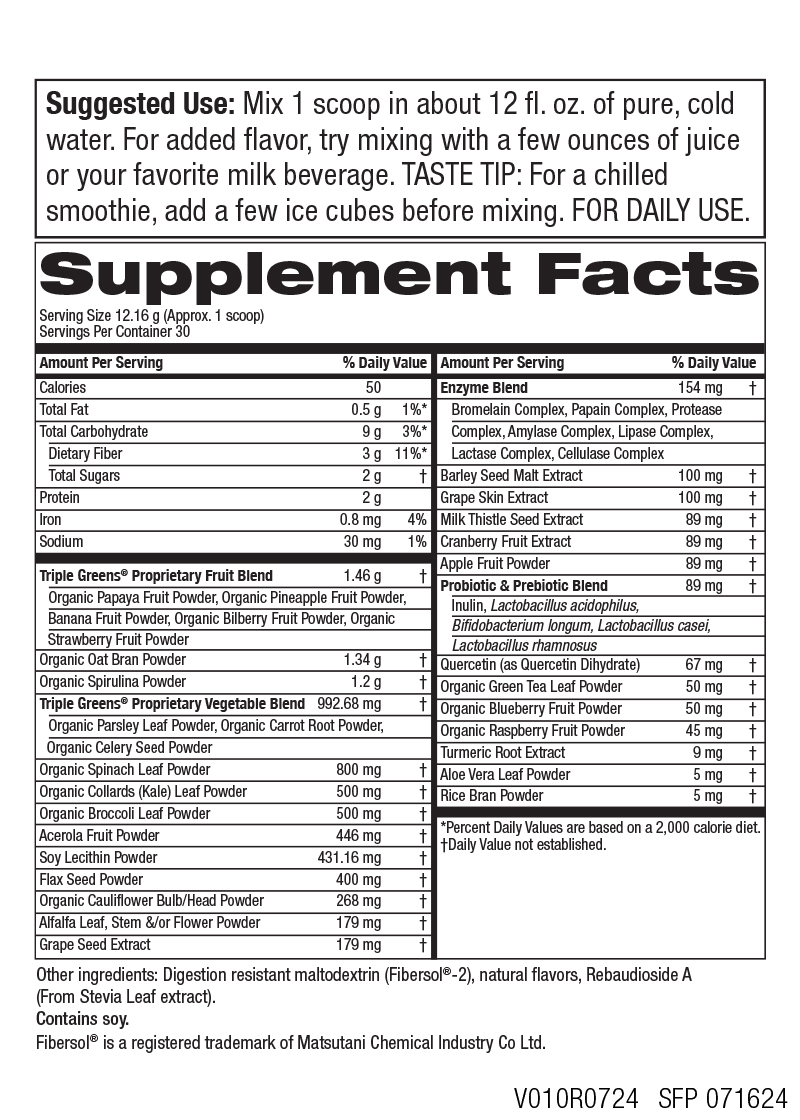 The Super Saver Advantage:
Super Saver saves you 25% and Discounted Shipping
With Super Saver you enjoy the convenience of automatic delivery and you save at least 25%! You will automatically receive a fresh supply at the shipping frequency you select. You are in charge, and you can customize or cancel your order at any time.
Order Line (24 Hr): 1-800-256-6102 Customer Care: 1-888-769-7873
Customer Care Hours: Mon-Thu 9am-9pm ET,
Fri 9am-7pm ET, Sat 9am-5pm ET
200 Terminal Drive, Plainview, NY 11803 © 2014 Purity Products
*These statements have not been evaluated by the Food and Drug Administration. These products are not intended to diagnose, treat, cure or prevent any disease.