The Rainbow Pack
Our Top Selling Phytonutrient Drinks all for One Low Price
4 Delicious Flavors in One Pack
Featuring Amazing Oranges, Perfect Purples, Super Reds and Triple Greens
Receive all of the nutritional power of each our great tasting phytonutrient drinks in one great variety pack.
Read More
Package Description:
1 bottle of each, 30 day supply
Serving Size:
NA
Number of Servings:
NA
Availability:
IN STOCK
Leaves Warehouse in 1-2 business days.
If you're like most people you probably don't eat the recommended 7-9 servings of fruits and vegetables everyday. By supplementing with The Rainbow Pack, you will get the equivalent of 5 to over 9 servings of fruits and vegetables with each scoop.
Super Reds
Is loaded with nutrient dense fruits, berries and phytonutrients, plus a rich variety of greens, flax, brain nutrients (such as blueberries and PS) and a full 3 grams of Fiber. Super Reds promotes health, energy and wellness by delivering key plant nutrients often missing in our diets.* Due to the concentrated fruit extracts, each serving of Super Reds contains a minimum of 3,000 ORAC units - the antioxidant equivalent of 5 servings of fruits a day. Super Reds is perfect for people who routinely miss out on the health benefits of greens and phytonutrients. Yeast free and vegetarian, Super Reds will help you maintain your health every day.
Perfect Purples
Is a delicious healthy-aging drink mix that combines 19 nutrient rich whole foods and vegetable and extracts including blueberries, blackberries, black raspberries, plums and more. It is well established that some of nature's most protective foods are darkly covered fruits and vegetables because they are rich in antioxidants such as phenols, anthocyanins, ellagic acid, proanthocyanidins, bioflavonoids and Vitamin C. These phytonutrients provide a variety of health benefits including support for your heart, eyes, skin and brain.* With Perfect Purples™, you can nourish your body using nature's most vibrant phytonutrients.
Triple Greens
Providing 3 KEY nutritional factors to supercharge your health: (#1)Super Fruits (#2)Dark Green Vegetables (#3)Healthy Fiber. Experts agree, one of the top secrets to radiant health, strong immunity and high energy levels, lies in eating a healthy diet, rich in phytonutrients, fruits and greens. As a matter of fact, we need more than just the standard 5 servings a day. Now the bar has been raised and 7-9 servings of fruits and vegetables are recommended EVERY day, and the vast majority of us fall short!
That's why Triple Greens® makes sense. It delivers incredible antioxidant and phytonutrient (plant antioxidant) power. Each scoop contains 5000+ ORAC units (the antioxidant equivalent of 9+ servings of fruits and vegetables). Best of all, Triple Greens® tastes great! Each 13 gram scoop of the powder is reinforced with abundant levels of berries, fruits, vegetable extracts, wheat grass, spirulina, broccoli, spinach, kale, probiotics, green tea and much more. And no blender is needed, just mix in water or juice and enjoy.
Amazing Oranges
Is the delicious and convenient way to fight occasional fatigue and stress while supporting energy levels and stamina.* Enjoy an energizing glass of Amazing Oranges anytime you want to feel alive, alert, active and vital. This antioxidant rich**, triple action blend features 3 select classes of phytonutrients -- Carotenoids, Polyphenols and Bioflavonoids – amplified with Vitamins C** and D to support healthy energy, endurance and mental clarity.*
Super Reds contains no milk, eggs, wheat, tree nuts, fish, shellfish or gluten.
Amazing Oranges & Perfect Purples contains no milk, eggs, soy, wheat, tree nuts, fish, shellfish or gluten.
Triple Greens contains no milk, eggs, tree nuts, shellfish or gluten.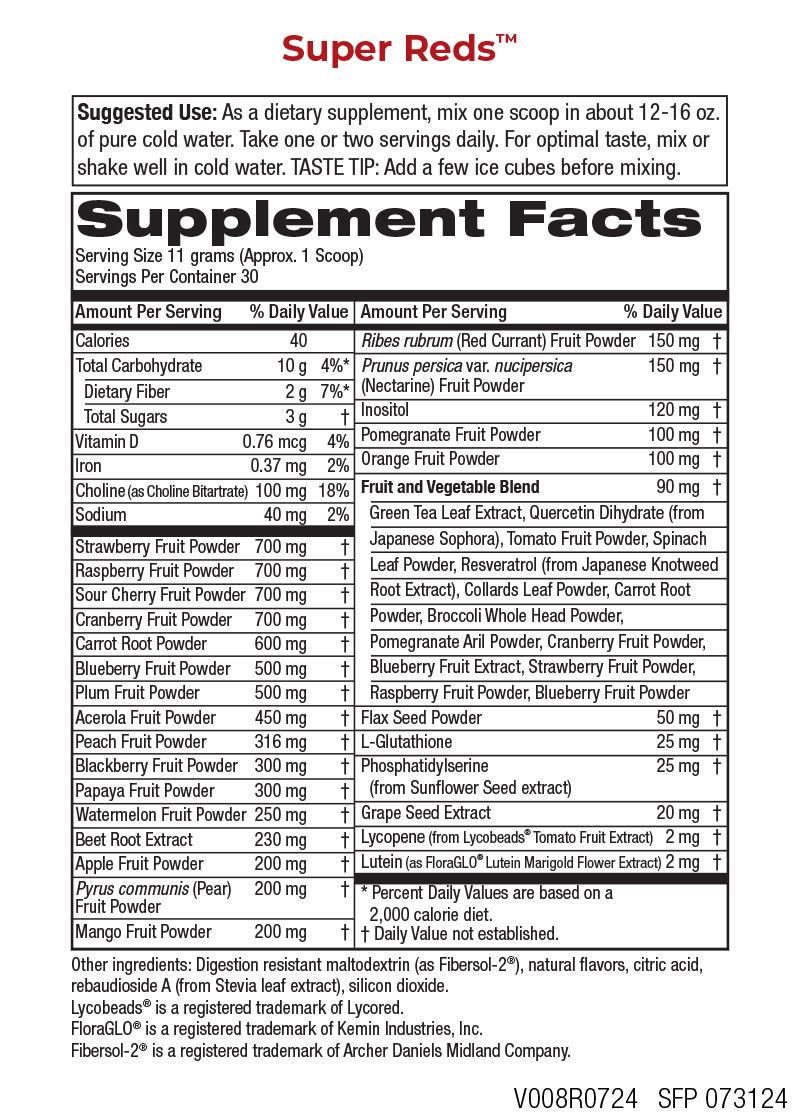 The Super Saver Advantage:
Super Saver saves you 25% and Discounted Shipping
With Super Saver you enjoy the convenience of automatic delivery and you save at least 25%! You will automatically receive a fresh supply at the shipping frequency you select. You are in charge, and you can customize or cancel your order at any time.
Order Line (24 Hr): 1-800-256-6102 Customer Care: 1-888-769-7873
Customer Care Hours: Mon-Thu 9am-9pm ET,
Fri 9am-7pm ET, Sat 9am-5pm ET
200 Terminal Drive, Plainview, NY 11803 © 2012 Purity Products
*These statements have not been evaluated by the Food and Drug Administration. These products are not intended to diagnose, treat, cure or prevent any disease.