The Presidents Pack: Super Wellness Kit
Designed Exclusively by Jahn Levin, President of Purity Products
Convenient, Powerful, Dynamic Formulas
Features the Purity Pack, Super Reds and Co-Q Daily with Resveratrol
Are you looking to support healthy aging, along with heart, brain and immune health? Are you taking tons of pills? I created this convenient kit to cover all the bases while providing a powerful antioxidant punch. -- Jahn Levin, President, Purity Products
Read More
Package Description:
1 bottle or box of each, 30 day supply
Serving Size:
NA
Number of Servings:
NA
Availability:
IN STOCK
Leaves Warehouse in 1-2 business days.
Are you looking to support healthy aging, along with heart, brain and immune health? Are you taking tons of pills? That's why I created The Presidents/Super Wellness Pack with Super Multi Packets, Omega-3 Fish Oil, Co-Q + Resveratrol and Super Reds. This is Purity's flagship Combo pack - it keeps it simple - and covers all the bases while providing a powerful antioxidant punch.
Between the 4 capsules of our NSF certified and top rated Perfect Multi Super Greens, 1000 mg of Super concentrated, Pharmaceutical grade Fish Oil, 150 mg of Co-enzyme Q10, plus the great tasting Super Fruits and Fiber found in Super Reds and the clinically tested ResVida® Resveratrol - this is one elite, evidence based daily regimen. Try taking my well crafted nutritional regime and I believe you are going to find that your health prospers. It's all you need to powerfully support heart, joints, skin, immunity, focus, digestion, circulation, healthy aging and more.
Total Body Wellness Support - Incredible Price*
Because I know how many of our customers are looking for the best way to support healthy aging, heart, brain and skin health...and still not break the bank. I am pleased to offer our "President's Pack: Super Wellness Kit" at an incredible price for our web customers only.
-- Jahn Levin, President, Purity Products
The Purity Pack has 3 Core Formulas (Perfect Multi Super Greens Blend, Pharmaceutical grade Omega - 3 Fish Oils) in 1 Easy to Take Packet.
Co-Q Daily with Resveratrol provides a full 100 mg of highly absorbable Coenzyme Q10, plus 1000 IU of Vitamin D, 2,000 IU of Vitamin A and 30 mg of high potency, ResVida® Resveratrol.
Super Reds is loaded with nutrient rich berries, fruits and potent plant extracts to support immune system function.*
Co-Q-Omega contains no milk, eggs, wheat, tree nuts, shellfish or gluten.
Co-Q Daily Plus Resveratrol contains no milk, eggs, soy, wheat, tree nuts, fish, shellfish or gluten.
Super Reds contains no milk, eggs, wheat, tree nuts, fish, shellfish or gluten.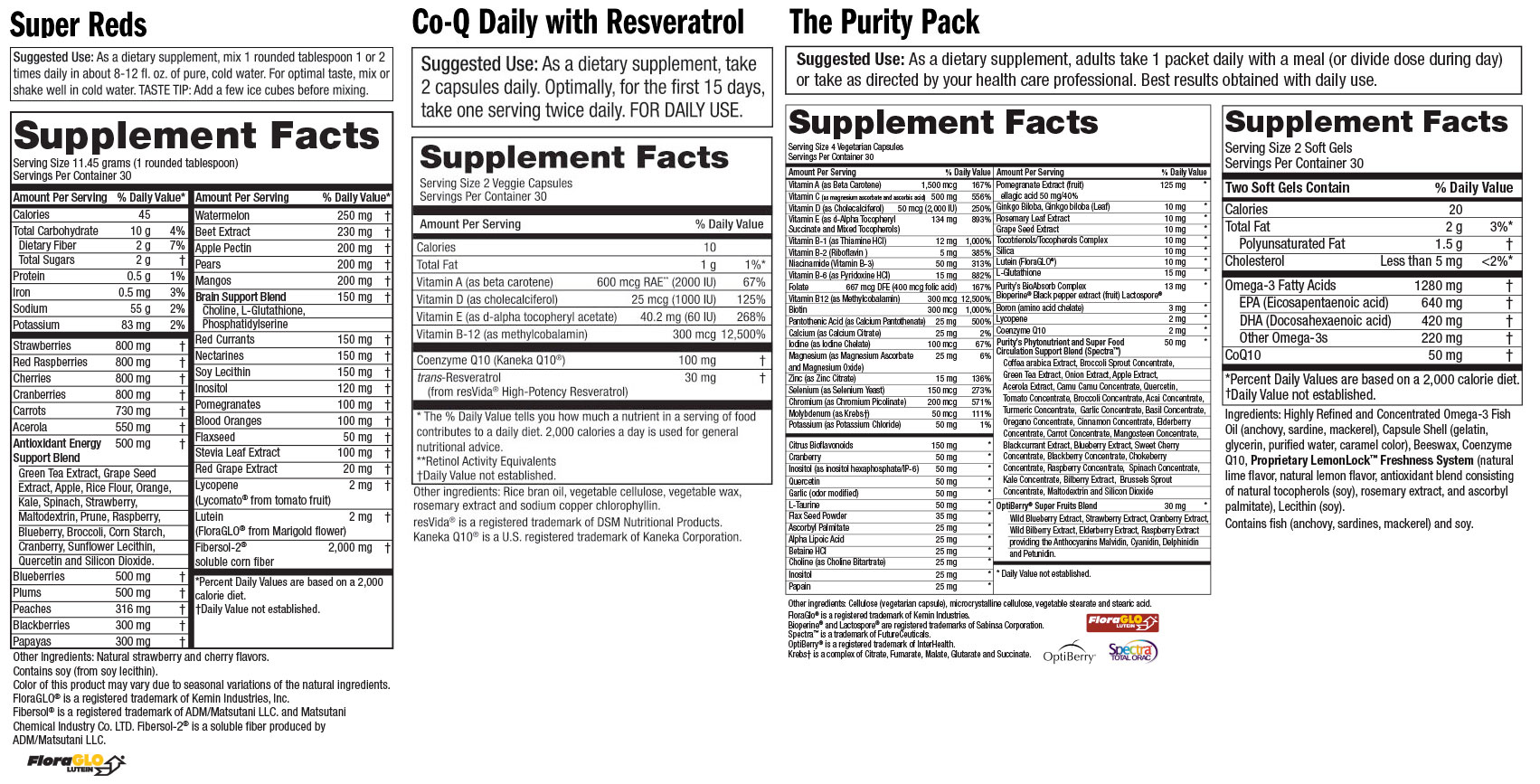 Order Line (24 Hr): 1-800-256-6102 Customer Care: 1-888-769-7873
Customer Care Hours: Mon-Thu 9am-9pm ET,
Fri 9am-7pm ET, Sat 9am-5pm ET
200 Terminal Drive, Plainview, NY 11803 © 2012 Purity Products
*These statements have not been evaluated by the Food and Drug Administration. These products are not intended to diagnose, treat, cure or prevent any disease.