TendoMagic
Natural Tendon and Joint Support*
Helps Maintain the Normal Function of Tendon Tissues*
Supports Tendon Comfort and Joint Function*
TendoMagic provides a cutting edge blend featuring Type I Collagen, which promotes the tensile strength and the normal function of tendon tissues, while supporting tendon comfort and healthy joint function.*
Read More
Package Description:
60 capsules
Serving Size:
2 capsules
Number of Servings:
30
Availability:
IN STOCK
Leaves warehouse
in 1-2 business days.
TendoMagic™— A Special Formula for Healthy Tendon Support*
TendoMagic™ provides a cutting edge blend featuring Type I Collagen, which promotes the tensile strength and the normal function of tendon tissues, while supporting tendon comfort and healthy joint function.*
Don't Neglect Your Tendons
When it comes to the health of the musculo-skeletal system, we tend to focus mainly on joints, bones and muscles. Many products exist which support healthy joint function, but often they fail to nourish the health, function and strength of tendons. If you want to enjoy the activities you love in comfort, you can't afford to neglect this vital important part of your anatomy—the tendons. Muscles make bones move, but tendons connect your muscles to your bones. If you want to enjoy free and easy movement, you must give attention to the health of your tendons.
Tendons are made of fibrous connective tissue. Simply put, tendons are composed of collagen fibers wrapped in a matrix of complex proteins called "mucopolysaccharides." In order to function, tendons must be tough, but they must be flexible, too. Unfortunately, as we age, the toughness—and flexibility—of our tendons tends to diminish. The good news is that we can do something about it, by nourishing our tendons and joints with the ingredients in TendoMagic™.
Dynamic Tendon Support
TendoMagic™ features a special proprietary blend of three ingredients that help build the bricks and mortar of connective tissue: Collagen Type I, mucopolysaccharides and hyaluronic acid.* The specific combination of Collagen Type I and mucopolysaccharides in TendoMagic™ has been researched for its beneficial effect on tendons.* In an observational clinical trial, 80 people active in sports reported improvements in ability to enjoy physical activities comfortably after taking this combo for 90 days.1
The Power of "H.A."
Hyaluronic acid belongs to another group of substances in connective tissue called "glycosaminoglycans." Also known as "HA", hyaluronic acid helps keep joint cartilage healthy. HA is an important component of "synovial fluid", which lubricates joints, allowing them to move freely without friction.* That allows you to move freely, in comfort.
TendoMagic™ also contains Vitamin C for additional connective tissue support. Among its many essential roles, Vitamin C is required for the formation of collagen, the protein that forms the structural support framework in connective tissue.*
References
Nadal, F., Bové, T., Sanchís, D., and Martínez-Puig, D. Presented at 14th World Congress on Osteoarthritis (OARSI), 2009, Montreal.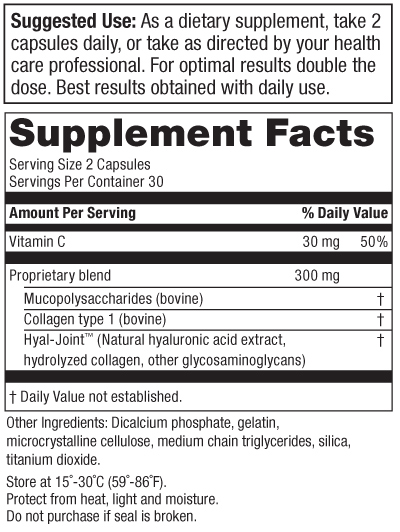 The Super Saver Advantage:
Super Saver saves you 25% and Discounted Shipping
With Super Saver you enjoy the convenience of automatic delivery and you save at least 25%! You will automatically receive a fresh supply at the shipping frequency you select. You are in charge, and you can customize or cancel your order at any time.
Order Line (24 Hr): 1-800-256-6102 Customer Care: 1-888-769-7873
Customer Care Hours: Mon-Thu 9am-9pm ET,
Fri 9am-7pm ET, Sat 9am-5pm ET
200 Terminal Drive, Plainview, NY 11803 © 2012 Purity Products
*These statements have not been evaluated by the Food and Drug Administration. These products are not intended to diagnose, treat, cure or prevent any disease.