Green Coffee Bean Super Formula with Raspberry Ketones
Clinically researched ingredients - Green Coffee Bean Extract + Raspberry Ketones
Promotes a lean body and healthy body weight*
Helps the body maintain a toned appearance*
Green Coffee Bean Super Formula with Raspberry Ketones is a unique new supplement that helps maintain a healthy body weight by supporting efficient metabolism of fat.*
Read More
Package Description:
60 capsules, 30 day supply
Serving Size:
2 capsules
Number of Servings:
30
Availability:
IN STOCK
Leaves warehouse
in 1-2 business days.
Green Coffee Bean Super Formula is the Best of Both Worlds -- Green Coffee Bean Extract + Raspberry Ketones
Green Coffee Bean Super Formula™ is an elite, new supplement that helps maintain a healthy body weight by supporting efficient metabolism of fat.* Green Coffee Bean Super Formula™ combines two effective fat-burning ingredients-Svetol® Green Coffee bean extract and Razberi-K® Raspberry ketones-plus Vitamin D to promote lean body mass.* With Green Coffee Bean Super Formula you are taking advantage of two of Nature's leading fat loss compounds which together can help you reach your weight loss goals.
Svetol® An Elite Green Coffee Bean Extract with Proven Slimming Action
Svetol® is a proprietary decaffeinated green coffee bean extract that features a profile of active components called "chlorogenic acids." Safe and natural compounds found in a number of commonly consumed foods, chlorogenic acids exhibit health benefits. Scientific studies, in both animals and humans, have confirmed the effects of green coffee bean extract - and chlorogenic acids specifically - on fat metabolism.* Chlorogenic acids appear to support the body's ability to turn fat into energy and reduce fat accumulation. In a clinical study of 50 people aged 19 to 75, subjects taking Svetol® achieved significant decreases in Body Mass Index (BMI) compared to those given a placebo. These results were attributed to Svetol®'s effect on reducing fat reserves. Bioavailability studies have shown that chlorogenic acids in Svetol® are well absorbed in the digestive tract.
Razberi-K the Raspberry Ketone Metabolic Enhancer
Featured on major network television, raspberry ketones are gaining rapid attention in the scientific world as a safe and natural aid to healthy weight control. Razberi-K® contains one particular raspberry ketone that is especially effective in supporting reduction in body fat.* As a follow-up to studies showing that Razberi-K® promotes fat-burning in animal models, a double-blind, placebo-controlled pilot study was conducted on a group of athletic men and women to test the effect of Razberi-K® on fat burning after exercise. A trend toward increases fat burning was observed 30 minutes post exercise in subjects who took Razberi-K®.
Vitamin D Supports Healthy Weight Management
Among its many better known health benefits, vitamin D helps maintain a healthy body composition.* Two large surveys of nearly 20,000 men and women show that higher vitamin D intakes correlate with lower BMI. In a group of people 65 and older, lower body fat percentages were shown to be similarly connected to higher blood levels of D. In a large, randomized double-blind study, 36,282 postmenopausal women aged 50 to 79 consumed either a placebo of a combination of vitamin D plus calcium daily for seven years. The supplemented women experienced slight but statistically significantly smaller increases in body weight.
Clinically researched ingredients - Green Coffee Bean Extract and Raspberry Ketones
Promotes a lean body and healthy body weight*
Helps the body maintain a toned appearance*
Supports the conversion of fatty acids to metabolic energy*
Supports a Healthy Metabolism*
Supports Healthy Energy Levels*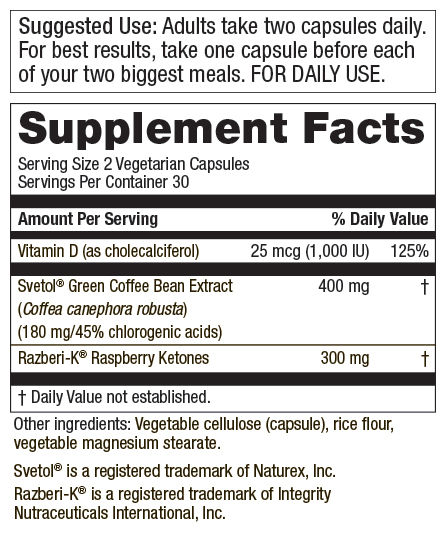 The Super Saver Advantage:
Super Saver saves you 25% and Discounted Shipping
With Super Saver you enjoy the convenience of automatic delivery and you save at least 25%! You will automatically receive a fresh supply at the shipping frequency you select. You are in charge, and you can customize or cancel your order at any time.
Order Line (24 Hr): 1-800-256-6102 Customer Care: 1-888-769-7873
Customer Care Hours: Mon-Thu 9am-9pm ET,
Fri 9am-7pm ET, Sat 9am-5pm ET
200 Terminal Drive, Plainview, NY 11803 © 2014 Purity Products
*These statements have not been evaluated by the Food and Drug Administration. These products are not intended to diagnose, treat, cure or prevent any disease.