PS Omega
Promotes Memory and Mood*
Supports Healthy Focus and Recall*
Supports Healthy Joints and Skin*
PS Omega-3 combines the well researched brain nutrients of PS (PhosphatidylSerine) along with the wide-ranging health benefits of Omega-3 Fish Oil.
Read More
Package Description:
60 soft gels, 30 day supply
Serving Size:
2 Softgels
Number of Servings:
30
Availability:
IN STOCK
Leaves warehouse
in 1-2 business days.
Purity's PS Omega-3 is a cutting edge formula, combining the well researched brain nutrients of PS (PhosphatidylSerine) along with the health supporting benefits of Omega-3 Fish Oil. PS Omega-3 is a truly revolutionary formula, delivering PS and Omega-3 Fish Oil in one synergistic formula!
PS – A Remarkable Brain Cell Nutrient
PS is essential to the functioning of all cells in the body, but is concentrated in the brain. The abundance of PS in the brain reflects its involvement in nerve cell functions such as nerve transmitter release and synaptic activity. Numerous clinical studies indicate that dietary supplementation with PS can support multiple brain functions including memory, recall, focus and mood.*
Research Update-Fish Oil Benefits Cognitive Performance and Cardiovascular Health!
In a noteworthy new clinical study published in the Nutrition Journal (Nov 22, 2012) a group of 44 healthy middle aged to elderly subjects achieved better cognitive performance after taking 3 grams of fish oil daily for just five weeks. This placebo-controlled trial utilized the "cross-over" study method which means the participants took either fish oil or a placebo for 5 weeks, followed by 5 weeks off and then switched to fish oil or placebo for another 5 weeks. After taking fish oil, subjects had improved scores on tests of working memory and selective attention. Indicators of cardiovascular health also showed positive changes that were directly correlated to the gains in cognitive function.
Molecularly Distilled, Ultra-Refined, Super Concentrated Fish Oil
According to the latest body of scientific research, the health benefits of Fish Oil are truly significant. The two key active ingredients in Fish Oil, DHA and EPA, are now widely recognized for their positive roles in promoting the health of the heart, brain, skin, joints, eyes and more.* Purity's PS Omega-3 contains only the freshest, super concentrated Omega-3 Oils. Not only are Purity's Fish Oils concentrated, but they are also "molecularly distilled", a process which removes contaminants from the Fish Oil and locks in the purity.
PS/DHA/EPA - PS Omega-3 Ingredients
Each 2 soft gels contains a potent 500 mg of EPA, 500 mg of DHA and 100 mg of PS, in a proprietary antioxidant blend to maintain freshness. This powerful combination is designed to maintain brain function as well as provide nutritional support of Omega-3 for the heart, joints and skin.*
Purity's PS Omega-3 Formula Supports:
Brain Health, Focus and Mood*
Heart Health and Circulation*
Cell to Cell Communication*
Healthy Joint and Skin*
This product contains soybean and fish (anchovies and sardines).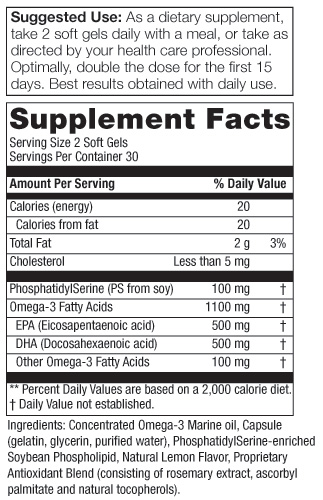 The Super Saver Advantage:
Super Saver saves you 25% and Discounted Shipping
With Super Saver you enjoy the convenience of automatic delivery and you save at least 25%! You will automatically receive a fresh supply at the shipping frequency you select. You are in charge, and you can customize or cancel your order at any time.
Order Line (24 Hr): 1-800-256-6102 Customer Care: 1-888-769-7873
Customer Care Hours: Mon-Thu 9am-9pm ET,
Fri 9am-7pm ET, Sat 9am-5pm ET
200 Terminal Drive, Plainview, NY 11803 © 2012 Purity Products
*These statements have not been evaluated by the Food and Drug Administration. These products are not intended to diagnose, treat, cure or prevent any disease.