Probiotic 8-in-1 Super Formula
8-in-1 Probiotic Super Formula. Replenishes Beneficial Bacteria Important for Healthy Digestion*
Supports Normal Immune Function*
Helps Support a Healthy Gut Environment Conducive to Proper Nutrient Absorption*
Purity Products' all new Probiotic Super Formula is like a high-grade "multivitamin" for your gut and immune system. With 7 different probiotic strains, plus Tegricel™, we've created one cutting edge, super probiotic formula.
Read More
Package Description:
30 capsules, 30 day supply
Serving Size:
1 capsule
Number of Servings:
30
Availability:
IN STOCK
Leaves warehouse
in 1-2 business days.
Purity Products' all new Probiotic 8-in-1 Super Formula is like a high-grade "multivitamin" for your gut and immune system. With 8 different probiotic strains, we've create one incredibly dynamic formula.
What makes Purity's Probiotic 8-in-1 Super Formula so unique?
GI Gut Health Support*
Digestive Balance Support*
Immune Support*
Healthy Weight Management*
Heart/Cardiovascular support*
What are Probiotics Anyway?
The World Health Organization (WHO) defines probiotics as: "Live microorganisms which, when administered in adequate amounts, confer a health benefit on the host." (WHO, 2001). Simply stated, they are beneficial microbes similar to what many refer to as "friendly" bacteria found in your body's digestive system. Probiotics have had a long history of human use in various cultures, through consumption of cultured or fermented foods from dairy products and different vegetables. Colonization of the gut with a healthy bacterial profile, begins in the neonatal period, shortly after birth and is one of the functional benefits of breast feeding. This "symbiosis" that is created between a healthy microflora of the gut, and health benefits to the individual that range from optimal digestive function to supporting a healthy immunity.*
The Immune/Gut Connection
Did you know that over 70 percent of the immune system's cells reside lining the entire digestive tract? Probiotics have been shown to support how the major arms of the immune system (innate and acquired immunity) respond to day-to-day challenges. Research has demonstrated that an optimized gut microbiota and microbial environment may help maintain the normal functioning of the immune system by allowing it to amplify or mute responses accordingly.
The Need for Probiotics
We are living at a time when so many factors are conspiring to disrupt or disturb your flora and balance of healthy intestinal microorganisms. Some of the factors that can disrupt this intestinal flora and environment include:
Poor diet
Hormonal changes
Illness
Medications
Age
Travel
Sudden changes in diet or drinking water
Why Purity Products' Probiotic 8-in-1 Super Formula – Featuring the "Magnificent 8"?
More than 20 different probiotic species and strains have been used in dietary supplements. However, the "Magnificent 8" represent 8 different types/strains of probiotics were not chosen at random. These 8 functional probiotics were included in the formula for their impressive scientific evidence of having complementary benefits that work in concert to optimize health:
Lactobacillus rhamnosus: Going well "beyond the gut" - has been shown to support healthy digestive function and normal bowel "transit time" in both children and adults. In addition, research suggests it may support healthy respiratory function, skin integrity and support female health.

Bacillus subtilis: Supports Bone health & Body composition - In addition to being a very resilient probiotic due to its spore forming exterior, it has been shown influence not only digestive health, but also improve vitamin K production within the gut, and in animal models has supported bone health as well. Also, in another animal study in pigs, the addition of B. subtilis reduced fat gain, improved nutrient assimilation and increased lean body mass (muscle and bone health).

Bifodobacterium lactis: Immune system support, maintains Respiratory function and Quality of life – researchers have recently shown impressive benefits in a human study where "seasonal" immune system function, skin and respiratory comfort was supported in only 8 weeks compared to placebo. Another study in 198 college students over 12 weeks demonstrated benefits in upper respiratory function and comfort, with a combination of B. lactis and L. rhamnosus (two species found in this very formula)

Bifidobacterium longum: Your intestinal "Mr. Clean" - These probiotics may promote and support the gut and mucosal immune barrier defense by increasing IgA production (the neutralizing mucosa-associated antibody). B. longum is one species that appeared to be associated with higher weight loss in during caloric restriction and exercise initial research.

Lactobacillus paracasei: From the gut--to blood lipid and carbohydrate metabolism--to healthy joint/connective tissue - Studies in humans have shown a potential relationship between already normal blood sugar concentrations and metabolic health and the number of colonies of L. paracasei in gut flora. This species of probiotics may support healthy joint cartilage in a mouse model.

Lactobacillus plantarum: Cardio-metabolic benefits and Quality of life - L. plantarum has been shown to readily survive the harsh upper GI tract and colonize in the colon in both animal models and human studies. Elderly individuals supplemented with this species were found to improve quality of life, nutrient status and enhanced intestinal transit time. This powerhouse probiotic player also has the potential to enhance body composition (muscle to body fat ratio) due to nutrient partitioning qualities.

Saccharomyces cerevisiae var. boulardii (Lynside® ProSCB): The functional, healthy probiotic "yeast" - This is a probiotic yeast (not a bacterial organism) is documented to interact with intestinal flora to maintain and optimize healthy gut function and microbial balance. S. boulardii is unique in that it does not colonize the intestinal tract, and typically cleared within 2 – 5 days from discontinuation. S. boulardii activates secreation of important immune factors essential for normal cell growth.

Plus -- Tegricel™: Bioactive Immune Peptide Fractions – The non-probiotic "supporting actor" - Tegricel is a specially filtered, immunoglobulin-rich nutritional extract of bovine colostrum whey. It was developed to provide bioactive compounds that play critical roles in supporting both the immune and tissue health responses. These critical bioactives found in Tegricel include:
Broad-range Immunoglobulins (supporting normally functioning Antibodies)
Proline-rich Peptide (PRP) (Immune support, and healthy brain function)
Insulin-like Growth Factor-1 (normal Cell and tissue health)
Transforming Growth Factor-A2 (Cell protection, Immune support)
Sialic Acid (maintains normal Immune modulation, Prebiotic)
Nucleotides (supports normal Immune modulation, Healthy aging and cell function)
The gut mucosa (cellular lining of the gastrointestinal tract) is under a constant state of turnover where cells age, and must be replaced with new, healthy cells. These properties of enhanced mucosal immune support make Tegricel an ideal supportive, bioactive ingredient to round out the "Magnificent 8" probiotic species. *
Purity Products' Probiotic SuperFormula is like a systems optimizer for the gut and immune system which empower your cells and rejuvenate health throughout your entire body.*
8-in-1 Probiotic Formula Stability
The probiotic strains in the Purity's Probiotic 8-in-1 Super Formula were selected by our renowned physician formulator based on the strength of the best available scientific evidence in the area of probiotic and gut microbial flora. The majority of clinical research demonstrating benefit from probiotic consumption utilized product that averaged between 2 billion and 8 billion CFU (colony forming units) of active probiotic strains at the time of manufacture. Moreover, the versatile dosing allows the consumer enough versatility to ramp up dosing during the initial stages of supplementation, or as needed for times of occasional digestive stress.*
Also, the great majority of these clinical studies, with positive findings on various health parameters, kept product at room temperature without requiring refrigeration. However, refrigeration is optional and it may improve the viability and stability further. The strains in Purity's Probiotic 8-in-1 Super Formula are known to be resilient to harsh environments such as the acidic stomach and bile-rich small intestines.
Probiotics promote comprehensive support for healthy intestinal flora, while supporting healthy GI and Immune function, healthy digestion, absorption of key micronutrient vitamins, nutritional compounds, energy levels and more.* Tegricel was included as a probiotic "amplifier." It is a bioactive immune peptide fraction --- a non-probiotic "supporting actor" that may improve the tissue integrity and health of the cells that line the entire GI tract. As such, Tegricel may enhance the already impressive, (and growing) potential benefits for probiotics via other mechanisms that support healthy, optimally functional gut tissues.*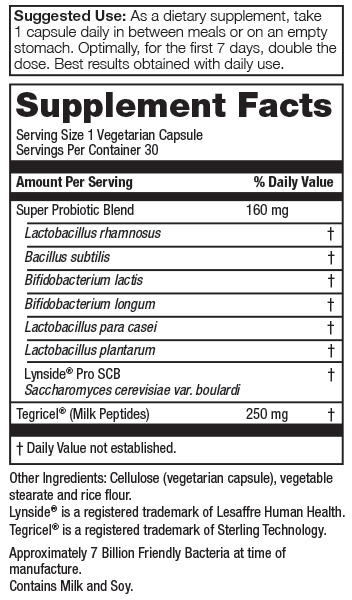 The Super Saver Advantage:
Super Saver saves you 25% and Discounted Shipping
With Super Saver you enjoy the convenience of automatic delivery and you save at least 25%! You will automatically receive a fresh supply at the shipping frequency you select. You are in charge, and you can customize or cancel your order at any time.
Order Line (24 Hr): 1-800-256-6102 Customer Care: 1-888-769-7873
Customer Care Hours: Mon-Thu 9am-9pm ET,
Fri 9am-7pm ET, Sat 9am-5pm ET
200 Terminal Drive, Plainview, NY 11803 © 2014 Purity Products
*These statements have not been evaluated by the Food and Drug Administration. These products are not intended to diagnose, treat, cure or prevent any disease.