Vital Rejuvenator - PLAN 200 Formula
PLAN 200 = Performance Lifting Advanced Nutrition
Promotes vitality, energy, libido and stamina*
Supports working memory and cognition*
Appealing to people who lead an active lifestyle, P.L.A.N. 200 taps into the science of KSM66
®
Ashwagandha and CereBoost 200™ American Ginseng--tuning up the mind while rejuvenating the body.
Read More
Package Description:
60 Capsules, 30 day supply
Serving Size:
2 Capsules
Number of Servings:
30
Availability:
IN STOCK
Leaves warehouse
in 1-2 business days.
Performance Lifting Advanced Nutrition Is...Nutrition with a Plan
A new frontier of targeted, performance elevating nutrition has arrived with the debut of Purity's P.L.A.N. 200™ Formula. PLAN200 stands for Performance Lifting Advanced Nutrition, and this innovative formula features clinically validated nutraceuticals, KSM66® Ashwagandha + CereBoost 200. Both of these botanicals are unique in that they are clinically tested, validated and deliver health benefits on a multitude of fronts.
Experience the P.L.A.N. 200 Mind and Body Edge
Appealing to people who lead an active lifestyle, PLAN 200 taps into the science of these two legendary herbal tonics tuning up the mind while rejuvenating the body. Each 2 capsule serving provides 675 mg of KSM-66®, the elite Ashwagandha, plus 200 mg of Cereboost™, the American Ginseng clinically shown to support working memory.* PLAN200 - is an advanced formula that gives you a nutritional advantage. These are not ordinary ingredients. Expect extraordinary benefits. Plan to feel better, plan to be sharp and on your game. Plan to win. PLAN200 benefits include its ability to:
Promote Vitality and Stamina*
Support Working Memory, Focus and Cognition*
Support for Cognitive Performance and Healthy Energy*
KSM-66® Ashwagandha and Cereboost™ - Dual Action Energizing Support for the Body and Mind
Ashwagandha - An Ancient Herb for Stresses of 21th Century Life
Revered for centuries in the herbal tradition of India, Ashwagandha is rapidly gaining recognition as an herb that effectively helps the body cope with stress while elevating performance of the mind and body.
P.L.A.N. 200 contains no ordinary Ashwagandha… This is KSM-66®
There is ordinary Ashwagandha and then there is KSM-66. Recognized as the finest, high quality Aswagandha extract available, KSM-66® Ashwagandha was designated as Finalist for the "Best Botanical" Award by the editors of New Hope Media's "Functional Ingredients" magazine. KSM-66® also received the 2012 "Innovative Ingredient of the Year" Award at Panacea, South Asia's largest trade show and conference on natural products.
Unlike other Aswagandha extracts that are mixtures of roots and leaves, KSM-66® is extracted exclusively from Ashwagandha roots, which concentrates the active ingredients, a group of natural compounds called "Withanolides". The most beneficial Withanolides are found only in the root. Double-blind, placebo-controlled human clinical trials conducted on KSM-66 at numerous academic institutes include the following studies which showcase its performance elevating attributes:
KSM-66 in Stress and General Well Being in Healthy Adults
KSM-66 and its Efficacy in Cardio Endurance in Sports Athletes
KSM-66 for Healthy Libido Function
KSM-66 in Supporting Muscle Strength and Size
Cereboost 200™ American Ginseng - Clinically Tested Support for Working Memory and Cognition
Cereboost® is a clinically tested, potent and unique form of American Ginseng well established for its ability to promote healthy brain function and cognitive performance.* And just like its cousin, Panax Ginseng, the American Ginseng found in Cereboost is an adaptogen -- making it the perfect partner to KSM-66® Ashwagandha for vitalizing the body and mind.* The active ingredients found in Cereboost are called called "ginsenosides", and they are obtained from extracting the root of American ginseng (Panax quinquefolius). Unlike regular American Ginseng though, CereBoost has a unique profile of ginsenosides that ensures its beneficial effects especially for working memory.*
Clinical research bears this out: the effect of CereBoost® on cognition has been tested in a randomized, double-blind, placebo controlled, crossover study. The results are compelling -- 200 milligrams of CereBoost® -- produced improvements in working memory speed, working memory capacity and attention accuracy in as little as two hours. (see graphic illustration)*
Cereboost, as measured by a Choice Reaction Time (CRT) test, supports psychomotor agility (coordination of physical movement and thinking) and mental flexibility.*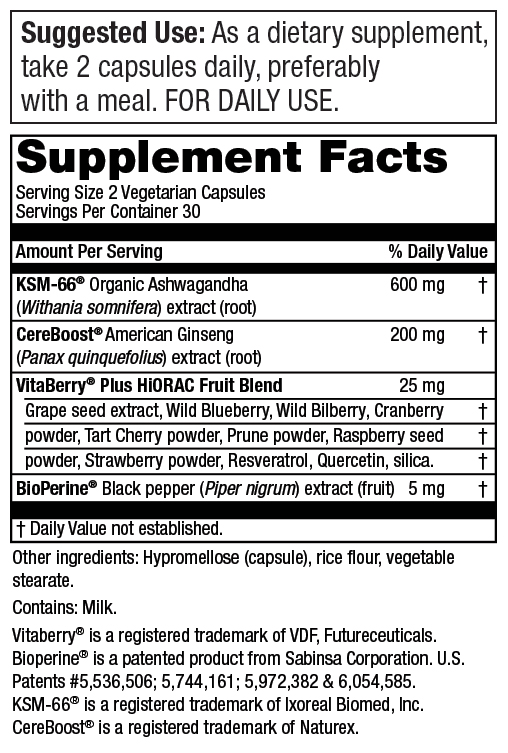 The Super Saver Advantage:
Super Saver saves you 25% and Discounted Shipping
With Super Saver you enjoy the convenience of automatic delivery and you save at least 25%! You will automatically receive a fresh supply at the shipping frequency you select. You are in charge, and you can customize or cancel your order at any time.
Order Line (24 Hr): 1-800-256-6102 Customer Care: 1-888-769-7873
Customer Care Hours: Mon-Thu 9am-9pm ET,
Fri 9am-7pm ET, Sat 9am-5pm ET
200 Terminal Drive, Plainview, NY 11803 © 2014 Purity Products
*These statements have not been evaluated by the Food and Drug Administration. These products are not intended to diagnose, treat, cure or prevent any disease.