Blueberry Detox - Daily Fiber Formula
Supports heart and cardiovascular health*
Helps maintain cholesterol levels already in the normal range*
Supports normal and healthy regularity*
Blueberry Detox - PhytoBlue Fiber Formula is the convergence of an advanced phytonutrient formula (packed with blueberries, elderberries, and antioxidants) with 6 full grams of fiber.
Read More
Package Description:
300g
Serving Size:
1 tablespoon (10g)
Number of Servings:
30
Availability:
IN STOCK
Leaves warehouse
in 1-2 business days.
Purity's Blueberry Detox® Fiber Formula is the convergence of an advanced phytonutrient formula (packed with blueberries, elderberries and antioxidants) with 6 full grams of fiber. Unlike plain fiber, which does not contain antioxidants or phytonutrients, Blueberry Detox® combines the power of Super Fruits with superior quality Psyllium Fiber and represents the next generation in fiber supplementation. By supporting the liver and kidney function, the wide spectrum of antioxidant berries found in Blueberry Detox gently and naturally support the detoxification process while promoting healthy energy, focus, vitality and regularity.* Blueberry Detox is designed for daily use.
Multifunctional Fiber
Fiber plays an important role in many aspects of human health.
Optimal Fiber intake promotes intestinal regularity and supports stool consistency


It can also support normal transit time and maintain normal bowel movements.



The intake of soluble fiber as a part of a healthy diet has also been shown to help promote healthy weight management.



Supplementing with Blueberry Detox® Fiber Formula in conjunction with a healthy diet may aid in heart and cardiovascular support, normal and healthy regularity, healthy detoxification and promote cholesterol levels already within the normal range.*



Blueberry Detox® Fiber Formula promotes healthy regularity and healthy detoxification*
Diets low in saturated fat and cholesterol that include 7 grams of soluble fiber per day from psyllium husk may reduce the risk of heart disease. One serving of Blueberry Detox® Fiber Formula provides 4 grams of this soluble fiber.
Just in: Increasing your dietary fiber may actually help you live longer! Scientists have analyzed data gathered by the National Institutes of Health on the dietary habits of over thirty thousand people. As reported in the Archives of Internal Medicine, they found a direct relationship between dietary fiber intake and longer life. (Park Y, et al. Dietary fiber intake and mortality in the NIH-AARP diet and health study. Arch Intern Med; Feb 14, 2011.)
Beyond Fiber - Nourishing You with the Health Protecting Benefits of Fruit and Vegetable Phytonutrients
Along with psyllium, each serving of Blueberry Detox® Fiber Formula provides a generous 3 gram helping of fruit and vegetable concentrates such as blueberry, blackberry, elderberry, bilberry, carrots, purple cabbage and more. These super nutritious fruits and veggies are specially selected to fortify the body's antioxidant defenses.* Nature packs fruits and veggies, berries in particular, with an abundance of phytonutrients that help fight free radicals and support cardiovascular health.* On top of that, Blueberry Detox® Fiber Formula also contains an additional phytonutrient blend that features Acai fruit, Camu fruit and Gogi berry.
The Antioxidant Equivalent of 7 Servings of Fruits and Vegetables
Nature packs the phytonutrients found in fruits and berries with ample antioxidant power which is crucial to fight free radical damage. These antioxidants also support liver health and the detoxification process.*
Along with Psyllium, each serving of Blueberry Detox® provides a generous 3 grams helping of concentrated antioxidants from super fruits. With a 2500 ORAC score, Blueberry Detox® has far more antioxidant power than the leading fiber formula
Anthocyanins - the Beneficial Berry Phytonutrients
It's common knowledge that berries contain natural antioxidants. Among these, a group of special phytonutrients called "anthocyanins" are stand-outs. Without anthocyanins our world (and dinner table) would be a lot less colorful! Anthocyanins are the color pigments that impart red, purple and blue to many fruits and vegetables. But anthocyanins do more than make fruits and vegetables pleasing to the eye. Anthocyanins are strong, versatile antioxidants, contributing mightily to the health benefits of eating lots of fruits and veggies every day. An abundance of scientific evidence suggests anthocyanins help maintain health of the human body on many levels.* Anthocyanins are reported to support cardiovascular health by helping maintain the structural integrity of blood vessels.* Anthocyanins found in berries--notably bilberry and black current—have been shown to benefit healthy vision.* Among fruits, purple and red berries are especially well-endowed by nature with anthocyanins that have high ORAC values. (ORAC is a standard laboratory measure of antioxidant strength.) By featuring these nutritious, health-promoting purple and red berries—along with a variety of other fruit and veggies—Blueberry Detox® Fiber Formula gives you a convenient way to tap the power of anthocyanins, while enjoying a generous helping of fiber at the same time.
Landmark New Research Confirms the Nourishing Benefits of Berries for the Brain
A landmark 2012 report underscoring the beneficial effects of berries on the brain and memory has been published in the scientific journal Annals of Neurology. Researchers collected data on the diets of more than 16,000 women who had their memory and cognitive function tested every two years between 1995 and 2001. The analysis showed that high intakes of strawberries and blueberries can help maintain cognitive function in elderly women over the long haul. This study is noteworthy in both size and duration. According to the lead researcher, "What makes our study unique is the amount of data we analyzed over such a long period of time. No other berry study has been conducted on such a large scale." Berries are high in natural substances called "flavonoids" which are known for their protective, health-promoting effect on the body. This latest report adds even more scientific weight to growing body of evidence that confirms the benefits of berries for brain health.
Instructions: As a dietary supplement, mix 1 tablespoon of Blueberry Detox® Fiber Formula in 10 fl oz of pure, cold water. For optimal taste, mix or shake well in cold water. To further enhance taste, add two ice cubes and/or a splash of your favorite juice before mixing. Take once daily.
NOTICE: This product should be taken with at least a full glass of liquid. Taking this product without enough liquid may cause choking. Do not take this product if you have difficulty swallowing.
Excellent Source of Fiber
Supports Heart and Cardiovascular Health*
Helps Maintain Cholesterol Levels Already within the Normal Range*
Supports Normal and Healthy Regularity*
Helps Promote Healthy Detoxification*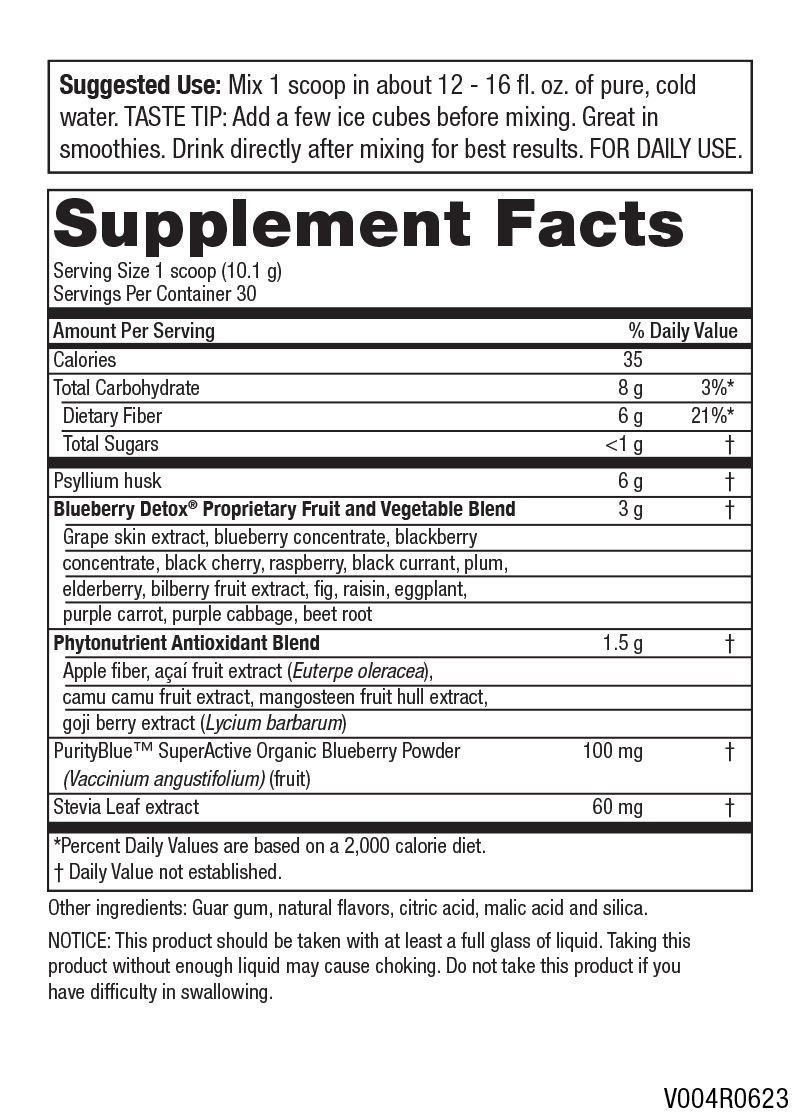 The Super Saver Advantage:
Super Saver saves you 25% and Discounted Shipping
With Super Saver you enjoy the convenience of automatic delivery and you save at least 25%! You will automatically receive a fresh supply at the shipping frequency you select. You are in charge, and you can customize or cancel your order at any time.
Order Line (24 Hr): 1-800-256-6102 Customer Care: 1-888-769-7873
Customer Care Hours: Mon-Thu 9am-9pm ET,
Fri 9am-7pm ET, Sat 9am-5pm ET
200 Terminal Drive, Plainview, NY 11803 © 2014 Purity Products
*These statements have not been evaluated by the Food and Drug Administration. These products are not intended to diagnose, treat, cure or prevent any disease.