Certified Organic Super Reds Powder
USDA and QAI Certified Organic
Heart and Brain Health Support*
Supports Healthy Immunity and Energy Levels*
We have taken the power and purity of organic fruits, berries and phytonutrients and synergistically combined them to create our most wholesome and delicious phytonutrient drink yet.
Read More
Package Description:
240g, 30 day supply
Serving Size:
8.0 grams
Number of Servings:
30
Availability:
IN STOCK
Leaves warehouse
in 1-2 business days.
INTRODUCING CERTIFIED Organic Super Reds™
In our most logical evolution from Certified Organic Triple Greens®, we are proud to bring you Certified Organic Super Reds™. We've captured the power of nature's healthiest fruits and phytonutrients, including strawberries, red raspberries, and pomegranate. Organic Super Reds also contains organic exotic berries, like Acai – which is ecologically harvested from the Amazon Rainforest. Organic Super Reds is so delicious; you've got to taste it to believe it!

Certified Organic Super Reds™ brings the wholesome nutrition of organic farming to you without the worries of harmful pesticides, herbicides or any impurities. Certified Organic Super Reds™ reaps the rewards of fertile soil, clean water, sunshine, fresh air and sustainable farming practices, making Certified Organic Super Reds™ not only good for you, but also good for the planet! From carefully selected seeds planted in pristine, rich organic farmlands, from meticulously-timed harvests designed to select only the most nutrient dense fruits and vegetables at the precise moment of magical balance between ripeness and nutrient content, to scientifically-developed processing that generates stable and nutritionally dense supplements...it all comes from a high-tech farm in the heartlands of America.
Organic Integrity and Certification
Each and every ingredient included in Organic Super Reds™ is carefully selected from Certified Organic Farms to ensure that the highest quality product available is being included. Certified Organic Super Reds™ is certified "organic" by both the USDA and QAI - a global leader in Organic Certification.
Each delicious scoop delivers a delicious mix of 25 certified organic phytonutrients including:
Organic Cranberries and Strawberries
Organic Pomegranate, Mango and Acai
Organic Apples, Pears and Peaches
Organic Red and Black Raspberries
Organic Cherries and Blackberries
Organic Watermelon, Carrots and more
Packed with the Organic Power of Berries & Exotic Fruits
The phytonutrients, berries and fruits found in Organic Super Reds™ are the richest sources of antioxidants, flavonoids and polyphenols available in nature. Strawberries and Blueberries (often called Brainberries), are famous in the phytonutrient world as a rich source of phenols. The phenols in strawberries not only provide their flush red color, they also serve as potent antioxidants that have repeatedly been shown to help protect cell structures in the body and to prevent oxidation in the body's organ systems.
The Pomegranate, known as the exotic fruit that wears a royal crown, is native to Southwestern Asia. It provides some of the strongest, naturally occurring antioxidants available. These beneficial antioxidants are important nutrients that fight the effects of free radicals in the body. It is these antioxidants, the flavonoids and particularly compounds like punicalagin, which account for the pomegranate's healthy aging power.
For many centuries, the health-supporting power of the Acai Berry was unknown outside of the Amazon rainforest. The major benefits of the Acai Berry are thought to include its strong heart health supporting benefits. The Acai Berry is known to be a rich source of compounds called anthocyanins. Other nutrient-dense fruits found in Organic Super Reds™ include: Acerola, Blueberries, Blackberries, Cranberries and Raspberries.
Don't Forget the Organic Fiber
Organic Acacia is a natural dietary fiber derived from the Gum Acacia. It is a soluble prebiotic fiber capable of increasing healthy gut flora and supporting gastrointestinal health, and Organic Super Reds™ features a full 2 grams per serving.*
Locking in the Goodness
Preserving the purity of Nature's vital nutrients and antioxidants requires the most gentle 21st Century processing. The Freeze Drying and RapiDry™ technologies immediately lock in the goodness of nature...right on the farms...and right after the harvest! TargeTest™ bio-testing platform allows us to ensure the safety and specific bio-activity of our ingredients.
And best of all, Certified Organic Super Reds™ brings the wholesome nutrition of organic farming to you without the worries of harmful pesticides, herbicides or any impurities.
Certified Organic Super Reds Supports:
Vitality and Total Body Wellness
Healthy Aging
Cellular Defense Against Free Radicals
Digestive and GI Tract Health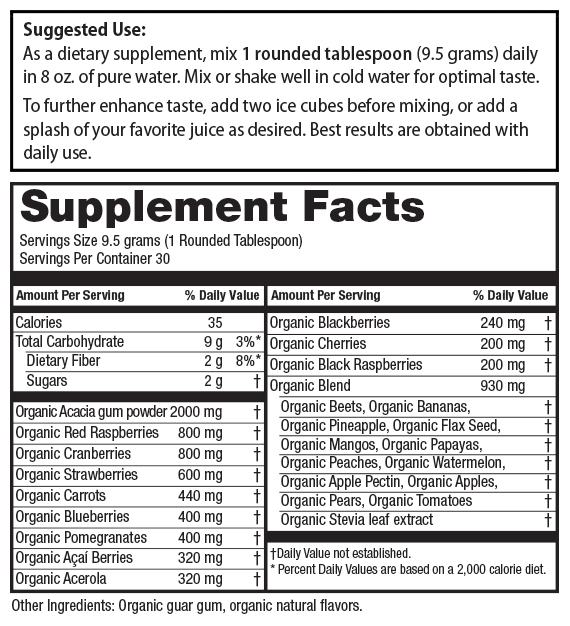 The Super Saver Advantage:
Super Saver saves you 25% and Discounted Shipping
With Super Saver you enjoy the convenience of automatic delivery and you save at least 25%! You will automatically receive a fresh supply at the shipping frequency you select. You are in charge, and you can customize or cancel your order at any time.
Order Line (24 Hr): 1-800-256-6102 Customer Care: 1-888-769-7873
Customer Care Hours: Mon-Thu 9am-9pm ET,
Fri 9am-7pm ET, Sat 9am-5pm ET
200 Terminal Drive, Plainview, NY 11803 © 2014 Purity Products
*These statements have not been evaluated by the Food and Drug Administration. These products are not intended to diagnose, treat, cure or prevent any disease.