OmegaBerry with Vitamin D3 & Organic Acai
Supports Healthy Heart and Cardiovascular Function*
Promotes Healthy Joints and Flexibility*
Promotes Brain Health, Focus and Mood*
OmegaBerry combines the power of our concentrated molecularly distilled Omega-3 Fish Oils with an exclusive antioxidant-rich berry blend.
Read More
Package Description:
60 Soft gels, 30 day supply
Serving Size:
2 softgels
Number of Servings:
30
Availability:
IN STOCK
Leaves Warehouse in 1-2 business days.
The OmegaBerry® Advantage
New and upgraded, OmegaBerry® with Vitamin D features not only ultra pure Omega-3 Fish Oil, plus more Vitamin D along with a potent and energizing berry blend. With over 18 super fruits including organic açaí, pomegranate, cranberry, blueberry and even resveratrol (the subject of international research), OmegaBerry® couples the cardiovascular benefits of super concentrated Fish Oil with the energizing power of exotic berries selected from all over the world.*
The two key active ingredients in Fish Oil, DHA and EPA, are widely recognized for their positive roles in the health of the heart, brain, skin, joints, eyes, and more. By properly supplementing your diet with Omega-3 Fish Oils, you can proactively support your health.*
The OmegaBerry® Difference: Up to 3 Times the Power
Unlike many store bought Fish Oil brands with 200 mg or 300 mg of Omega-3s per serving, OmegaBerry® delivers a stunning 1250 mg of super concentrated, molecularly distilled, ultra pure Omega-3s (including 500 mg of DHA and 650 mg of EPA, and 1000 IU of Vitamin D3) to provide potent heart, joint, brain, immune and circulatory support in every 2 soft gel serving.*
Research Update-Fish Oil Benefits Cognitive Performance and Cardiovascular Health!
In a noteworthy new clinical study published in the Nutrition Journal (Nov 22, 2012) a group of 44 healthy middle aged to elderly subjects achieved better cognitive performance after taking 3 grams of fish oil daily for just five weeks. This placebo-controlled trial utilized the "cross-over" study method which means the participants took either fish oil or a placebo for 5 weeks, followed by 5 weeks off and then switched to fish oil or placebo for another 5 weeks. After taking fish oil, subjects had improved scores on tests of working memory and selective attention. Indicators of cardiovascular health also showed positive changes that were directly correlated to the gains in cognitive function.
Now with Resveratrol
The provision of a 50 mg Super Berry extract complex complements this cutting edge formula. At center stage among the heath-promoting berries in OmegaBerry® is the duo of Resveratrol and Açaí berry. Resveratrol is a prized extract from red wine known for its healthy aging properties and Açaí is a South American super-berry known for its generous Vitamin C content and antioxidant power.*
Feel Your Best Everyday With OmegaBerry plus Vitamin D*
Unique in its ability to help you enjoy an active, alert and vital lifestyle, OmegaBerry® nourishes and revitalizes your body in ways ordinary fish oil simply cannot.* A majority of people are deficient in Omega-3 Fish Oil and Vitamin D. With meaningful doses of crucial active ingredients you need regularly - like Omega-3 Fish Oil and Vitamin D3 - OmegaBerry® is a vital key to help you unlock your ability to feel your best every day.*
The Benefits of Omega-3 Fish Oil:
Fish oils comprehensively support healthy heart and cardiovascular function.*
Fish oils enhance the structure and function of cellular membranes.*
EPA and DHA promote healthy brain development.*
EPA and DHA support healthy cognitive function and enable efficient cell-to-cell function.*
Fish oils support healthy circulation.*
EPA and DHA may enhance healthy vision by promoting normal retinal function.*
EPA and DHA promote vibrant and youthful skin.*
This product contains soybean and fish (anchovies and sardines).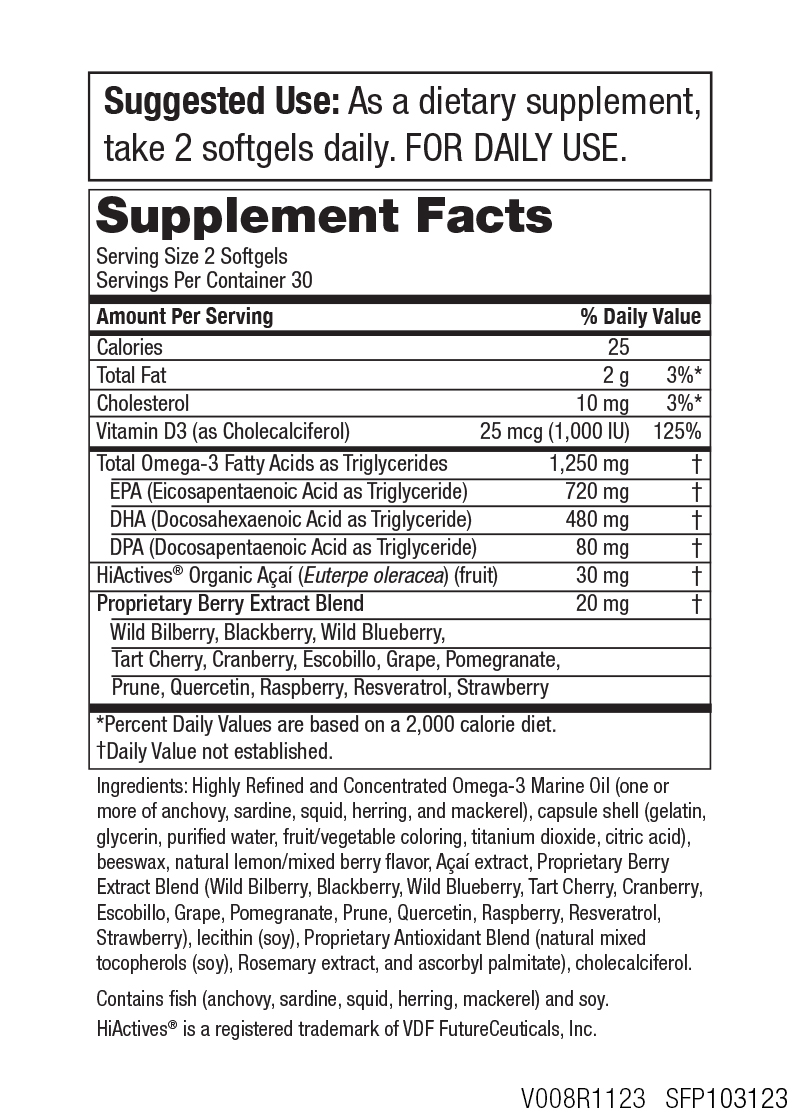 The Super Saver Advantage:
Super Saver saves you 25% and Discounted Shipping
With Super Saver you enjoy the convenience of automatic delivery and you save at least 25%! You will automatically receive a fresh supply at the shipping frequency you select. You are in charge, and you can customize or cancel your order at any time.
Order Line (24 Hr): 1-800-256-6102 Customer Care: 1-888-769-7873
Customer Care Hours: Mon-Thu 9am-9pm ET,
Fri 9am-7pm ET, Sat 9am-5pm ET
200 Terminal Drive, Plainview, NY 11803 © 2014 Purity Products
*These statements have not been evaluated by the Food and Drug Administration. These products are not intended to diagnose, treat, cure or prevent any disease.