Omega-3 Mango Peach Smoothie with Vitamin D
Ultra-Pure Fish Oil
Refreshing Mango Peach Smoothie Taste and Texture
1,000mg Omega-3s and 1,000IU Vitamin D3
Omega-3 Mango Peach Smoothie with Vitamin D provides a tasty helping of Omega 3s in the convenience of an easy to swallow smoothie. It's made with ultra purified, DHA and EPA-rich, emulsified fish oil. Fish oil has never tasted so good!
Read More
Package Description:
320ml
Serving Size:
2 Teaspoons (10ml)
Number of Servings:
32
Availability:
IN STOCK
Leaves warehouse
in 1-2 business days.
Just Bring Your Teaspoon!
Mango-Peach Omega Smoothie is an excellent source of Omega-3 fatty acids in the convenience of a delicious, easy to swallow, smoothie supplement. Made with ultra purified, DHA and EPA-rich fish oil and the refreshing taste of peach and mango, fish oil has never tasted so good! With over 1,000 mg of Omega-3 fatty acids, 1,000 IU Vitamin D3, plus the provisions of both Omega-6 and Omega-9 fatty acids, just 2 teaspoons of this easy to absorb formula is a great addition to any health regimen. Plus, there are no large capsules to swallow and no fishy aftertaste.
Research Update-Fish Oil Benefits Cognitive Performance and Cardiovascular Health!
In a noteworthy new clinical study published in the Nutrition Journal (Nov 22, 2012) a group of 44 healthy middle aged to elderly subjects achieved better cognitive performance after taking 3 grams of fish oil daily for just five weeks. This placebo-controlled trial utilized the "cross-over" study method which means the participants took either fish oil or a placebo for 5 weeks, followed by 5 weeks off and then switched to fish oil or placebo for another 5 weeks. After taking fish oil, subjects had improved scores on tests of working memory and selective attention. Indicators of cardiovascular health also showed positive changes that were directly correlated to the gains in cognitive function.
The Benefits of DHA and EPA
The benefits of DHA and EPA-rich fish oil are numerous and target the heart, brain, joints and skin.* Science continues to confirm that these Omega-3 Fatty Acids have the potential to positively influence many organs and tissues. By properly supplementing your diet with ultra-pure, super concentrated Omega-3 Fish Oil, you can pro-actively support your health.*
Vitamin D3
Vitamin D's influence on key biological functions vital to one's health and well-being mandates that Vitamin D3 supplementation can no longer be ignored by individuals striving to achieve and maintain a greater state of health.* Purity's Mango-Peach Omega Smoothie includes 1,000 IUs of Vitamin D3 in every delicious serving.
Put it in the Freezer -- Turn it into an "Ice Cream Omega Smoothie"!
How can you make Omega-3s even more exciting to take on a regular basis? Well, how about turning your generic Omega-3 supplement into a dessert? Now you can enjoy an "Ice Cream Omega Smoothie" and it's easier that you could ever imagine. Simply place your Peach Mango Omega-3 Smoothie into the Freezer and let it chill for a few hours (actually you can store it in the freezer as it never will get frozen solid) and presto. Simply squeeze the bottle, dispense onto a spoon and enjoy a decadently delicious "Ice Cream Omega Smoothie". It's not just good, it's an exceptionally nutritious, ultra-tasty Omega-3 Sherbert. Click on the video or read the feedback, you can see how people of all ages are falling in love with this new way to supplement with Omega-3s. And who said you "can't have your cake and eat it too"!
The Fish Oil Advantage vs. other forms of Omega-3's
Omega-3 fatty acids are found in several forms, and some of them work more efficiently in our body than others in helping us maintain our health. For example, a large-scale review of scientific literature analyzed dozens of well-designed studies that had investigated the potential benefits of omega-3s on human cardiovascular health. The authors concluded that omega-3s from fish or fish oil had stronger evidence of cardiovascular benefits in the research subjects studied than omega-3s from other sources like flaxseed.1 The omega-3 fatty acids from plant sources, known as ALA, face barriers to becoming EPA & DHA in your body. It is estimated that perhaps 5% to 10% of ALA is converted to EPA in your body, and only 2% to 5% may then become DHA.2 Therefore, fish oil is a more direct route to supporting the production of the type of eicosanoids that we want to see active inside of us.
The American Heart Association and Cardiovascular Maintenance
Fish oil is perhaps most renown for its contributions to heart health. In fact, the American Heart Association put forth specific recommendations for regular fish consumption or, for people who may benefit the most from an increase in omega-3's: about 1 gram daily of DHA & EPA from omega-3 fatty acid supplements.3 This is because the active ingredients in fish oil (DHA & EPA) promote a favorable balance of blood lipids,support triglyceride and blood pressure levels already in the normal range, and help maintain a normal, healthy heart rate.*4 For optimal heart health, experts have even suggested aiming for target levels of EPA & DHA in red blood cell membranes. They suggest that this goal may be reached with a daily quantity similar to that found in a serving of Ultra-Pure Omega-3 Fish Oil.5
Mango Peach Omega Smoothie Supports:
Cardiovascular Health*
Joint Health & Mobility*
Energy & Endurance*
Brain Health and Mental Clarity*
This product contains soybean and fish (salmon and cod).
References
Wang, C., et al., n-3 Fatty acids from fish or fish-oil supplements, but not alpha-linolenic acid, benefit cardiovascular disease outcomes in primary- and secondary-prevention studies: a systematic review. Am J Clin Nutr, 2006. 84(1): p. 5-17.
He, K., Fish, long-chain omega-3 polyunsaturated fatty acids and prevention of cardiovascular disease--eat fish or take fish oil supplement? Prog Cardiovasc Dis, 2009. 52(2): p. 95-114.
Kris-Etherton, P.M., W.S. Harris, and L.J. Appel, Omega-3 fatty acids and cardiovascular disease: new recommendations from the American Heart Association. Arterioscler Thromb Vasc Biol, 2003. 23(2): p. 151-2.
Ninio, D.M., et al., Docosahexaenoic acid-rich fish oil improves heart rate variability and heart rate responses to exercise in overweight adults. Br J Nutr, 2008. 100(5): p. 1097-103.
Lee, J.H., et al., Omega-3 fatty acids for cardioprotection. Mayo Clin Proc, 2008. 83(3): p. 324-32.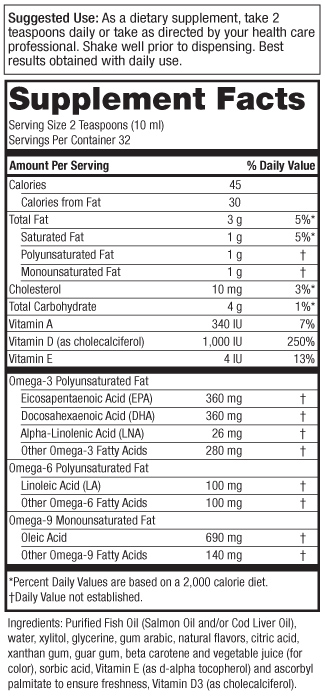 The Super Saver Advantage:
Super Saver saves you 25% and Discounted Shipping
With Super Saver you enjoy the convenience of automatic delivery and you save at least 25%! You will automatically receive a fresh supply at the shipping frequency you select. You are in charge, and you can customize or cancel your order at any time.
Order Line (24 Hr): 1-800-256-6102 Customer Care: 1-888-769-7873
Customer Care Hours: Mon-Thu 9am-9pm ET,
Fri 9am-7pm ET, Sat 9am-5pm ET
200 Terminal Drive, Plainview, NY 11803 © 2014 Purity Products
*These statements have not been evaluated by the Food and Drug Administration. These products are not intended to diagnose, treat, cure or prevent any disease.