KrillBerry Krill and Omega-3 Fish Oil Formula
Supports cardiovascular health and function*
Promotes brain health and cognitive function*
Supports joint health and function*
KrillBerry combines 300 mg of Krill Oil plus highly concentrated Omega-3 Fish Oil totaling 1000 mg of EPA and DHA (the same amount recommended by the American Heart Association) with a proprietary super fruits blend.
Read More
Package Description:
60 soft gels, 30 day supply
Serving Size:
2 soft gels
Number of Servings:
30
Availability:
IN STOCK
Leaves warehouse
in 1-2 business days.
Finally! The Power of Krill Oil Meets the Power of Fish Oil
The rising star of the Omega-3 world, Krill Oil has been heralded for its unique phospholipid complex and the powerful natural Astaxanthin it provides. Phospholipids carry the EPA & DHA directly into the cells, allowing the human body to absorb them very easily. They are also important in protecting cell membranes from free radicals. Astaxanthin, one of nature's most powerful natural antioxidants, helps protect the body's tissues from oxidative stress, along with a wide range of other health-supporting benefits.*
Four Reasons Why KrillBerry is Completely Unique
Purity's KrillBerry™ is in a league of its own due to its combination of Krill, Omega-3 Fish Oil, Phytonutrients Super Fruits and Vitamin D3:
300 mg of Ultra-Pure Krill - for joint, cholesterol, brain and antioxidant support.*
Plus highly concentrated Omega-3 Fish Oil - for joint, heart, triglyceride, focus and skin support.*
A total of 1000 mg of EPA and DHA, the active ingredients in Omega-3 oils - the same amount recommended by the American Heart Association.
Vitamin D3 plus a proprietary super fruits energy blend containing Açai, Wild Blueberry, Raspberry, Pomegranate and more.
The Best of Both Worlds - the KrillBerry Advantage
Why combine Fish oil and Krill oil? The rationale makes perfect sense from a scientific standpoint. While fish oils are a great source of DHA and EPA, which are essential for a healthy body, unfortunately Fish Oil does not deliver its EPA and DHA in the preferred phospholipids form. But Krill oil does. Phospholipids are important because they function like a "Fast Pass" enabling the active compounds in Omega 3's (the DHA and EPA) to quickly assimilate into the cell membrane, swiftly delivering Krill's active ingredients to the cells and tissues. Although this phospholipid advantage is one of Krill's key benefits over fish oil, since Krill oil is not particularly rich in DHA and EPA the combination of "Krill and Omega-3 Fish oil" provides a unique advantage neither one can provide by itself. This is the the KrillBerry Advantage.
With Purity's KrillBerry™, you get the BEST of BOTH worlds in one single formula. You enjoy a wide variety of benefits that neither Fish oil nor Krill oil could provide by itself. This advanced combination delivers:
The extra antioxidant power of Krill not found in Fish Oil
Added absorption benefits of phospholipids
The advanced Cholesterol support of Krill + Triglyceride support of Fish Oil
Powerful joint function and comfort benefits of Krill
Potent levels of DHA and EPA of Omega-3 Fish Oil for brain function support
Added value of 1000 IU of Vitamin D
Energizing phytonutrient super fruits
Research Update-Fish Oil Benefits Cognitive Performance and Cardiovascular Health!
In a noteworthy new clinical study published in the Nutrition Journal (Nov 22, 2012) a group of 44 healthy middle aged to elderly subjects achieved better cognitive performance after taking 3 grams of fish oil daily for just five weeks. This placebo-controlled trial utilized the "cross-over" study method which means the participants took either fish oil or a placebo for 5 weeks, followed by 5 weeks off and then switched to fish oil or placebo for another 5 weeks. After taking fish oil, subjects had improved scores on tests of working memory and selective attention. Indicators of cardiovascular health also showed positive changes that were directly correlated to the gains in cognitive function.
Unlike typical Krill Oil products, Purity's is strongly fortified with ultra-pure, super-concentrated fish oils, ensuring the product delivers a highly substantial dose of DHA and EPA. All in, including the evidence-based dose of 300mg of Krill oil, you'll enjoy a full 1100 mg of Omega-3 Fatty Acids, which is more than even the American Heart Association now recommends for maintaining cardiovascular health. In addition, KrillBerry™ provides 1000 IU of Vitamin D3, as well as the extremely valuable natural Astaxanthin.
The Berries and Super Fruits in Krill Berry contain anthocyanins a special group of phytonutrients found in the plant kingdom. Anthocyanins are color pigments that impart red, purple and blue to many fruits and vegetables. But anthocyanins do more than make them pleasing to the eye. Anthocyanins are strong, versatile antioxidants, contributing mightily to the health benefits of eating lots of fruits and veggies every day.
In addition, supplementing the diet with KrillBerry may help to:
Support cardiovascular health & function*
Promote brain health & cognitive function*
Supports joint health and function*
May Reduce the Risk of Coronary Heart Disease†
∞ Brand names may be furnished upon request, but do represent exact comparisons of actual leading brands.
† Supportive but not conclusive research shows that consumption of EPA and DHA omega-3 fatty acids may reduce the risk of coronary heart disease. One serving of Krill Omega-3 provides 1,000 grams of EPA and DHA omega-3 fatty acids.
This product contains soybean, crustacean shellfish (Krill) and fish (anchovy, sardine, mackerel and calamari).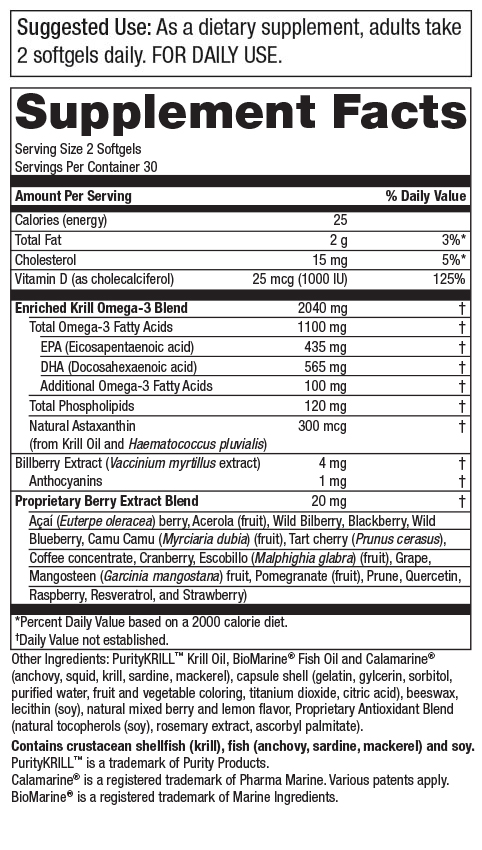 The Super Saver Advantage:
Super Saver saves you 25% and Discounted Shipping
With Super Saver you enjoy the convenience of automatic delivery and you save at least 25%! You will automatically receive a fresh supply at the shipping frequency you select. You are in charge, and you can customize or cancel your order at any time.
Order Line (24 Hr): 1-800-256-6102 Customer Care: 1-888-769-7873
Customer Care Hours: Mon-Thu 9am-9pm ET,
Fri 9am-7pm ET, Sat 9am-5pm ET
200 Terminal Drive, Plainview, NY 11803 © 2014 Purity Products
*These statements have not been evaluated by the Food and Drug Administration. These products are not intended to diagnose, treat, cure or prevent any disease.