Krill Omega 50+™
Supports Healthy Heart and Cardiovascular Function*
Promotes Brain Health, Joint Function and Normal Flexibility*
LemonLock™ Freshness System locks in purity and seals in freshness
Krill Omega 50+™ features 500mg of superior quality Krill Oil which targets joint comfort combined with 500mg of concentrated Omega-3 Fish Oil to support cardiovascular health and brain function.*
Read More
Package Description:
60 softgels, 30 day supply
Serving Size:
2 softgels
Number of Servings:
30
Availability:
IN STOCK
Leaves warehouse
in 1-2 business days.
The Little Pill That Makes a Big Difference
Introducing Krill Omega 50+™ a highly innovative Omega-3 formula designed for adults who like to lead an active, healthy lifestyle. Krill Omega 50+™ features 500mg of superior quality Krill Oil which targets joint comfort combined with 500mg of concentrated Omega-3 Fish Oil to support cardiovascular health and brain function.* This duo also provides advanced nutritional support for eye health, youthful skin and more.*
Formulated for Adults over 50 to Support Cardio, Brain & Joint Health*
As we age, our joints, brain and cardiovascular system need extra nutritional support. Krill Omega 50+™ delivers with an advanced Omega-3 formulation. Krill Oil has been heralded for its unique phospholipid complex and the powerful natural Astaxanthin it provides. Phospholipids carry the EPA & DHA directly into the cells, allowing for easy absorption.*
Improve Your Joint Comfort in Just 7 Days
In a randomized, double-blind, placebo controlled trial (the type of research study regarded as the "gold standard" in scientific circles), people noticed significant joint benefits after taking 300 mg of Krill Oil for just 7 days.
Two softgels of Krill Omega 50+™ provides 500mg of Krill Oil (67% more krill than the leading brand) for advanced joint support plus 500mg of Ultra-Pure Fish Oil for cardiovascular and brain health support.*
The Best of Both Worlds™ – Krill plus Omega-3 Fish Oil
While Fish Oils are a greater source of DHA and EPA, they do not naturally contain the valuable phospholipids found in Krill Oil. Since Purity's Krill Omega 50+™ contains both Fish Oil and Krill Oil... you get the BEST of BOTH worlds in one single formula.
Because Krill Omega 50+ is fortified with ultra-pure, concentrated Fish Oil it contains 3X more DHA & EPA than Krill Oil alone. In addition, Krill Omega 50+™ provides 500 IU of Vitamin D3, as well as 500mcg of the valuable carotenoid, Astaxanthin.
LemonLock™ Freshness System
Purity's LemonLock™ Freshness System locks in purity and seals in freshness. Omega-3s such as Fish Oil and Krill Oil provide a host of health benefits for the body. But just like real food, Omega-3s are better for you when they are fresh. Old fish oil can go rancid, and oxidation in rancid fish oil can lead to unpleasant fish oil burps. Purity starts out with ultra-pure, superior quality, concentrated Omega-3s, preserving them with our scientifically advanced LemonLock™ Freshness System. Unlike other companies whose Omega-3s may go rancid, our LemonLock™ System infuses our Fish and Krill Oils with a potent antioxidant complex - sealing in the purity of our Omega-3s. It's a difference you can experience.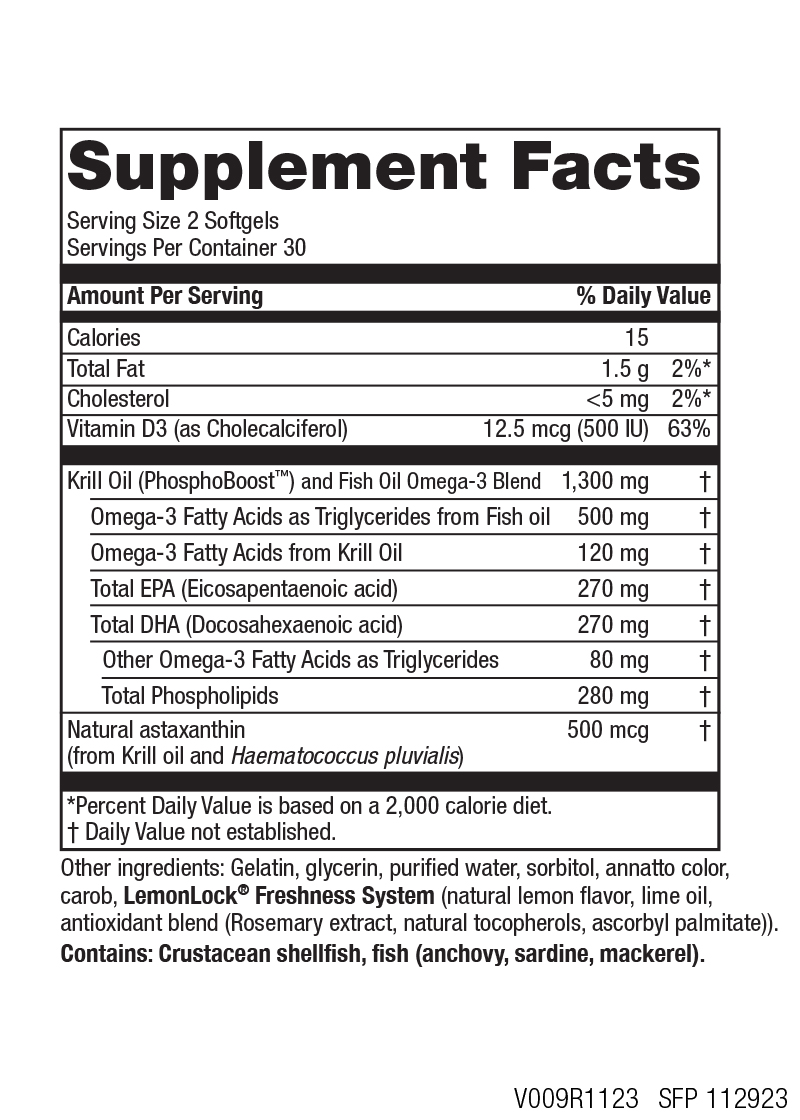 The Super Saver Advantage:
Super Saver saves you 25% and Discounted Shipping
With Super Saver you enjoy the convenience of automatic delivery and you save at least 25%! You will automatically receive a fresh supply at the shipping frequency you select. You are in charge, and you can customize or cancel your order at any time.
Order Line (24 Hr): 1-800-256-6102 Customer Care: 1-888-769-7873
Customer Care Hours: Mon-Thu 9am-9pm ET,
Fri 9am-7pm ET, Sat 9am-5pm ET
200 Terminal Drive, Plainview, NY 11803 © 2014 Purity Products
*These statements have not been evaluated by the Food and Drug Administration. These products are not intended to diagnose, treat, cure or prevent any disease.