I.Q. Essentials Now with Vitamin D
Rich in DHA and EPA
1,000 IU Vitamin D3
Delicious Orange Flavor
IQ Essentials™ is a small, chewable children's Omega 3 fish oil supplement with a great tasting orange flavor endorsed by world renowned pediatrician Dr. William Sears.
Read More
Package Description:
150 soft gels, 30 day supply
Serving Size:
5 Softgels
Number of Servings:
30
Availability:
IN STOCK
Leaves Warehouse in 1-2 business days.
Kid's Omega-3 Fish Oil Formula
Purity's I.Q. Essentials™ Kid's Omega-3 Fish Oil is a small, chewable soft gel that features great tasting, orange flavored, purified Omega-3 Fish Oil, rich in DHA and EPA.

Ultra Pure, Super Concentrated Fish Oil with Vitamin D
As part of Purity's commitment to product quality, not only are these Fish Oils super concentrated, but they are "molecularly distilled." This process removes contaminants and locks in purity. For children 2 and up, five small soft gels deliver 130 mg EPA, 230 mg DHA and 1000 IU Vitamin D, as recommended by the Vitamin D Council.
I.Q.Essentials™ . . . Fish Oil For Kids!
Omega-3 fatty acids DHA and EPA, which are found in I.Q. Essentials™, are widely recognized for their positive role in the health of the brain, heart, skin, joints, eyes and more.* You won't want your child to be without it I.Q. Essentials™ is molecularly distilled and guaranteed to be ultra-pure and super concentrated. Get your child started on I.Q. Essentials™ and see why Omega 3's are making headlines all over the world. Kids (and adults) love the great tasting orange flavor!
The Benefits of I.Q. Essentials™
The Omega-3 fatty acid DHA is highly concentrated in critical brain structures, including the cerebral cortex, synaptic membranes, mitochondria and photoreceptors of the retina.* Omega-3 fatty acids support the function of neuronal cell membranes and complex signaling pathways in the human body.*
This product contains soybean and fish (anchovies and sardines).
Also available in a value kit, click here for details.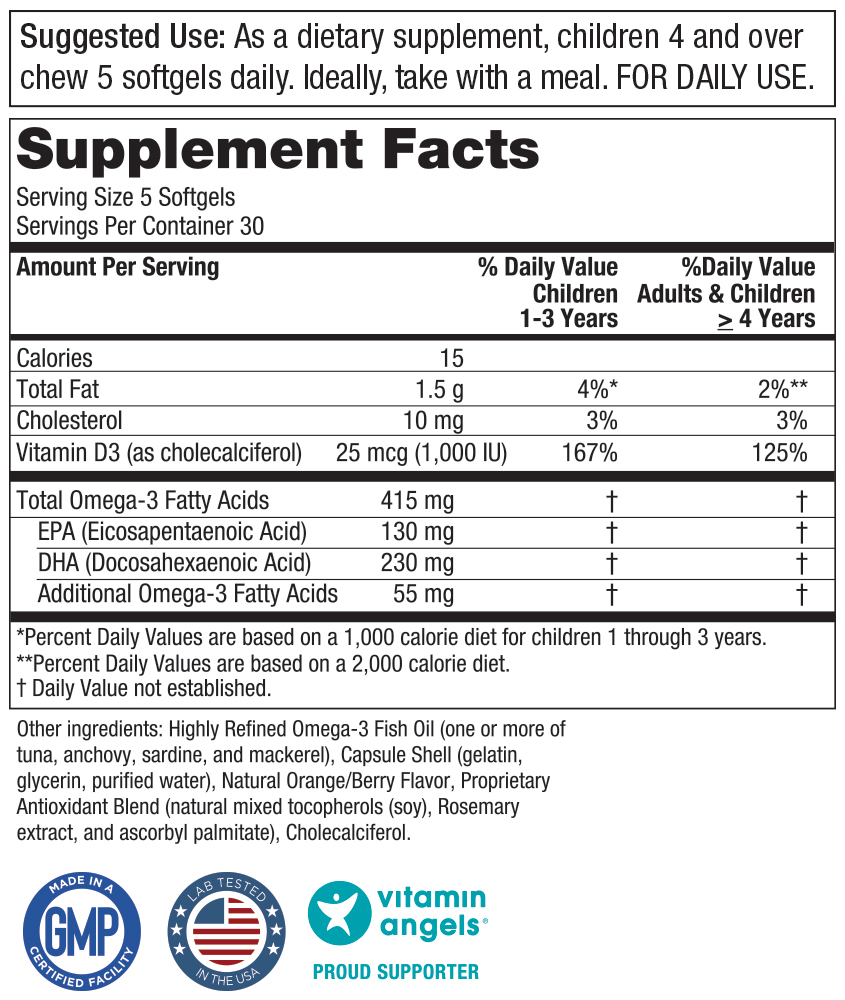 The Super Saver Advantage:
Super Saver saves you 25% and Discounted Shipping
With Super Saver you enjoy the convenience of automatic delivery and you save at least 25%! You will automatically receive a fresh supply at the shipping frequency you select. You are in charge, and you can customize or cancel your order at any time.
Order Line (24 Hr): 1-800-256-6102 Customer Care: 1-888-769-7873
Customer Care Hours: Mon-Thu 9am-9pm ET,
Fri 9am-7pm ET, Sat 9am-5pm ET
200 Terminal Drive, Plainview, NY 11803 © 2014 Purity Products
*These statements have not been evaluated by the Food and Drug Administration. These products are not intended to diagnose, treat, cure or prevent any disease.