I Can Snack Less
Helps Normalize Appetite and Support Energy Levels*
Promotes Healthy Weight Management*
Supports Digestive Function*
I Can Snack Less is a fun way to enjoy a nutritious snack when you need a quick pick-me-up. Each tasty wafer is flavored with Chocamine, a standardized cocoa extract that provides the benefits of chocolate while satisfying your urge to snack.
Read More
Package Description:
60 Chewable Wafers, 30 Day Supply
Serving Size:
2 Chewable Wafers
Number of Servings:
30
Availability:
IN STOCK
Leaves warehouse
in 1-2 business days.
A Revolutionary Supplement – You Can Eat -- for People Who Want to Diet Successfully
Perhaps one of the key reasons why people fail to diet successfully and lose the weight they desire is due to a yearning to satisfy cravings. Cravings for sugar are especially tough to endure for the vast majority of us but now there are nutritional solutions to manage these cravings. Before your next diet fails due to indulging and snacking on unhealthy foods take advantage of the latest advancements in weight management science. I CAN SNACK LESS™ was born out of the idea that there are evidence-based solutions to manage blood sugar based on the research conducted on chromium picolinate.
At 600 mcg this nutrient has the ability to help the body offset cravings, maintain already normal blood sugar levels and curb appetite. At its core, I CAN SNACK LESS™ is a revolutionary tool for dieters to manage cravings, mitigate snacking, feel healthier and more energized.* I CAN SNACK LESS™ is nutritious and delicious chocolate flavored wafer that you chew once or twice daily to maintain already normal blood sugar levels and manage your appetite.*
Because it tastes so good, it also functions as a healthy snack as well, even though it has almost no calories. Each tasty wafer is flavored with Chocamine&reg, a standardized cocoa extract that provides the benefits of chocolate while supporting healthy brain function and satisfying your urge to snack.*
A Functional Snack Infused with Chromium Picolinate
The centerpiece of I CAN SNACK LESS™ is Chromium Picolinate. Chromium is an essential dietary mineral that plays a key role in helping to support already normal blood sugar.* Chromium picolinate—the subject of hundreds of research studies published in scientific journals—supports:
Healthy weight management when used along with diet and exercise.*
Lean body mass and healthy body composition.*
And helps satisfy the urge to indulge in that empty-calorie afternoon snack.
Evidence of this was seen in a landmark study on a group of overweight women with carbohydrate cravings who took 1000 mcg of chromium, from chromium picolinate, every day for 8 weeks. Compared to another group of women given a placebo, the women taking chromium picolinate had less hunger and fat cravings. And they also ate less.
Together with Chromium picolinate and Chocamine®, I CAN SNACK LESS™ also contains Riboflavin, Vitamin B6 and Vitamin B12, three essential B vitamins that support the conversion of carbohydrates into energy for healthy metabolism.* Chocamine® is standardized for natural compounds in chocolate that promote healthy fat burning.* The carefully selected ingredients in each wafer make I CAN SNACK LESS™ an effective appetite control formula as well as a satisfying snack.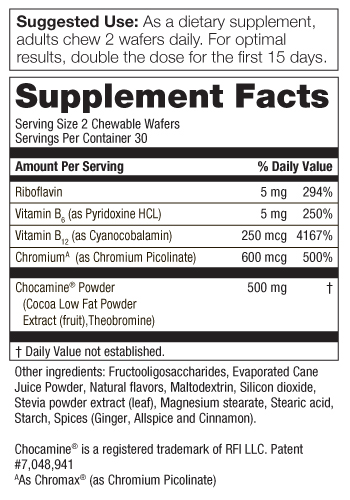 The Super Saver Advantage:
Super Saver saves you 25% and Discounted Shipping
With Super Saver you enjoy the convenience of automatic delivery and you save at least 25%! You will automatically receive a fresh supply at the shipping frequency you select. You are in charge, and you can customize or cancel your order at any time.
Order Line (24 Hr): 1-800-256-6102 Customer Care: 1-888-769-7873
Customer Care Hours: Mon-Thu 9am-9pm ET,
Fri 9am-7pm ET, Sat 9am-5pm ET
200 Terminal Drive, Plainview, NY 11803 © 2012 Purity Products
*These statements have not been evaluated by the Food and Drug Administration. These products are not intended to diagnose, treat, cure or prevent any disease.