Hair, Skin & Nails Super Formula
Supports Healthy and Youthful Looking Skin*
Helps Maintain Skin Elasticity and Hydration*
Supports Strong and Healthy Hair and Nails*
Experience the benefits of our all new Hair, Skin and Nails Super Formula with 5,000 mcg of Biotin and 10 mg of FloraGlo® Lutein.
Read More
Package Description:
30 Capsules, 30 day supply
Serving Size:
1 Cap
Number of Servings:
30
Availability:
IN STOCK
Leaves warehouse
in 1-2 business days.
While aging is natural and cannot be avoided, it doesn't mean we can't fight back! Today there are excellent evidence-based nutritional strategies to help us maintain a youthful appearance, and even potentially reverse some of the premature visible signs of skin aging. Purity's "Hair, Skin and Nails Super Formula" is a distinctive blend of key "oral cosmetics" that naturally support and maintain the health and appearance of your skin, hair and nails. By taking meaningful steps to improve the quality and appearance of our skin, hair and nail health, we not only enhance the way we look, but we also go a long way to improve the way we feel about ourselves.
Biotin- A Key Factor in Nail Health
Found in the matrix of the hair, skin and nails, biotin is essential to support normal cell growth. Biotin is especially important for the support of nail strength and thickness.*
FloraGLO® Lutein- Evidence-based Skin Support
Lutein is often thought of primarily as a potent eye-supporting nutrient, but exciting new research has put it at the forefront of the cosmeceutical revolution. Lutein has been demonstrated in human studies to improve skin hydration and elasticity when ingested orally in supplement form.  Lutein has been shown to filter out the sun's high-energy, blue wavelength of light from the visible-light spectrum, thus giving our skin key antioxidant protection against photo-aging.*
Researchers have shown lutein is also deposited throughout human skin, delivering multi-faceted activity, including antioxidant benefits, to skin cells. Lutein provides photo-protective support to our eyes and skin - the only organs of the body directly exposed to the outside environment. Lutein is also beneficial to the skin because it helps improve skin hydration and elasticity. In a 12-week clinical study, lutein, taken orally improved skin hydration by 38%.
Opextan® - The Mediterranean Secret
Opextan® a potent natural extract from the Mediterranean olive tree, has been shown to have beneficial effects at skin level, where free radical mediated degeneration such as wrinkle formation, epidermal barrier disruption, etc may be effectively prevented. Clinical tests have proved that Opextan®, used orally, combats free radicals, makes the skin less sensitive to UV radiation, and may also help protect it from photo-aging.*
Silica – The Key Mineral
Silica is an essential trace mineral that plays an important role in the processes by which skin, connective tissue, bone, and cartilage are formed.  Silica is also a major component of collagen and is therefore necessary for the maintenance of healthy skin, nails and hair.*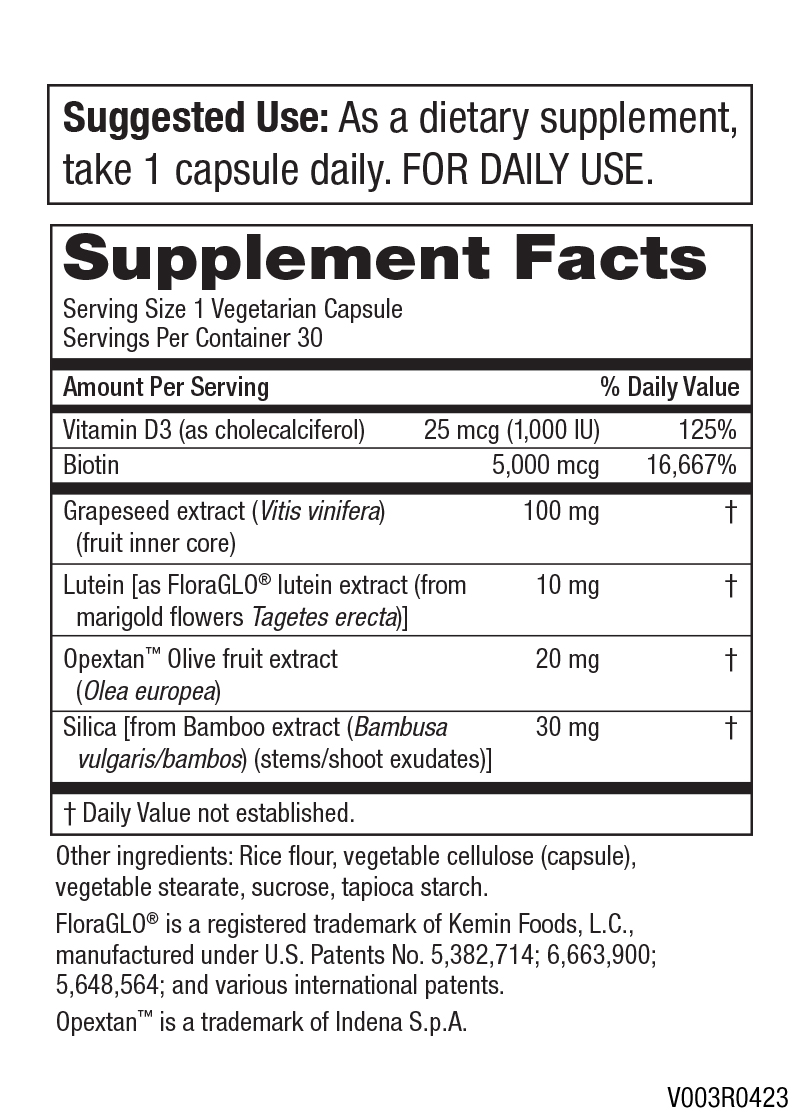 The Super Saver Advantage:
Super Saver saves you 25% and Discounted Shipping
With Super Saver you enjoy the convenience of automatic delivery and you save at least 25%! You will automatically receive a fresh supply at the shipping frequency you select. You are in charge, and you can customize or cancel your order at any time.
Order Line (24 Hr): 1-800-256-6102 Customer Care: 1-888-769-7873
Customer Care Hours: Mon-Thu 9am-9pm ET,
Fri 9am-7pm ET, Sat 9am-5pm ET
200 Terminal Drive, Plainview, NY 11803 © 2014 Purity Products
*These statements have not been evaluated by the Food and Drug Administration. These products are not intended to diagnose, treat, cure or prevent any disease.