H.A. Joint and Skin Super Formula™
Supports Healthy, Flexible Joints and Mobility*
Supports Reduced Oxidative Stress on Joint Tissues*
Supports Healthy, Youthful Skin*
H.A. Joint and Skin Super Formula™ ushers in a new generation of dual-action joint and skin support.
Read More
Package Description:
90 Capsules, 30 day supply
Serving Size:
3 Capsules
Number of Servings:
30
Availability:
IN STOCK
Leaves Warehouse in 1-2 business days.
H.A. Joint & Skin Super Formula™ ushers in a new generation of dual-action joint and skin support. We've taken the EXACT ingredients found in our original H.A. Joint Formula™ and fortified them with the added provisions of B-12 (for energy support) and our Super Lignan™ from flax (for skin and hair support) to create a truly revolutionary formula.
H.A. Joint & Skin Super Formula™, formulated by Bill Sardi, comprehensively supports healthy joint flexibility, healthy synovial fluid and joint lubrication and nourishes and beautifies your skin all at the same time.*
Why is H.A. So Important?
Hyaluronic Acid or H.A. is the crucial space-filling, hydrating, substance found in our connective tissues.* This important gel-like substance, which plays an important role in supporting joint health, often diminishes as a result of normal aging. H.A. Joint & Skin Super Formula™ offers an easy and safe way to replenish your joints with Hyaluronic Acid, widely known as the "Molecule of Youth™".*
How H.A. Works In The Body
Hyaluronic Acid functions as the "glue" that keeps your cells together. It is a key component of collagen and fills the spaces between your cells. Binding with water, Hyaluronic Acid forms a gel that provides structure to various organs.*
A Perfect Combo for Healthy Joint
H.A. Joint & Skin Super Formula™ represents yet another advance in natural joint support. By combining the shock absorbing properties of H.A. with Hidrox™ (Hydroxytyrosol), a highly potent and protective polyphenol found in olives, Purity's H.A. Joint & Skin Super Formula™ is truly revolutionary.
The Story Behind Hyaluronic Acid:
Purity's HA Joint & Skin Super Formula™ provides cutting edge support for joint flexibility and mobility and features BioCell Collagen®, which is carefully manufactured through a patented process. This process contain high concentrations of hydrolyzed collagen type II protein and low molecular weight GAG's (glycosaminoglycans), such as Chondroitin Sulfate, Hyaluronic Acid and other proteoglycans that readily absorb through the gastrointestinal tract to allow superior bioavailability.

With this greater absorption rate, the H.A. nourishes and revitalizes your joints and tissues. What's more, H.A. also helps support healthy enzymatic behavior as it relates to joint health, lubrication and function. With healthy doses of H.A. - you can create powerful support for cartilage.*
Hidrox™ - A Breakthrough In Natural Joint Support!*
Independent laboratory analyses that measure Oxygen Radical Absorbance Capacity (ORAC) identify Hidrox™ (Hydroxytyrosol) as one of the most potent antioxidants yet discovered. Studies show Hidrox helps the body normalize oxidative stress and regulate the physiology that maintains normal, healthy joint comfort.*
Now with 5-Loxin®
"5-Loxin®" is a patent-pending dietary supplement with significant potential for joint health and comfort because it supports collagen production, a key component of connective tissues.* If you're looking for a safe, natural way to support your joints, Purity's H.A. Joint & Skin Super Formula™ will deliver.
H.A. is Not Only for Joints, It's Also for Beauty From Within
Hyaluronic acid is not just for joints, but also an essential component of skin that keeps it healthy, supple, hydrated and youthful. Now there's dramatic visible proof of the power of BioCell Collagen® as a safe, nutritional source of H.A. that works effectively from within to help keep skin beautiful.*
A recent 12-week clinical trial was conducted to learn more about how taking BioCell Collagen® daily changes skin appearance for the better. A study group of 26 healthy women, aged thirty five to fifty nine, took 1000 mg of BioCell Collagen® per day (the exact same dose as found in Purity's HA Formulas).
New Study Illustrates How HA Visibly Reduces Wrinkles within 12 Weeks
After just 12 weeks of oral supplementation with 1000 mg of BioCell Collagen®, improvements were seen in facial aging signs such as wrinkling and lines, as well as the collagen content of the dermal skin layer. Using both quantitative and qualitative measurements, the investigators found that BioCell Collagen® produces healthier, younger looking facial skin through multiple key mechanisms. BioCell Collagen® helps increase hydration and collagen to reduce wrinkles and unwanted lines, resulting in a healthier, smoother skin texture. Additionally, it reduces dryness and scaling and promotes optimal microcirculation in the skin. BioCell Collagen® thus improves beauty on the outside by supporting healthy skin from the inside.*
As they say, a picture is worth a thousand words, and the striking photos below are positive proof of the beautification power of BioCell Collagen®.
The H.A. Joint & Skin Super Formula Difference: Combining H.A. and Hidrox™
H.A. Joint Formula™ is unlike any other product on the market today. It contains 100 mg of H.A. with an added 100 mg of Hidrox™ and 25 mg of 5-Loxin® to powerfully support:
Healthy Joint Flexibility & Mobility*
Healthy Synovial Fluid & Joint Lubrication*
Healthy Inflammatory Response*
Increased Weight-Bearing Capacity of Articular Cartilage & Joints*
Protection From Oxidative Stress on Joint Tissues*
Increased Shock-Absorbing Capacity of Joints*
Healthy, Supple Skin*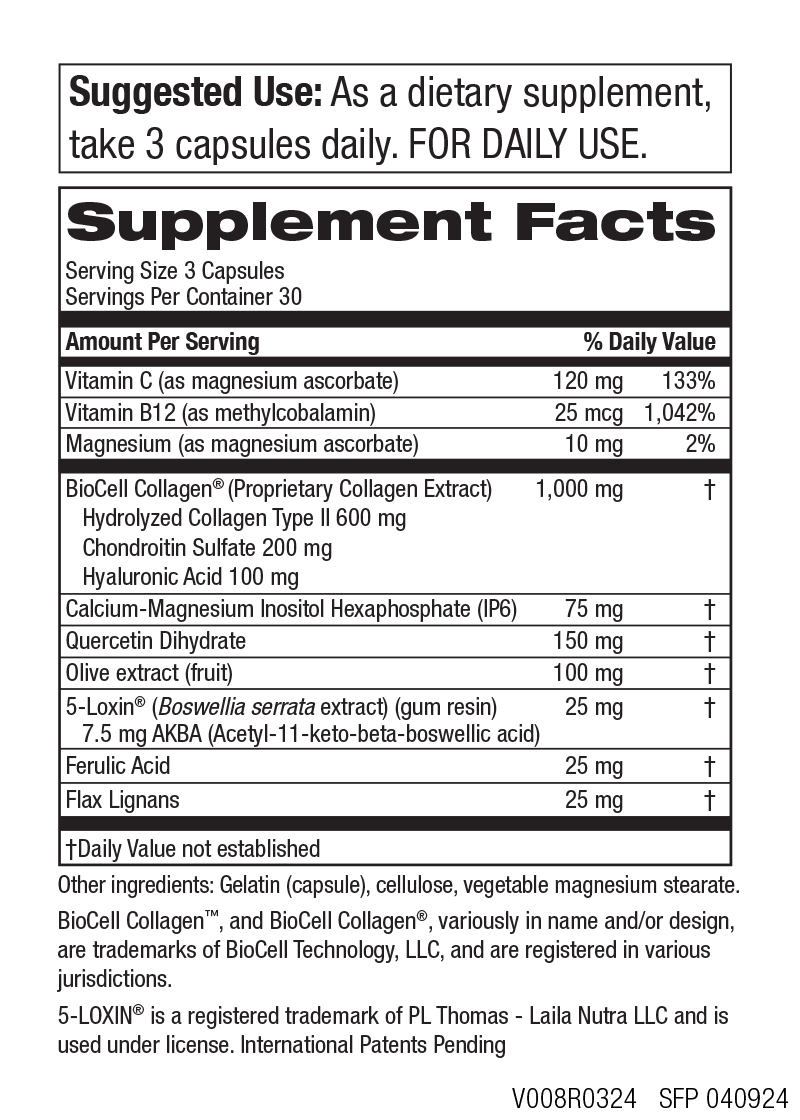 The Super Saver Advantage:
Super Saver saves you 25% and Discounted Shipping
With Super Saver you enjoy the convenience of automatic delivery and you save at least 25%! You will automatically receive a fresh supply at the shipping frequency you select. You are in charge, and you can customize or cancel your order at any time.
Order Line (24 Hr): 1-800-256-6102 Customer Care: 1-888-769-7873
Customer Care Hours: Mon-Thu 9am-9pm ET,
Fri 9am-7pm ET, Sat 9am-5pm ET
200 Terminal Drive, Plainview, NY 11803 © 2014 Purity Products
*These statements have not been evaluated by the Food and Drug Administration. These products are not intended to diagnose, treat, cure or prevent any disease.