Green Tea Plus Resveratrol
Promotes A Healthy Immune System*
Promotes Healthy Energy Levels*
Supports Healthy Skin and Healthy Aging*
Delivered in liquid form with a convenient squeeze dropper, Green Tea Plus Resveratrol supports healthy immunity and healthy energy levels.*
Read More
Package Description:
2 fl. oz., 30 day supply
Serving Size:
2 ml
Number of Servings:
30
Availability:
IN STOCK
Leaves warehouse
in 1-2 business days.
Tradition Meets Science
The Best of Asia...The Best of Europe
Over 8,000 years of natural health and hundreds of scientific studies have converged supporting the key ingredients in Purity's delicious, powerful, easy-to-take liquid extract -- GREEN TEA Plus RESVERATROL. Asians who rely on green tea as a cornerstone of their diet and Europeans who drink red wine every day are some of the healthiest and longest living people on the planet.
The Power of Polyphenols and Phyto-Nutrients
Not only is Green Tea one of the world's most widely consumed beverages, it is also one of the most beneficial. Green tea catachins and the resveratrol in red wine belong to a family of antioxidants called polyphenols, which provide effective, broad-spectrum health support for the organs, tissues and systems of your body.* With GREEN TEA Plus RESVERATROL, you can have the polyphenol equivalent of 3 traditional cups of green tea and 10 glasses of Resveratrol-rich red wine. The antioxidant power of Purity's GREEN TEA Plus RESVERATROL is illustrated by its impressive ORAC capacity. Each serving contains about 2200 ORAC (Oxygen Radical Absorbance Capacity) units, the antioxidant equivalent of 5 servings of fruits and vegetables.
Green tea polyphenols include EGCG (epigallocatechin gallate), which has demonstrated especially strong antioxidant activity. Green Tea plus Resveratrol delivers a consistent intake of 60 mg EGCG preserving.
In addition to Green Tea extract, Green Tea Plus Resveratrol fortifies the body's antioxidant defenses with a special blend of Resveratrol, Grape Seed extract, Pinebark extract, Curcumin, Ellagic Acid, Lohan fruit extract, Citrus Bioflavonoids and Oligomeric Proanthocyanidins. These ingredients support cardiovascular and circulatory health by helping maintain healthy blood vessels.* Purity's new Liquid Green Tea with Resveratrol contains about 35 mg of naturally occurring caffeine from green tea per serving (1 dropper full), which is equivalent to about 1/2 of a cup of caffeinated coffee.
Liquid Green Tea with Resveratrol tastes great in hot or cold water. In hot water it's like a delicious, gourmet green tea; in pure, cold water it transforms your drink into a thirst quenching, refreshing iced tea. Add a dropper full to bottled water and it's great for hydration during or after a workout, and its perfect anytime you want to enjoy a tasty, virtually zero calorie treat.
GREEN TEA Plus RESVERATROL provides advanced nutritional benefits:
Antioxidant protection to mitigate free radicals throughout your body*
Promotes healthy, strong cells in your organs and tissues*
Supports heart and blood vessel health*
Supports alertness and mental clarity*
Promotes healthy immunity*
Supports weight management*
Supports the health and appearance of your skin*
Each 2 mL serving provides:
200 mg of Green Tea Extract; 180 mg of Polyphenols; 60 mg EGCG
60 mg of Vitamin C
200 mg of a Proprietary Blend containing Resveratrol, Grape Seed extract, Pinebark extract, Curcumin, Ellagic acid, Lohan fruit extract, Citrus Bioflavonoids, and OPCs.
Flavored with Stevia extract and Licorice.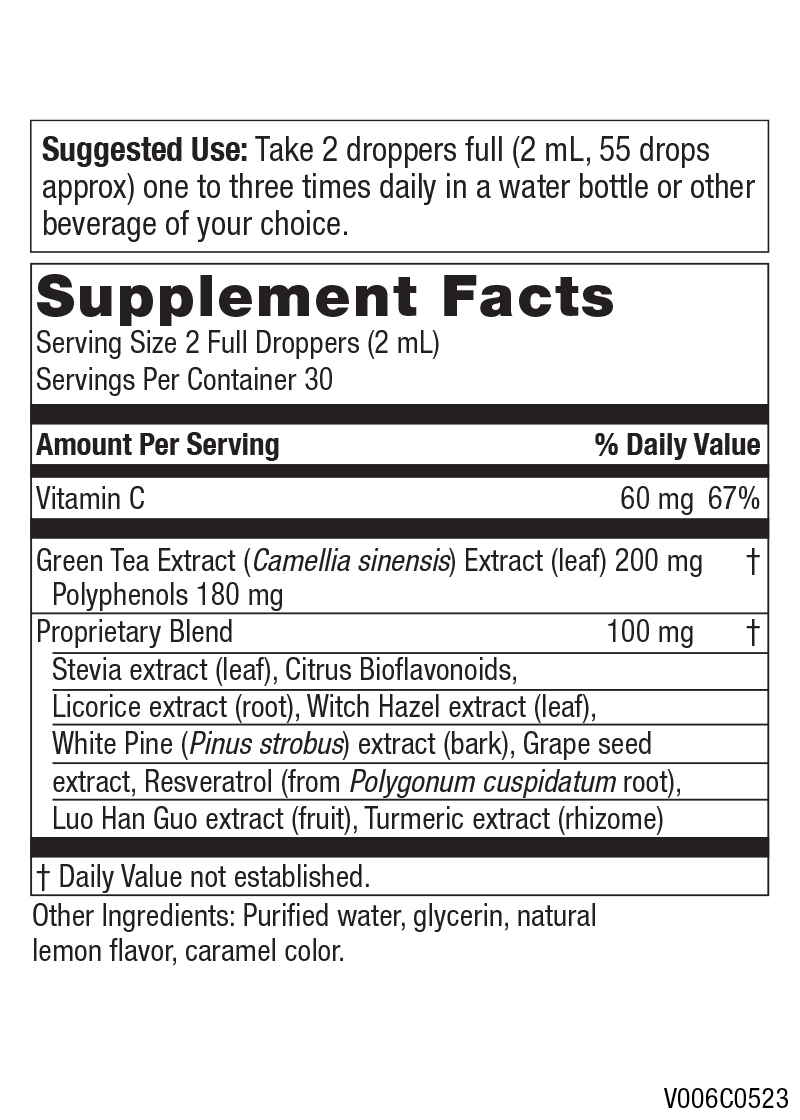 The Super Saver Advantage:
Super Saver saves you 25% and Discounted Shipping
With Super Saver you enjoy the convenience of automatic delivery and you save at least 25%! You will automatically receive a fresh supply at the shipping frequency you select. You are in charge, and you can customize or cancel your order at any time.
Order Line (24 Hr): 1-800-256-6102 Customer Care: 1-888-769-7873
Customer Care Hours: Mon-Thu 9am-9pm ET,
Fri 9am-7pm ET, Sat 9am-5pm ET
200 Terminal Drive, Plainview, NY 11803 © 2012 Purity Products
*These statements have not been evaluated by the Food and Drug Administration. These products are not intended to diagnose, treat, cure or prevent any disease.