Evoxin CG™ Formula
Supports Healthy Weight Management.*
Fighting Occasional Fatigue Associated With Everyday Stress.*
Supports Healthy Energy Levels*
Evoxin CG™ represents the convergence of two cutting-edge nutraceutical technologies to support both healthy body weight and energy levels.*
Read More
Package Description:
60 tablets, 30 day supply
Serving Size:
2 tablets
Number of Servings:
30
Availability:
IN STOCK
Leaves warehouse
in 1-2 business days.
Dual Action Evoxin CG™ Formula
Purity's new Evoxin CG™ Formula represents the convergence of two cutting-edge nutraceutical technologies to support both healthy body weight and energy levels.* Available in the United States in the exclusive Evoxin™ Formula, you will find both Green Tea extract and the highly-publicized L-Carnipure® brand of L-Carnitine. Both have been combined in this unique, advanced, powerhouse formula.*
With Evoxin CG™, for the first time, the proven health-supporting properties of L-Carnipure® have been combined with the clinically proven energy-support action of Green Tea. Together, these two special nutrients represent a giant leap forward in supporting multiple areas of health.*
The Science of L-Carnitine
Carnitine is responsible for the transport of long-chain fatty acids into the energy-producing centers of the cells known as the mitochondria. Clinical studies provide evidence that supplementary L-Carnitine may support healthy fat oxidation, support muscle (lean tissue) deposition, and along with a healthy diet and exercise, may help maintain a healthy body weight.*
Green Tea Extract
Green tea is one of the best researched dietary ingredients available. Over the years, research from all over the world has shown green tea extracts can provide a wide range of potential health-supporting benefits.*
Green tea extract supports the body's antioxidant defense systems and protects cells against free radical damage, maintaining healthy cellular function.*
Green tea extract supports a healthy cardiovascular system via its antioxidant action on lipids and its ability to support normal platelet function.*
Green tea possesses significant thermogenic (heat-generating) properties.*
Green tea promotes healthy fat oxidation (fat-burning).*
Green tea polyphenols have been shown to support the immune system.*
Put the combination of high quality L-Carnitine and Green Tea extract to work for yourself with all natural Evoxin CG™. Experience the cardiovascular, energy, and weight management support as you take your health to the next level*
This product contains soybean.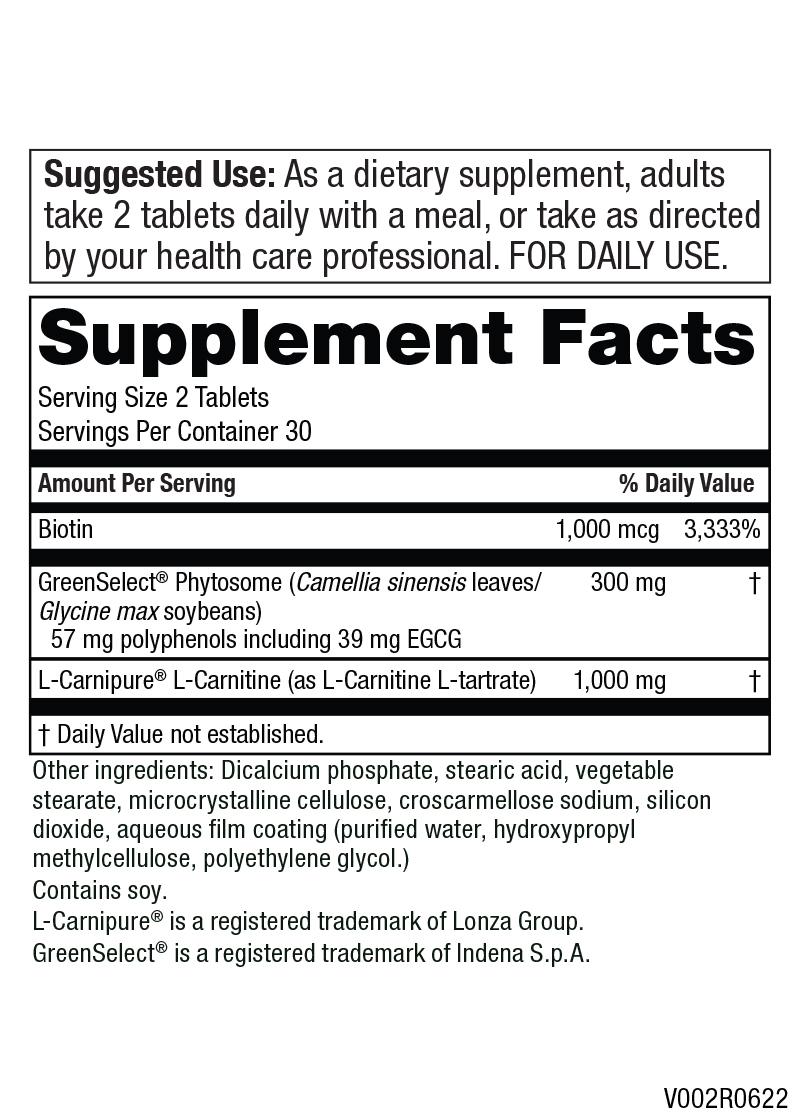 The Super Saver Advantage:
Super Saver saves you 25% and Discounted Shipping
With Super Saver you enjoy the convenience of automatic delivery and you save at least 25%! You will automatically receive a fresh supply at the shipping frequency you select. You are in charge, and you can customize or cancel your order at any time.
Order Line (24 Hr): 1-800-256-6102 Customer Care: 1-888-769-7873
Customer Care Hours: Mon-Thu 9am-9pm ET,
Fri 9am-7pm ET, Sat 9am-5pm ET
200 Terminal Drive, Plainview, NY 11803 © 2014 Purity Products
*These statements have not been evaluated by the Food and Drug Administration. These products are not intended to diagnose, treat, cure or prevent any disease.