Dr. Cannell's Vitamin D with Vitamin K
Supports Energy and Vitality*
Supports Muscle and Bone Health*
Supports Healthy Brain Function*
Formulated by the Executive Director of the Vitamin D Council, Dr. John J. Cannell, Vitamin D with Vitamin K is a next generation vitamin D complex that includes patented Super Boron, extra vitamin K2, zinc, and magnesium.
Read More
Package Description:
60 capsules
Serving Size:
2 capsules
Number of Servings:
30
Availability:
IN STOCK (USA Only)
Leaves warehouse
in 1-2 business days.
Next Generation Doctor-Formulated Vitamin D3 Complex Now with 1100 mcg of Vitamin K2
Dr. Cannell's Advanced D Provides:
Advanced Bone and Muscle Support*
Natural Immune Support*
Heart and Cardiovascular Support *
Healthy Energy and Endurance Support*
The Vitamin D3 Revolution
Vitamin D's influence on key biological functions vital to one's health and well-being mandates that vitamin D3 supplementation can no longer be ignored by individuals striving to achieve and maintain a greater state of health.* Formulated by John Cannell MD, Purity's new Vitamin D3 Complex is a synergistic blend of Vitamin D3 with several targeted nutrients which complement many of the vitamin D3's desirable health benefits.*
Bones and Muscles
Without adequate Vitamin D intake, the body cannot properly metabolize Calcium. Vitamin D strengthens bones and also may enhance muscle strength because of its direct effect on calcium transport in muscles. Because of its unique interplay with calcium, vitamin D can support the health of both of these important structures.*
Powerful Immune Support
Vitamin D plays an important role in the function of our immune system. Vitamin D receptors are present on almost all immune cells and vitamin D has immune-modulating properties that can support long-term health and wellness by enhancing innate immunity.*
Heart and Cardiovascular Support
Recent research is pointing to the increasing role of vitamin D in maintaining healthy cardiovascular and heart function. Studies have found an association between optimum blood levels of vitamin D and healthy cardiovascular function.*
Vitamin D with Vitamin K
One of the 13 essential vitamins, vitamin K is required for synthesis of proteins that cause blood to clot properly. Vitamin K-dependent proteins have other important functions beyond this survival mechanism, however. Chief among these functions is regulation of calcium storage in bone. At the same time, vitamin K helps prevent excessive calcium build-up in arteries. Simply put, Vitamin K helps keep bones strong and arteries flexible.
Vitamin K occurs in two major forms, designated as K1 and K2. Vitamin K1 or "phylloquinone, is commonly found in food and supplements. K1 is used in the liver as a blood-clotting factor. Vitamin K2 is a group of compounds known collectively and "menaquinones." Two of these, MK-4 and MK-7, are directly involved in calcium regulation, making them vitally important for bone and cardiovascular health. For this reason Dr. Cannell's Vitamin D with Vitamin K includes MK-4 and MK-7. Both are safe at doses many times higher than the RDI of 80 mcg.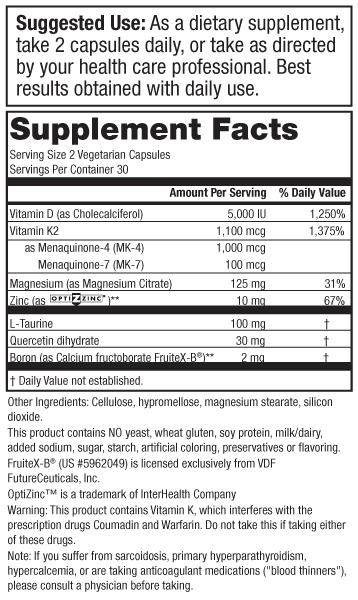 The Super Saver Advantage:
Super Saver saves you 25% and Discounted Shipping
With Super Saver you enjoy the convenience of automatic delivery and you save at least 25%! You will automatically receive a fresh supply at the shipping frequency you select. You are in charge, and you can customize or cancel your order at any time.
Order Line (24 Hr): 1-800-256-6102 Customer Care: 1-888-769-7873
Customer Care Hours: Mon-Thu 9am-9pm ET,
Fri 9am-7pm ET, Sat 9am-5pm ET
200 Terminal Drive, Plainview, NY 11803 © 2014 Purity Products
*These statements have not been evaluated by the Food and Drug Administration. These products are not intended to diagnose, treat, cure or prevent any disease.