Dr. Cannell's Advanced D + Omega 3 Kit
Advanced Bone and Muscle Support*
Natural Immune Support*
Cardiovascular, Brain and Energy Support*
We've created the perfect everyday supplement kit by combining the benefits of our molecularly distilled Omega-3 Fish Oil with incredible health supporting benefits of Vitamin D.
Read More
Package Description:
1 Adv. D, 1 Omega-3, 30 day supply
Serving Size:
NA
Number of Servings:
30
Availability:
IN STOCK (USA Only)
Leaves Warehouse in 1-2 business days.
We've combined the benefits of our super concentrated Omega-3 Fish Oil with the incredible health supporting benefits of Vitamin D in one convenient 2-Bottle Kit.  Featuring our Ultra Pure Omega-3 Fish Oil plus 5,000 IUs of Dr. Cannell's Advanced D Super Formula.
We've created the perfect "everyday" supplement kit.
Benefits of Ultra-Pure Omega-3 Fish Oil
The two key active ingredients in Fish Oil, DHA and EPA, are widely recognized for their positive influence on many organs and tissues. Fish Oil comprehensively supports healthy heart and cardiovascular function, circulation, the structure and function of cellular membranes, healthy brain development and even healthy skin.*
Research Update-Fish Oil Benefits Cognitive Performance and Cardiovascular Health!
In a noteworthy new clinical study published in the Nutrition Journal (Nov 22, 2012) a group of 44 healthy middle aged to elderly subjects achieved better cognitive performance after taking 3 grams of fish oil daily for just five weeks. This placebo-controlled trial utilized the "cross-over" study method which means the participants took either fish oil or a placebo for 5 weeks, followed by 5 weeks off and then switched to fish oil or placebo for another 5 weeks. After taking fish oil, subjects had improved scores on tests of working memory and selective attention. Indicators of cardiovascular health also showed positive changes that were directly correlated to the gains in cognitive function.
Ultra Pure, Super Concentrated Fish Oil
As part of Purity's commitment to product quality, not only are these Fish Oils concentrated, but they are "molecularly distilled." This process removes contaminants and locks in the purity. Each 2 soft gel serving contains 1125 mg of a super potent provision of Omega-3's with 565 mg of EPA and 435 mg of DHA. Purity's exclusive soft gel encapsulation process also includes a proprietary - non-repeating - antioxidant blend to maintain freshness.
The Vitamin D3 Revolution
Vitamin D's influence on biological functions vital to one's health and well-being mandates that vitamin D3 supplementation can no longer be ignored by individuals striving to achieve and maintain a greater state of health.* Formulated by the Executive Director of the Vitamin D Council, Dr. John J. Cannell, Purity's new Vitamin D3 Complex is a blend of Vitamin D3 with several targeted nutrients which complement many of the Vitamin D3's desirable health benefits.*
Bones and Muscles
Without adequate Vitamin D intake, the body cannot properly metabolize Calcium. Vitamin D strengthens bones and also may enhance muscle strength because of its direct effect on calcium transport in muscles. Because of its unique interplay with calcium, vitamin D can support the health of both of these important structures.*
Immune Support
Vitamin D plays an important role in the function of our immune system. Vitamin D receptors are present on almost all immune cells and vitamin D has immune-supporting properties that can help maintain long-term health and wellness by supporting innate immunity.*
Heart and Cardiovascular Support
Recent research is pointing to the increasing role of vitamin D in maintaining healthy cardiovascular and heart function. Studies have found an association between optimum blood levels of vitamin D and healthy cardiovascular function.*
Purity's Advanced D and Omega-3 Kit Powerfully Supports:
Heart and Cardiovascular Health*
Brain Health*
Immune System Function*
Advanced D contains no milk, eggs, soy, wheat, tree nuts, fish, shellfish or gluten.
Ultra Pure Omega-3 contains no milk, eggs, wheat, tree nuts, shellfish or gluten.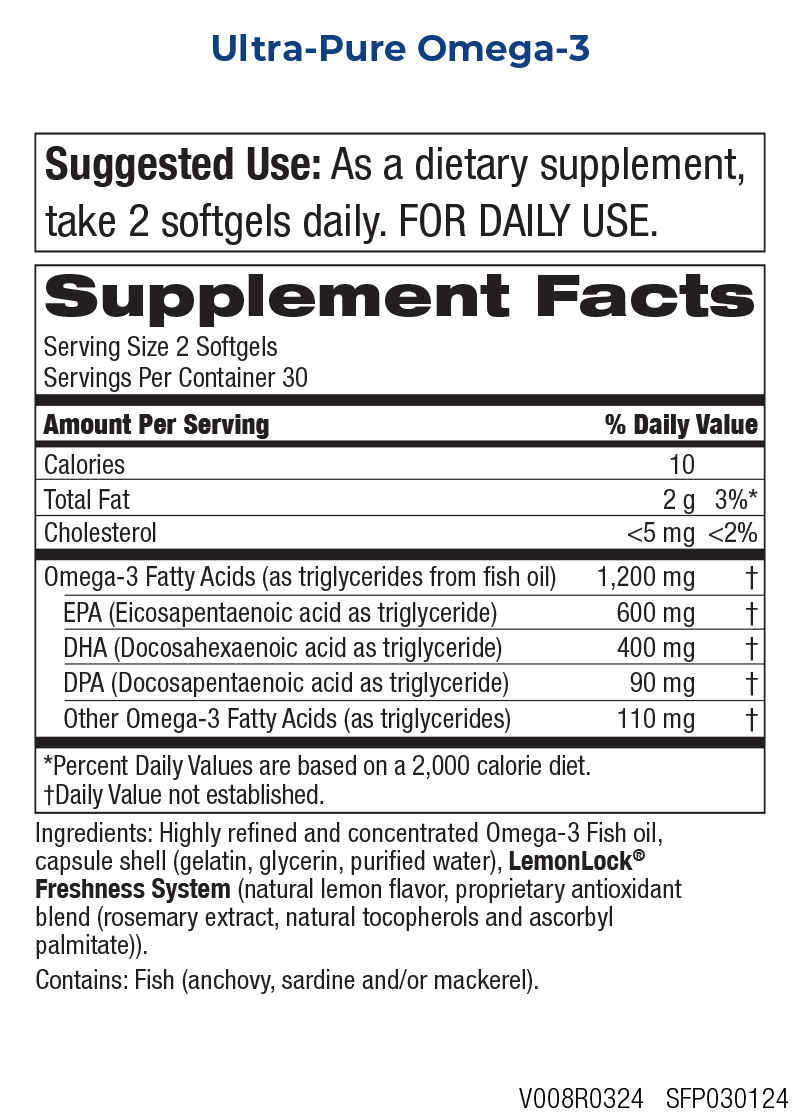 The Super Saver Advantage:
Super Saver saves you 25% and Discounted Shipping
With Super Saver you enjoy the convenience of automatic delivery and you save at least 25%! You will automatically receive a fresh supply at the shipping frequency you select. You are in charge, and you can customize or cancel your order at any time.
Order Line (24 Hr): 1-800-256-6102 Customer Care: 1-888-769-7873
Customer Care Hours: Mon-Thu 9am-9pm ET,
Fri 9am-7pm ET, Sat 9am-5pm ET
200 Terminal Drive, Plainview, NY 11803 © 2012 Purity Products
*These statements have not been evaluated by the Food and Drug Administration. These products are not intended to diagnose, treat, cure or prevent any disease.