Detox Kit
Supports Intestinal Health and Wellness*
Supports Healthy Detoxification*
Maintains Healthy Liver Function and Protects It From Oxidative Stress*
Save up to 55%
on our Detox Kit. There can be unwanted consequences if we allow toxins to accumulate in the body. That's why detoxification is so important. The Detox Kit provides you with support for regularity, detoxification and immunity.
Read More
Package Description:
1 bottle each. 30 day supply.
Serving Size:
N/A
Number of Servings:
30
Availability:
IN STOCK
Leaves Warehouse in 1-2 business days.
In an increasingly polluted world, there could be unwanted consequences if we allow toxins to accumulate in the body. That's why detoxification matters to everyone. Purity's Detox Kit provides you with comprehensive support for GI Health, Regularity and Detoxification as well as Immune System Support.*
With FiberBiotics™ powder you will enjoy a tasty blend of both soluble and insoluble fiber, clinically tested probiotics, and cleansing phytonutrients to support your GI Health, Regularity and overall Digestive Function*. FiberBiotics represents the convergence of key evidence-based ingredients to provide targeted support for key multiple areas of health, including digestion and gastrointestinal function, cardiovascular health, weight management and immunity*
Multifunctional Fiber Formula
Fiber plays an important role in many aspects of human health. Optimal fiber intake promotes intestinal regularity and supports stool consistency. It can also support normal transit time and maintain normal bowel movements. The intake of soluble fiber as a part of a healthy diet has also been shown to help promote healthy weight management. Supplementing with FiberBiotics in conjunction with a healthy diet may aid in supporting healthy blood sugar levels and may also help maintain cholesterol and blood lipid levels that are already in the normal range as the product contains several beneficial soluble fibers.*
BC30 and The Probiotic Revolution
Ganeden BC30 is a unique probiotic strain demonstrated in clinical studies to support intestinal health and wellness. Probiotics are "friendly" or "beneficial" bacteria which when ingested help us maintain the health and function of the gastrointestinal tract. Studies now show that an optimal "balance" in the microbial population is associated with good health in humans. Ganeden BC30 has been shown to effectively promote the proliferation ad growth of other healthy beneficial bacterial species in the intestines.
The Benefits of FiberBiotics:
Supports Intestinal Health and Wellness*
Supports Healthy Detoxification*
Ganeden BC30 is a Unique Probiotic Strain that Supports Intestinal Health*
VitaBerry® Plus HiORAC Supports Digestive Health*
May Promote Normal, Regular Bowel Movements*
Supports the Health of the Immune System*
Real Detox™ features three cutting edge ingredients designed to promote detoxification and healthy immune function by supporting liver function, boosting innate detoxification enzymes, and fighting free radicals.*
BroccoRaphanin™
Since the Johns Hopkins University School of Medicine announced their breakthrough discovery of the key active agent in broccoli, over 300 publications from universities worldwide have underscored its significance. Research has focused on the role of this powerful ingredient in promoting the health of the bladder, breast, eyes, pancreas, prostate, liver and cardiovascular system. Backed by 7 patents, BroccoRaphanin™, has been clinically researched for its role in DNA protection as well as for it's role in supporting the liver's ability to clear free radical toxins by promoting antioxidant concentrations and increasing detoxification enzymes in the body.*
Siliphos™
The liver is the key detoxification organ in the body. Patented Siliphos™ is the premier  evidence-based liver-support nutraceutical on the market today. Supported by numerous clinical trials relating to liver health, Siliphos™ has been shown to maintain healthy liver function and protect this key organ from oxidative stress and damage.*
IP-6
Inositol Hexaphosphate, or IP-6, is a natural antioxidant component of fiber-rich foods like whole grains and legumes and is found in almost every cell of the body. In studies, IP6 promotes healthy cell metabolism and maintains proper enzyme activity in cells. It also has been shown to be a heavy metal chelator, which may help the body maintain healthy levels of iron and other similar compounds.*
Real Detox:
Maintains Healthy Liver Function and Protects It From Oxidative Stress*
Supports Cellular Health and Normal Cell Replication*
Maintains Normal Phase-2 Detoxification Enzyme Levels*
Real Detox contains no milk, eggs, wheat, tree nuts, fish, shellfish or gluten.
Fiberbiotics Super Fiber Formula contains no eggs, wheat, tree nuts, fish, shellfish or gluten.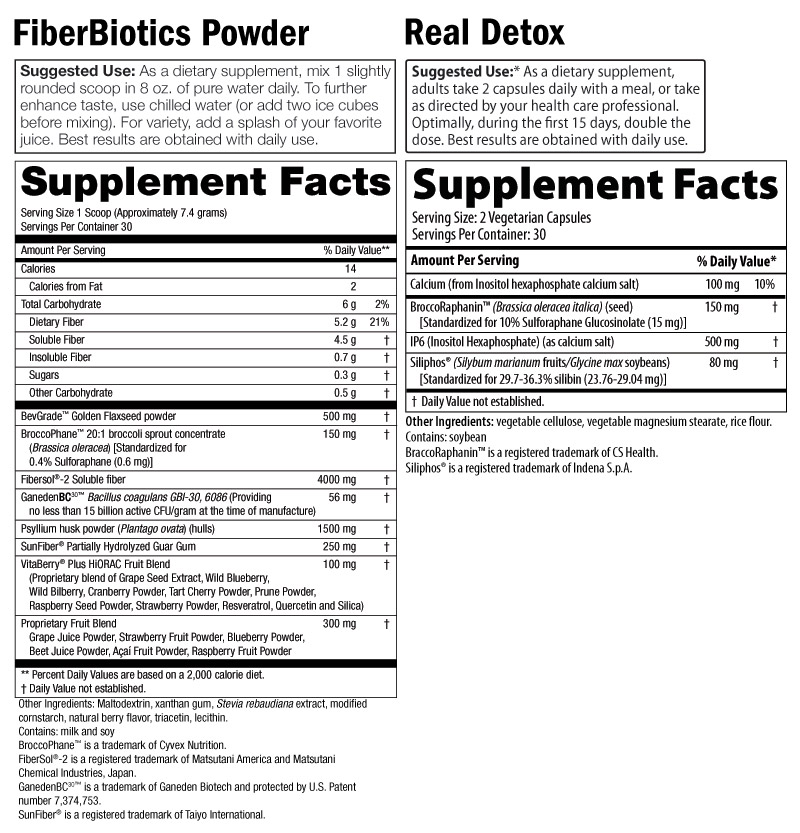 Order Line (24 Hr): 1-800-256-6102 Customer Care: 1-888-769-7873
Customer Care Hours: Mon-Thu 9am-9pm ET,
Fri 9am-7pm ET, Sat 9am-5pm ET
200 Terminal Drive, Plainview, NY 11803 © 2012 Purity Products
*These statements have not been evaluated by the Food and Drug Administration. These products are not intended to diagnose, treat, cure or prevent any disease.