Co-Q-Omega: CoQ10 and Omega-3 Fish Oil Formula
Supports Normal Cardiovascular & Arterial Health*
Promotes Healthy Brain Function*
Supports Beautiful Healthy Skin*
Now you can enjoy the benefits of our famous molecularly distilled Omega-3 Fish Oil along with the advanced health-supporting power of CoQ10.
Read More
Package Description:
60 Soft Gels, 30 day supply
Serving Size:
2 Softgels
Number of Servings:
30
Availability:
IN STOCK
Leaves warehouse
in 1-2 business days.
Proactively Support Your Heart, Brain, and Joints
Now you can enjoy all the benefits of Purity's famous high grade Omega-3 Fish Oil along with 50 mg of the clinically proven power of Coenzyme Q10. The molecularly distilled, ultra-pure, super-concentrated Omega-3 fish oils contained in the formulation are part of Purity's commitment to high quality, contaminant free products that are third party tested. Just two soft gels deliver 640 mg of EPA, 420 mg of DHA, and 50 mg of CoQ10, supplying a sensible combo of evidence-based nutraceutical ingredients that work towards the same goals.
Why CoQ10?
Few heart nutrients have been as well researched as the vitamin-like Coenzyme Q10. This coenzyme is a crucial member of the electron transport chain, a key biochemical process that acts to catalyze the production of ATP, the primary source of energy for normal function of cells, tissues, and organs. CoQ10 is especially important in its ability to work against oxidative stress caused by free radical accumulation in many areas of the body—including neuronal cells, which play an essential role in the maintenance of cognitive function.* The brain is particularly susceptible to oxidative stress, and CoQ10 has been shown to stabilize the mitochondrial membranes in the nervous system.1

Clinical studies have demonstrated that the amount of CoQ10 naturally synthesized decreases as healthy people age.2 Co-Q-Omega supports healthy aging by providing highly absorbable CoQ10 for antioxidant support during the process of cellular energy production.* Supplementation with CoQ10 may optimize its concentration in the mitochondrial membrane, improving the efficiency of brain and skeletal energy metabolism.3* In turn, this kind of improvement in efficiency promotes optimal cellular function—the kind of improvement that is welcome if we desire to age gracefully.

When CoQ10 is ingested orally, the majority is converted to ubiquinol, the reduced form of CoQ10. Ubiquinol is a potent antioxidant in humans, acting to balance the oxidative stress occurring in our cellular membranes and our blood lipoproteins. In fact, supplementation with CoQ10 has been shown to give lipoproteins a helping hand in their resistance to the everyday lipid peroxidation they face.4* This is yet one more process by which Co-Q-Omega may act to enhance cellular bioenergetics and promote maintenance of optimal cardiovascular health.*
Research Update-Fish Oil Benefits Cognitive Performance and Cardiovascular Health!
In a noteworthy new clinical study published in the Nutrition Journal (Nov 22, 2012) a group of 44 healthy middle aged to elderly subjects achieved better cognitive performance after taking 3 grams of fish oil daily for just five weeks. This placebo-controlled trial utilized the "cross-over" study method which means the participants took either fish oil or a placebo for 5 weeks, followed by 5 weeks off and then switched to fish oil or placebo for another 5 weeks. After taking fish oil, subjects had improved scores on tests of working memory and selective attention. Indicators of cardiovascular health also showed positive changes that were directly correlated to the gains in cognitive function.
Ask for "Purity" in Omega-3 Fish Oils
Eicosapentaenoic acid (EPA) and docosahexaenoic acid (DHA) are conditionally essential Omega-3 polyunsaturated fatty acids that are primarily found in the phospholipids that comprise structural support for our cells membranes. Having a good ratio of these fatty acids in our cell membranes contributes to our health in numerous ways. The exciting aspect of this equation is that research has shown supplementation with EPA & DHA can directly influence the makeup of our cell membranes!5* Purity's molecular distillation process establishes Omega-3 Fish Oils free of environmental contaminants such as PCBs, mercury, lead, and pesticides—ensuring that you are truly receiving a quality product containing 640 mg of EPA and 420 mg DHA.
The "Eskimo Factor"
The scientific evidence behind the health benefits of Omega-3 Fish Oils is abundant and outstanding. The cardiovascular benefits first came to attention in the 20th century when a traveling researcher observed the Greenland Inuit population. The beneficial "Eskimo Factor" was determined to be the high concentration of Omega-3s found in the oily fish and other sea animals eaten by this population.6 In contrast to this, our modern diet has very few good sources of Omega-3s. Dietary supplementation with Co-Q-Omega provides a realistic method for increasing your intake of Omega-3s, especially if you are not fond of eating certain types of fish every week.

Omega-6 fatty polyunsaturated acids—which compose the structure of cholesterol esters and triglycerides—are far more common in the average diet than Omega-3s. Since Omega-6s are structurally similar to Omega-3s, they compete for many of the same metabolic pathways in the body. Western dietary habits overwhelm these pathways with Omega-6s, blocking the potential cardiovascular and central nervous system benefits of Omega-3s. A good source of Omega-3s is imperative to balance the equation. Research suggests that daily intake of EPA and DHA can help maintain a favorable balance of blood lipids, including triglycerides, while also providing support for the maintenance of healthy circulatory function and heart rate.7
A Joint Effort
Besides providing a cardiovascular edge, Purity's Omega-3 Fish Oils can provide numerous other health benefits, most notably in the area of joint health. The omega-3s in fish oil interfere with the production of reactive oxygen species throughout the body; this means that localized oxidative stress can be dealt with not only in the circulatory system, but in joints and skin too.8 Joint health is another scenario where the typical imbalance of Omega-6 versus Omega-3 fatty acids in the American diet practically calls out for us to supplement with the DHA & EPA found in Co-Q-Omega.9 Clinical research on omega-3s has repeatedly demonstrated benefits in measures of joint mobility and comfort in those who consume fish oils, due in part to interactions with hormones in the body called eicosanoids.10 Due to the influence of DHA & EPA on eicosanoid production, several areas of health are influenced simultaneously. On top of cardiovascular and joint health, these omega-3s also support the maintenance of healthy looking skin.11-13
LemonLock™ Freshness System
Purity's LemonLock™ Freshness System locks in purity and seals in freshness. Omega-3s such as Fish Oil and Krill Oil provide a host of health benefits for the body. But just like real food, Omega-3s are better for you when they are fresh. Old fish oil can go rancid, and oxidation in rancid fish oil can lead to unpleasant fish oil burps. Purity starts out with ultra-pure, superior quality, concentrated Omega-3s, preserving them with our scientifically advanced LemonLock™ Freshness System. Unlike other companies whose Omega-3s may go rancid, our LemonLock™ System infuses our Fish and Krill Oils with a potent antioxidant complex - sealing in the purity of our Omega-3s. It's a difference you can experience.
Central to your Nervous System
DHA & EPA are crucial not only during periods of brain development, but also for normal brain function during adulthood. It should be no surprise then that—through the evaluation of results from many research studies—scientists have concluded that the continuation of optimal brain function as we age is in part dependant on our consumption of omega-3 fatty acids.14 Since many brain cell membranes are rich in DHA, it is also not surprising that inadequate intake of this nutrient is thought to expedite the normal decline of the structure and function of these brain cells as we age.15, 16 In fact, studies have shown that DHA & EPA can enhance brain reactivity and attention, as well as promote a balanced mood.17, 18* When you take into consideration the brain support also provided by CoQ10, and you come to realize that our Co-Q-Omega combo makes perfect sense!
* This statement has not been evaluated by the Food and Drug Administration. This product is not intended to diagnose, treat, cure, or prevent any disease.
References
Somayajulu, M., et al., Role of mitochondria in neuronal cell death induced by oxidative stress; neuroprotection by Coenzyme Q10. Neurobiol Dis, 2005. 18(3): p. 618-27.
Jones, K., et al., Coenzyme Q-10 and cardiovascular health. Altern Ther Health Med, 2004. 10(1): p. 22-30; quiz 31.
Marriage, B.J., et al., Cofactor treatment improves ATP synthetic capacity in patients with oxidative phosphorylation disorders. Molecular Genetics and Metabolism, 2004. 81(4): p. 263-272.
Littarru, G.P. and L. Tiano, Bioenergetic and antioxidant properties of coenzyme Q10: recent developments. Mol Biotechnol, 2007. 37(1): p. 31-7.
Calder, P.C. and P. Yaqoob, Omega-3 polyunsaturated fatty acids and human health outcomes. Biofactors, 2009. 35(3): p. 266-72.
Harris, W., Omega-3 fatty acids: the "Japanese" factor? J Am Coll Cardiol, 2008. 52(6): p. 425-7.
Lavie, C.J., et al., Omega-3 polyunsaturated fatty acids and cardiovascular diseases. J Am Coll Cardiol, 2009. 54(7): p. 585-94.
Mori, T.A. and L.J. Beilin, Omega-3 fatty acids and inflammation. Curr Atheroscler Rep, 2004. 6(6): p. 461-7.
Cleland, L.G., et al., Fish oil -- an example of an anti-inflammatory food. Asia Pacific Journal of Clinical Nutrition, 2005. 14 (CD Supplement): p. 66-71.
Cleland, L.G., M.J. James, and S.M. Proudman, The role of fish oils in the treatment of rheumatoid arthritis. Drugs, 2003. 63(9): p. 845-53.
Logan, A.C., Omega-3 fatty acids and acne. Arch Dermatol, 2003. 139(7): p. 941-2; author reply 942-3.
Koch, C., et al., Docosahexaenoic acid (DHA) supplementation in atopic eczema: a randomized, double-blind, controlled trial. Br J Dermatol, 2008. 158(4): p. 786-92.
Rubin, M.G., K. Kim, and A.C. Logan, Acne vulgaris, mental health and omega-3 fatty acids: a report of cases. Lipids Health Dis, 2008. 7: p. 36.
Freund-Levi, Y., et al., Omega-3 fatty acid treatment in 174 patients with mild to moderate Alzheimer disease: OmegAD study: a randomized double-blind trial. Arch Neurol, 2006. 63(10): p. 1402-8.
Youdim, K.A., A. Martin, and J.A. Joseph, Essential fatty acids and the brain: possible health implications. Int J Dev Neurosci, 2000. 18(4-5): p. 383-99.
Johnson, E.J. and E.J. Schaefer, Potential role of dietary n-3 fatty acids in the prevention of dementia and macular degeneration. Am J Clin Nutr, 2006. 83(6 Suppl): p. 1494S-1498S.
Kidd, P.M., Omega-3 DHA and EPA for cognition, behavior, and mood: clinical findings and structural-functional synergies with cell membrane phospholipids. Altern Med Rev, 2007. 12(3): p. 207-27.
Parker, G., et al., Omega-3 fatty acids and mood disorders. Am J Psychiatry, 2006. 163(6): p. 969-78.
This product contains soybean and fish (anchovies, sardines, mackerel).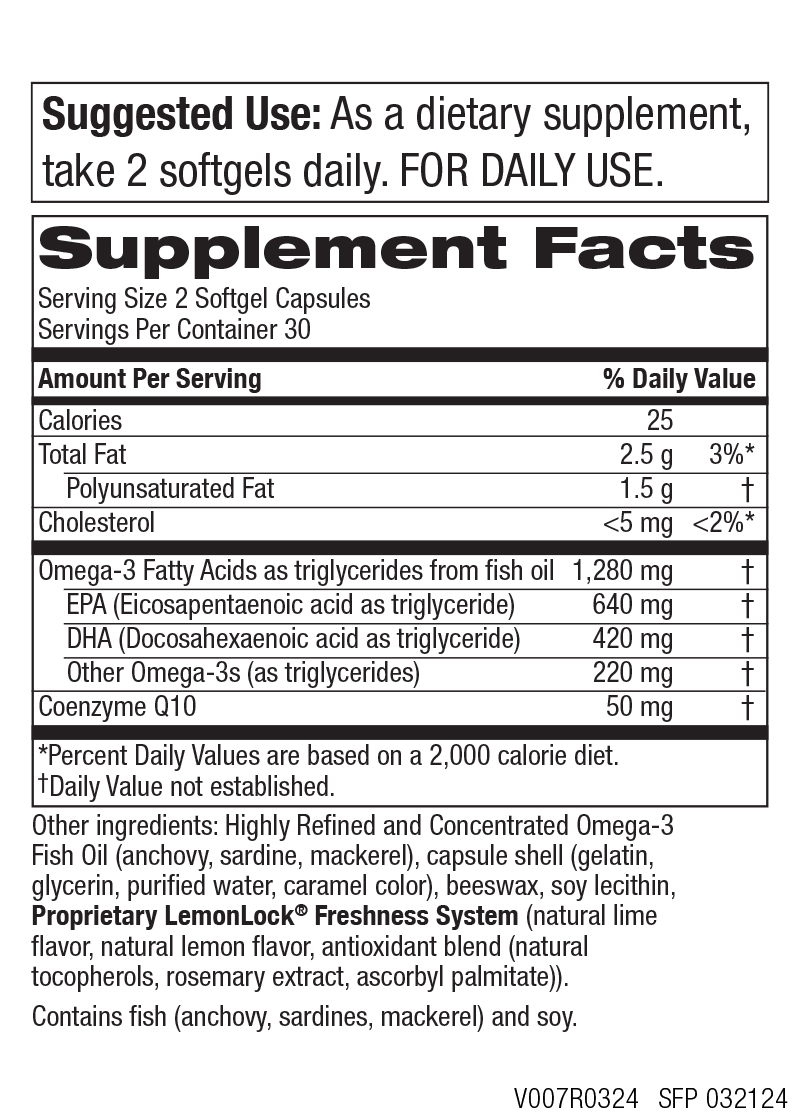 The Super Saver Advantage:
Super Saver saves you 25% and Discounted Shipping
With Super Saver you enjoy the convenience of automatic delivery and you save at least 25%! You will automatically receive a fresh supply at the shipping frequency you select. You are in charge, and you can customize or cancel your order at any time.
Order Line (24 Hr): 1-800-256-6102 Customer Care: 1-888-769-7873
Customer Care Hours: Mon-Thu 9am-9pm ET,
Fri 9am-7pm ET, Sat 9am-5pm ET
200 Terminal Drive, Plainview, NY 11803 © 2014 Purity Products
*These statements have not been evaluated by the Food and Drug Administration. These products are not intended to diagnose, treat, cure or prevent any disease.