Co-Q Daily Super Boost with Resveratrol
Supports the Health of the Cardiovascular and Circulatory Systems*
Supports Healthy Energy Levels*
Supports Healthy Brain Function*
Co-Q Daily Super Boost delivers 100 mg of superior quality CoQ10 blended with Ginkgoselect Phytosome, boosted by the healthy aging power of Resveratrol.
Read More
Package Description:
60 capsules, 30 day supply
Serving Size:
2 capsules
Number of Servings:
30
Availability:
IN STOCK
Leaves warehouse
in 1-2 business days.
A Daily Super Boost with a Superior Source of CoQ10
Purity Products proudly introduces Co-Q Daily Super Boost, an innovative evidence-based nutraceutical to support healthy aging, cellular energy production, cardiovascular wellness, and brain health. Our formulation provides a full 100 mg of bioavailable Coenzyme Q10, 60 mg of premium ginkgo as GinkgoSelect® Phytosome, plus 400 IU of Vitamin D, 2,000 IU of Vitamin A (beta-carotene), and 10 mg of Resveratrol.


Purity's Co-Q Daily Super Boost features CoQ10 blended with Rice Bran Oil to ensure maximal absorption of CoQ10. While some people take CoQ10 in a dry powder capsule, research shows that CoQ10 in liquid capsules typically delivers greater absorption than ordinary dry powder capsules.
The CoQ10 Advantage
Few heart nutrients have been as well researched as the vitamin-like Coenzyme Q10. This coenzyme is a crucial member of the electron transport chain, a key biochemical process that acts to catalyze the production of ATP, the body's primary source of energy for normal function of cells, tissues and organs. The heart requires an especially high concentration of CoQ10 to participate in manufacturing the high amount of energy needed for healthy cardiovascular function. Clinical studies have demonstrated that the amount of CoQ10 naturally synthesized by the body decreases as healthy people age.1

When ingested orally, the majority of CoQ10 is converted by the body to ubiquinol, the reduced form of CoQ10. Ubiquinol is a potent antioxidant in humans, acting to balance the oxidative stress occurring in our cellular membranes and the lipoproteins in our blood. In fact, supplementation with CoQ10 has demonstrated a reinforced ability in circulating lipoproteins to cope with normal lipid peroxidation.2 Co-Q Daily Super Boost supports healthy aging by providing highly absorbable CoQ10, enhancing cellular bioenergetics and helping you work towards the continuation of cardiovascular health.
A bit of the "French Paradox" in every capsule!
Renowned for its healthy aging properties, Resveratrol supports the circulatory system and enhances normal blood flow to muscles and organs. Resveratrol began to receive attention when epidemiologists noted the remarkable vitality and cardiovascular health displayed in populations that consume a Mediterranean diet—where daily red wine consumption is common. Researchers concluded that resveratrol is in part behind this "French Paradox," as resveratrol is naturally abundant in the red wine so dear to this healthy population. Laboratory research confirms that resveratrol can increase Nitric Oxide production in cells, stimulating smooth muscle in blood vessels and helping them maintain their normal ability to dilate, or relax.3, 4 Dilated blood vessels support healthy blood flow, and in this manner may contribute to a healthy circulatory system. Additionally, resveratrol has been studied for its healthy-aging effects and its potent antioxidant activity.5, 6
Gingko biloba – Tradition backed by Science
The unique Gingko biloba tree has been valued for thousands of years in China, and modern research now validates the traditional use of its leaves for buttressing several areas of human health.7 In conjunction with our CoQ10, Vitamin D, and Resveratrol, the European sourced GinkgoSelect® Phytosome® found in Co-Q Daily Super Boost supports the central nervous system, including cognitive function and memory, through several means. Although the human brain is only 5% of the body's weight, it receives 20% of the body's blood flow. Ginkgo supports blood flow by maintaining normal vasodilation, in part due to the maintenance of natural Nitric Oxide supplies. These actions coupled with Ginkgo's antioxidant action also show similar benefits to the entire cardiovascular system.8
GinkgoSelect® Phytosome® - Superior European Quality
GinkgoSelect® Phytosome® is our elite Ginkgo Biloba Extract (GBE) endowed with superior and more constant activity in comparison to standard GBE. GinkgoSelect® Phytosome® is produced via a proprietary process that binds the individual components of standard GBE to the emulsifying compound phosphatidylcholine. This Phytosome process creates a smaller molecule whereby the known active components of the Ginkgo (its flavonoids and terpenoids) are more easily absorbed and ultimately better utilized by the cells of the body.9 Just 2 soft gels provides 100 mg of CoQ10 and 60 mg of Ginkgo for powerful circulatory and brain supporting benefits.10
Reinforce Your Status with B-12 and Cholecalciferol
Researchers now understand that the prevalence of vitamin B-12 deficiency and depletion has been historically underestimated.11 In a nationally representative sample of US adults, consumption of supplements containing B-12 was associated with at least 50% lower prevalence of B-12 deficiency.12 This vitamin is integral to normal homocysteine metabolism, which in turn helps to ensure optimal maintenance of cardiovascular health.13 When homocysteine is metabolized properly, oxidation and nitric oxide production are kept in balance, supporting the health of blood vessel walls and the circulatory system. There is also some evidence that healthy homocysteine levels support cognitive function and memory in the aging brain.14, 15

In addition to the innovative combination of CoQ10, Ginkgoselect®, B-12, and Resveratrol, Co-Q Daily Super Boost includes 100% of the recommended daily value of Vitamin D as cholecalciferol (D3), a nutrient that is increasingly recognized by scientists as contributing to the maintenance of optimal health in so many facets. Most notably, new research discusses the importance of maintaining adequate vitamin D status to support normal cardiovascular function.16 Aside from its well-known role in promoting bone health (in part by enhancing absorption of calcium), clinical research has also shown that Vitamin D can be effective at promoting a year-round positive mental outlook.17 Considering that many segments of the population do not have adequate vitamin D or B-12 status, these are two more reasons to choose Co-Q Daily Super Boost.
* This statement has not been evaluated by the Food and Drug Administration. This product is not intended to diagnose, treat, cure, or prevent any disease.
References
Jones, K., et al., Coenzyme Q-10 and cardiovascular health. Altern Ther Health Med, 2004. 10(1): p. 22-30; quiz 31.
Littarru, G.P. and L. Tiano, Bioenergetic and antioxidant properties of coenzyme Q10: recent developments. Mol Biotechnol, 2007. 37(1): p. 31-7.
Rakici, O., et al., Effects of resveratrol on vascular tone and endothelial function of human saphenous vein and internal mammary artery. Int J Cardiol, 2005. 105(2): p. 209-15.
Gresele, P., et al., Resveratrol, at concentrations attainable with moderate wine consumption, stimulates human platelet nitric oxide production. J Nutr, 2008. 138(9): p. 1602-8.
Pandey, K. and S. Rizvi, Protective effect of resveratrol on markers of oxidative stress in human erythrocytes subjected to in vitro oxidative insult. Phytother Res, 2010. 24: p. 11-14.
Labinskyy, N., et al., Vascular dysfunction in aging: potential effects of resveratrol, an anti-inflammatory phytoestrogen. Curr Med Chem, 2006. 13(9): p. 989-96.
Huang, K.C., The Pharmacology of Chinese Herbs, 2nd Ed. 1999, Boca Raton: CRC Press. 512.
Mahady, G.B., Ginkgo biloba for the prevention and treatment of cardiovascular disease: a review of the literature. J Cardiovasc Nurs, 2002. 16(4): p. 21-32.
Mauri, P., et al., Liquid chromatography/atmospheric pressure chemical ionization mass spectrometry of terpene lactones in plasma of volunteers dosed with Ginkgo biloba L. extracts. Rapid Commun Mass Spectrom, 2001. 15(12): p. 929-34.
Carini, M., et al., Complexation of Ginkgo biloba extract with phosphatidylcholine improves cardioprotective activity and increases the plasma antioxidant capacity in the rat. Planta Med, 2001. 67(4): p. 326-30.
Allen, L.H., How common is vitamin B-12 deficiency? Am J Clin Nutr, 2009. 89(2): p. 693S-6S.
Evatt, M.L., et al., Association between vitamin B12-containing supplement consumption and prevalence of biochemically defined B12 deficiency in adults in NHANES III (third national health and nutrition examination survey). Public Health Nutr, 2009. 13(1): p. 25-31.
Clarke, R., Prevention of vitamin B-12 deficiency in old age. Am J Clin Nutr, 2001. 73(2): p. 151-2.
Duthie, S.J., et al., Homocysteine, B vitamin status, and cognitive function in the elderly. Am J Clin Nutr, 2002. 75(5): p. 908-13.
Haan, M.N., et al., Homocysteine, B vitamins, and the incidence of dementia and cognitive impairment: results from the Sacramento Area Latino Study on Aging. Am J Clin Nutr, 2007. 85(2): p. 511-7.
Judd, S.E. and V. Tangpricha, Vitamin D deficiency and risk for cardiovascular disease. Am J Med Sci, 2009. 338(1): p. 40-4.
Lansdowne, A.T. and S.C. Provost, Vitamin D3 enhances mood in healthy subjects during winter. Psychopharmacology (Berl), 1998. 135(4): p. 319-23.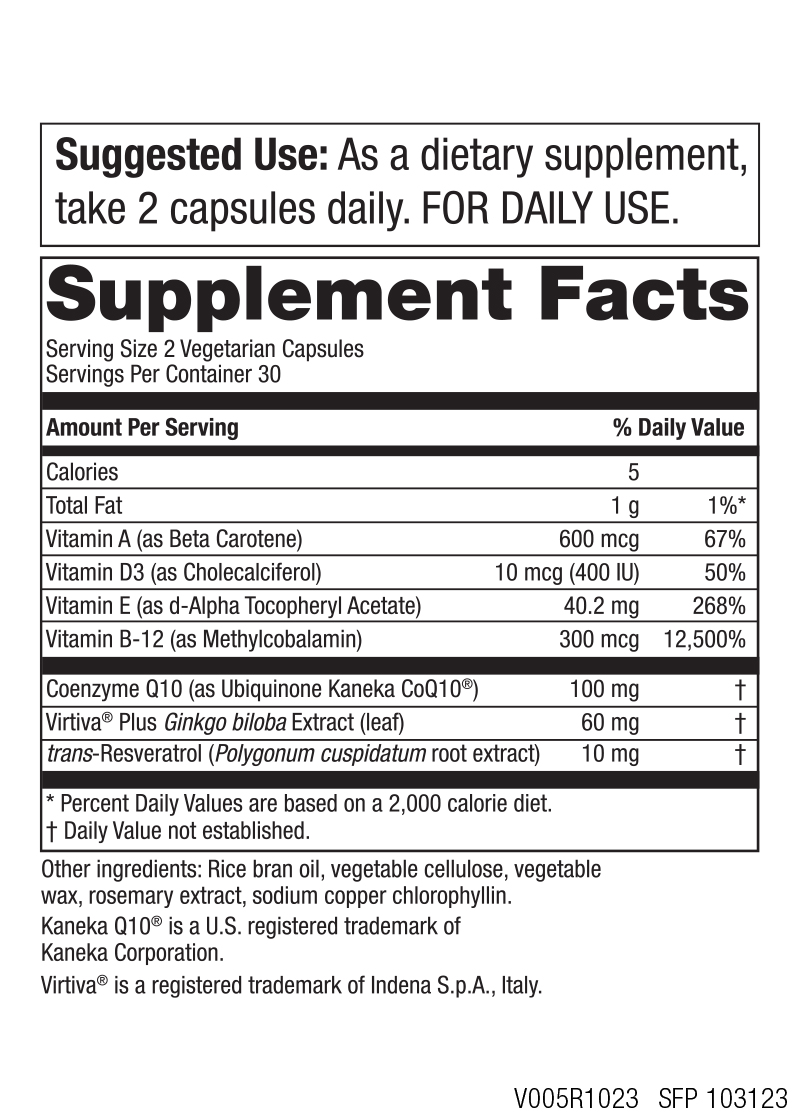 The Super Saver Advantage:
Super Saver saves you 25% and Discounted Shipping
With Super Saver you enjoy the convenience of automatic delivery and you save at least 25%! You will automatically receive a fresh supply at the shipping frequency you select. You are in charge, and you can customize or cancel your order at any time.
Order Line (24 Hr): 1-800-256-6102 Customer Care: 1-888-769-7873
Customer Care Hours: Mon-Thu 9am-9pm ET,
Fri 9am-7pm ET, Sat 9am-5pm ET
200 Terminal Drive, Plainview, NY 11803 © 2012 Purity Products
*These statements have not been evaluated by the Food and Drug Administration. These products are not intended to diagnose, treat, cure or prevent any disease.