Co-Q 100 plus Hawthorn Berry
Supports Cardiovascular and Arterial Health*
Promotes Healthy Energy Levels*
Provides Circulation and Immune Support*
Heart Healthy Nutritional Support with Co-Q 100 plus Hawthorn Berry*
Read More
Package Description:
60 veg. soft gels, 30 day supply
Serving Size:
2 Softgels
Number of Servings:
30
Availability:
IN STOCK
Leaves warehouse
in 1-2 business days.
Heart Healthy Nutritional Support with Coenzyme Q10*
Few nutrients for the heart have been as well researched as Coenzyme Q10. CoQ10 is a potent nutrient that mediates a variety of biological effects. In the body, it functions to convert components from our nutritional intake into ATP, energy the body can use. CoQ10 also supports the body's defenses against free radicals in its role as a versatile antioxidant. Studies have shown that CoQ10 supplementation supports cardiovascular health and healthy circulatory function.*
Spotlighting the Hawthorn Berry in Co-Q 100 Plus Hawthorn Berry Formula
The use of Hawthorn Berry can be traced to the Greek physician Dioscorides in the first century A.D. Hawthorn Berry has also been used in European herbal traditions for supporting the heart.* Hawthorn Berry is rich in bioflavonoids, which are primarily responsible for its potential actions on the cardiovascular system. Studies show that intake of Hawthorn Berry extract can support healthy circulation.*
Co-Q 100 Plus Hawthorn Berry Supports:
Cardiovascular and Arterial Health*

Healthy Energy Levels*

Circulation and Immune Support*

Promotes Healthy Aging*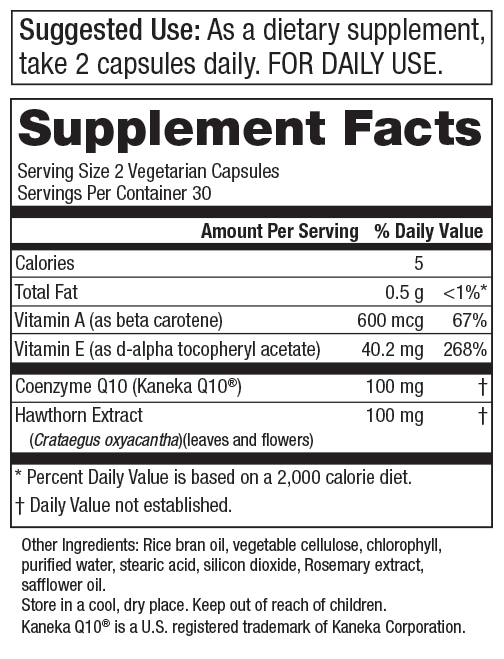 The Super Saver Advantage:
Super Saver saves you 25% and Discounted Shipping
With Super Saver you enjoy the convenience of automatic delivery and you save at least 25%! You will automatically receive a fresh supply at the shipping frequency you select. You are in charge, and you can customize or cancel your order at any time.
Order Line (24 Hr): 1-800-256-6102 Customer Care: 1-888-769-7873
Customer Care Hours: Mon-Thu 9am-9pm ET,
Fri 9am-7pm ET, Sat 9am-5pm ET
200 Terminal Drive, Plainview, NY 11803 © 2012 Purity Products
*These statements have not been evaluated by the Food and Drug Administration. These products are not intended to diagnose, treat, cure or prevent any disease.