CoQ10 Daily with Resveratrol
Supports the Health of the Cardiovascular and Circulatory Systems*
Supports Healthy Energy Levels*
Supports Healthy Brain Function*
CoQ10 Daily with Resveratrol provides a full 100 mg of highly absorbable Coenzyme Q10, plus 1000 IU of Vitamin D, 2,000 IU of Vitamin A (beta-carotene) and 30 mg of high potency, Resvida Resveratrol.
Read More
Package Description:
60 capsules, 30 day supply
Serving Size:
2 capsules
Number of Servings:
30
Availability:
IN STOCK
Leaves warehouse
in 1-2 business days.
CoQ10 Daily with Resveratrol provides a full 100 mg of highly absorbable, superior quality Kaneka Q10 Coenzyme Q10, plus 1000 IU of Vitamin D, 2,000 IU of Vitamin A (beta-carotene) and 30 mg of high potency, Resvida® Resveratrol.
Coenzyme Q10
Few nutrients for the heart have been as well researched as Coenzyme Q10. CoQ10 is a bioenergetic, vitamin-like nutrient that is produced by the body that tends to diminish as we age. CoQ10 plays a critical part in energy production at the cellular level and supports overall cardiovascular health and healthy immune function.* Because of the extensive research substantiating the dynamic health benefits of CoQ10, it has earned elite status as an evidence based nutraceutical. In the body, one of CoQ10's key functions is to convert components from our nutritional intake into ATP - the cell's most important fuel for metabolism and cellular function.* That is particularly important for muscle tissue and even more so for the heart. Because it never stops working-the heart beats non-stop for a lifetime-the heart has the highest energy demand of any organ in the body.
Decades of research have established a strong link between blood levels of CoQ10 and cardiovascular health. Daily supplementation with CoQ10 delivers important cardiovascular benefits, especially with aging as our ability to produce CoQ10 internally begins to decline. CoQ10's heart-support effects derive from its unique antioxidant activity, which supports integrity of the membrane inner linings of blood vessels.*
With Purity's CoQ10 Daily with Resveratrol, which features a highly absorbable CoQ10 blended with Rice Bran Oil, you can be assured that you will be assimilating optimal levels of CoQ10 from your supplement. While many people take CoQ10 in a dry powder capsule, research done on the CoQ10 in liquid capsules found that liquids typically deliver greater absorption than ordinary dry powder capsules.
Resveratrol a Multi-Talented Phytonutrient
Renowned for its healthy aging properties, Resveratrol dynamically supports the health of the circulatory and cardiovascular systems, as well as supporting healthy energy levels, endurance and stamina.* First discovered in 1940, Resveratrol is a standout among phytonutrients-beneficial bio-molecules in plants-with more than 4,000 research studies describing its effects on physiology. Classified along with bioflavonoids as a "polyphenol", Resveratrol is a powerful antioxidant that outperforms most other plant-based flavonoids. Resveratrol boosts the function of enzymes in the body that help tamp down the impact of oxidative stress on tissues, which can elevate when free radicals build up to excess.*
Take Resveratrol to Heart
Scientific investigation about Resveratrol's importance for cardiovascular health has led to a deeper understanding of its extraordinary cellular effects. Resveratrol has been shown to interact with cell membrane receptors that maintain dynamic function of the cardiovascular system. Among its more significant actions, Resveratrol appears to support a key enzyme that stimulates production of nitric oxide in blood vessel linings. This in turn promotes relaxation of blood vessels and healthy circulation.*
Vitamin D
Vitamin D's influence on key biological functions vital to one's health and well-being mandates that vitamin D3 supplementation can no longer be ignored by individuals striving to achieve and maintain a greater state of health. Traditionally recognized as an essential vitamin for bones and teeth, vitamin D is now the subject of an explosion of research showing that Vitamin D plays an important role in the function of our immune system as well as bone health and cardiovascular support.*
CoQ10 Daily with Resveratrol-For the Brain, too
In a recent clinical study, Resveratrol demonstrated the ability to support circulation in the brain, likely due to stimulation in blood vessel nitric oxide. Additional research suggests Resveratrol supports cognitive function in aging, by helping to maintain healthy brain cells. CoQ10's benefits for mitigating oxidative stress extend to the brain as well, making it a logical partner with Resveratrol. Add in vitamin D, which delivers benefits for cognitive function documented in a number of reports and you have a forceful combination for your heart, brain, muscles and the rest of you, too.*
Complimentary Vitamins Support the "Big Three"
In addition to the Big Three - CoQ10, Resveratrol and Vitamin D - CoQ10 Daily with Resveratrol includes Vitamins A, D, E and B12. Vitamin A is instrumental in supporting vision, the immune system and healthy cell growth. Vitamin E is one of the essential nutritional antioxidants. Vitamin B12 is important for maintaining optimum cognitive, cardiovascular and nervous system health.*
This product contains no milk, eggs, soy, wheat, tree nuts, fish, shellfish or gluten.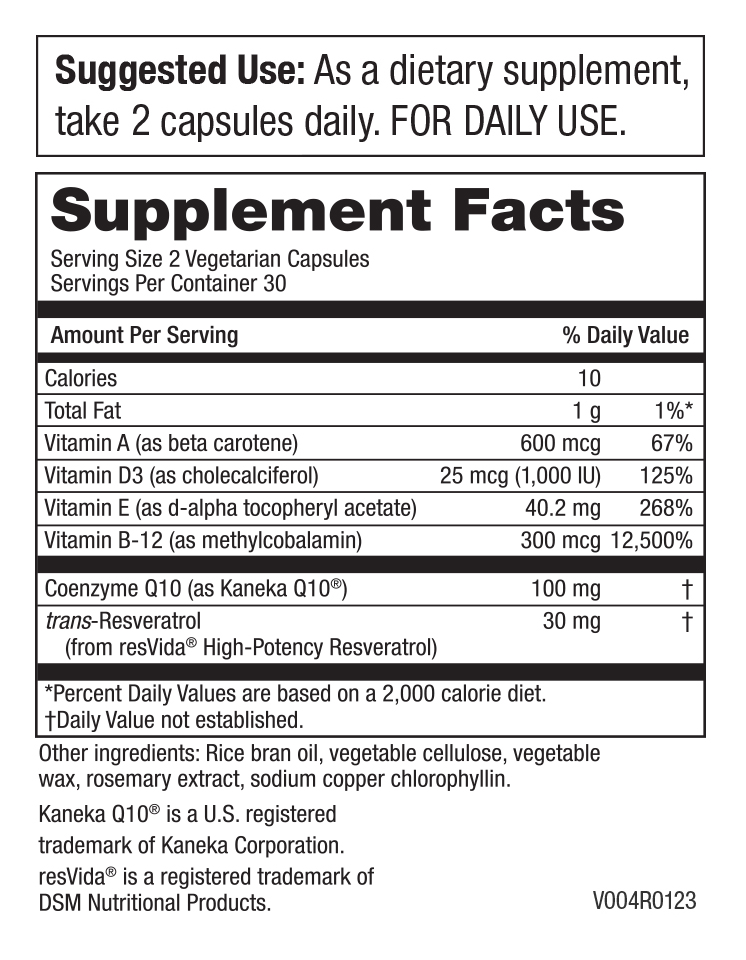 The Super Saver Advantage:
Super Saver saves you 25% and Discounted Shipping
With Super Saver you enjoy the convenience of automatic delivery and you save at least 25%! You will automatically receive a fresh supply at the shipping frequency you select. You are in charge, and you can customize or cancel your order at any time.
Order Line (24 Hr): 1-800-256-6102 Customer Care: 1-888-769-7873
Customer Care Hours: Mon-Thu 9am-9pm ET,
Fri 9am-7pm ET, Sat 9am-5pm ET
200 Terminal Drive, Plainview, NY 11803 © 2014 Purity Products
*These statements have not been evaluated by the Food and Drug Administration. These products are not intended to diagnose, treat, cure or prevent any disease.