Chris Kilham's Vital Brilliance
Supports Physical Endurance and Athletic Performance*
Promotes Healthy Energy Levels, Vitality and Focus*
Designed by Chris Kilham
As a Medicine Hunter, author and ethnobotanist, Chris Kilham has scoured the earth searching for the finest botanical ingredients to promote energy, vitality and focus. Vital Brilliance is the culmination of many years of investigative science.
Read More
Package Description:
60 capsules, 30 day supply
Serving Size:
2 vegetarian capsules
Number of Servings:
30
Availability:
IN STOCK
Leaves warehouse
in 1-2 business days.
MEDICINE HUNTER – CHRIS KILHAM
I am so glad you have taken an interest in the Vital Brilliance formula. As a Medicine Hunter, author and ethno-botanist, I have scoured the earth for decades searching for the most effective botanical ingredients to promote all aspects of human health. Of all of my discoveries, my favorite super plant… what I like to call the 'Babe Ruth of botanicals' has to be Rhodiola rosea. For its ability to support healthy energy levels, focus, brain vitality, stamina, sports performance and even help people cope better with stress, Rhodiola is in a league of its own.* My Vital Brilliance™ formula is the culmination of many years of investigative science and captures the power, richness and purity of this elite botanical.
The chief ingredient in Vital Brilliance is Rhodiola rosea extract, but keenly aware of other botanicals that partner well with Rhodiola and the research conducted on this group, I also added other key herbal ingredients, Eleuthero, Schisandra, Panax Ginseng and Ashwagandha extract. These co-factors complement the action of Rhodiola, supporting its ability to help you achieve the health and vitality you deserve*, and each one is meticulously sourced from remote locations world-wide, all of which I have personally visited. These areas include Central Siberia, the fabled Silk Road, former Manchuria, and the mountains of India. While the histories of Rhodiola, Eleuthero and Panax Ginseng go back thousands of years, what I find even more impressive is that each one of these super plants is steeped in very fine modern scientific research.
VITAL BRILLIANCE -- MORE THAN JUST THE ULTIMATE FATIGUE FIGHTERS*
Some of my favorite areas of human health in which people who take Vital Brilliance enjoy meaningful benefits include: improved mental and physical endurance, enhanced sports performance, sharper cognitive function, more positive mood and an invigorated zest for life.* I can personally attest to the power of these time-tested botanicals for promoting multiple aspects of human health, as I have seen them work wonders in the field with my students and research colleagues. On the trail traveling as I do more than half the year, I have learned that the value of the Rhodiola rosea alone in Vital Brilliance – for fighting fatigue - cannot be underestimated.
Rhodiola functions as a legendary adaptogen, and back in Ancient China the Emperor was known to send out search parties to locate this prized herb. That's an example of how valuable it was back then. Rhodiola rosea was then, and is now, regarded as a highly valuable health treasure. In my estimation, Vital Brilliance goes far beyond just being a precious fatigue-fighting formulation. Yes, its ability to fight mental and physical fatigue are legendary. But it isn't until you try two capsules a day of Vital Brilliance yourself and harness all of its natural health promoting properties -- like managing stress, supporting focus, promoting stamina, endurance and cognitive function -- that you will fully appreciate Rhodiola rosea and the precious adaptogens I have combined with it.*


Vital Brillance Supports:
Supports Mental & Physical Endurance*
Supports Stamina and Healthy Energy Levels*
Promotes Healthy Stress Levels*
Supports Athletic and Sports Performance*
Supports Cognitive Function and Healthy Focus*
HOW DOES THE CROWN JEWEL OF BOTANICALS -- RHODIOLA ROSEA –– ACTUALLY WORK?
A well-studied adaptogen, Rhodiola defends the entire body with its anti-stress and fatigue-fighting properties.* As an adaptogen, Rhodiola strengthens the body's resistance to stress. Rhodiola is also one of the most extensively researched herbs, with numerous scientific studies demonstrating a wide range of benefits for the nervous, endocrine, cardiovascular and reproductive systems, as well as mental and emotional health.* Because it promotes energy, stamina and endurance, Rhodiola is a valuable aid for athletes of all levels, and for anybody who wants to enjoy an active life.
Even though its application to sports performance is still being evaluated, Rhodiola's ability to help athlete's focus under pressure, boost endurance, and generally "up their game" is documented in the scientific literature. But Rhodiola rosea's real promise for athletes is to confer a competitive advantage to those who supplement with it by virtue of its propensity to naturally fine tune one's coordination and sports performance. In fact, extracts of the Rhodiola root, the plant part that contains novel compounds responsible for Rhodiola's many benefits, have been used for decades by athletes in eastern Europe and Asia to improve athletic performance and endurance.*
MORE ENERGY IN YOUR DAY... AND IN THE BEDROOM TOO.
Vital Brilliance contains Eleuthero extract, another globally prized botanical. Eleuthero is sometimes called Siberian ginseng, owing to its ginseng-like effects for strengthening the body, enhancing performance and boosting vitality. Like Rhodiola, Eleuthero is also classified as an adaptogenic herbal tonic that supports immune function, libido, sexual health and general vitality.* Due to its stress-reducing and extraordinary performance-enhancing powers, Eleuthero is popular among factory workers, athletes, miners, soldiers, deep sea divers and others who engage in physically and mentally demanding tasks and occupations. I've also included Panax ginseng extract, in Vital Brilliance, since Ginseng—one of the most widely consumed herbs on earth—is well-known for its ability to rejuvenate and invigorate.*
To round out Vital Brilliance, I also added Schisandra extract, Goji berry extract and Ashwanganda extract. Schisandra is a berry that enjoys millennia of traditional use for supporting longevity and increasing energy as a fatigue-fighter, and sexual tonic. As another adaptogen, Schisandra is a potent general tonic, decreasing fatigue, enhancing physical performance and promoting endurance.* Goji berry, popular for use in health beverages, contains a high concentration of antioxidant polyphenols. However you wind up using these time tested super foods, I believe once you put them to the test you too will be an ambassador of these legendary botanicals sourced from some of the most remote places on Earth and found now all in one super formula called Vital Brilliance.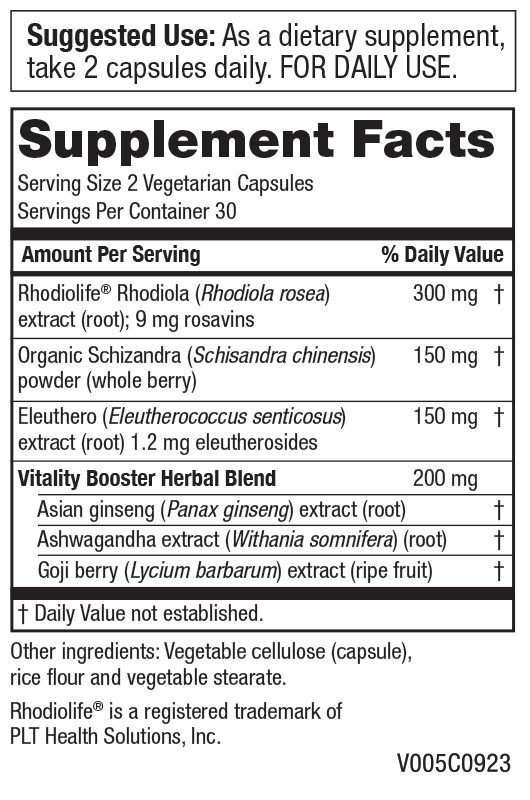 The Super Saver Advantage:
Super Saver saves you 25% and Discounted Shipping
With Super Saver you enjoy the convenience of automatic delivery and you save at least 25%! You will automatically receive a fresh supply at the shipping frequency you select. You are in charge, and you can customize or cancel your order at any time.
Order Line (24 Hr): 1-800-256-6102 Customer Care: 1-888-769-7873
Customer Care Hours: Mon-Thu 9am-9pm ET,
Fri 9am-7pm ET, Sat 9am-5pm ET
200 Terminal Drive, Plainview, NY 11803 © 2014 Purity Products
*These statements have not been evaluated by the Food and Drug Administration. These products are not intended to diagnose, treat, cure or prevent any disease.