Certified Organic Triple Greens Powder
USDA and QAI Certified Organic
Supports cardiovascular and immune health*
Supports the body's antioxidant defense*
Our relentless pursuit of excellence has led us to create the first Certified Organic Greens Drink – certified by both the USDA and QAI.
Read More
Package Description:
300 grams, 30 day supply
Serving Size:
10 grams
Number of Servings:
30
Availability:
IN STOCK
Leaves Warehouse in 1-2 business days.
With its dual emphasis on excellence and certified organic ingredients, Organic Brothers™ elevates the bar, setting entirely new standards for "Greens Drinks."  Certified Organic Triple Greens™ fulfills the mission of Organic Brothers™ – products that are healthier for you and healthier for the planet. From carefully selected seeds planted in pristine, rich organic farmlands, from meticulously-timed harvests designed to select only the most nutrient dense fruits and vegetables at the precise moment of magical balance between ripeness and nutrient content, to scientifically-developed processing that generates stable and nutritionally dense supplements...it all comes from a high-tech farm in the heartlands of America.
A Short Cut to Getting Your Greens
Certified Organic Triple Greens™ brings the organic farm to you with the World's First Certified Organic Greens Drink.  Imagine enjoying over two dozen farm fresh fruits and vegetables every day - each scoop is the equivalent of one-half pound of fruits and greens - simply by drinking a scrumptious beverage!  And with no worries about pesticides, herbicides or any impurities.  Blending the rewards of fertile soil, clean water, sunshine, fresh air and sustainable farming practices, Organic Brothers' Certified Organic Triple Greens™ drink captures nature's best in every scoop.
Each and every ingredient included in Organic Triple Greens™ is carefully selected from Certified Organic Farms to ensure that the highest quality product available is being included. Certified Organic Triple Greens™ is certified "organic" by both the USDA and QAI - a global leader in Organic Certification.
Each scoop delivers a delicious mix of certified organic phytonutrients like:
Wheat Grass
Parsley
Carrot
Cranberry
Strawberry
Broccoli
Blueberry
Raspberry
Spinach
Kale
Green Tea
And much more
All of these fruits, berries and greens are harvested at their peak and then are processed at gently cool temperatures – creating the ultimate power-packed "berry-delicious" Greens drink.
In their natural organic state, fruits, vegetables and other plants have been eaten since the dawn of man. Modern science knows that eating fruits, vegetables and selected other plants provides the essential nutrition for the many organ systems and tissues of the human body.* In addition, Organic Brothers™ focused on 4 special properties of these foods when carefully choosing the certified organic ingredients in Certified Organic Triple Greens.™
A Smorgasbord of Health Protecting Organic Phytonutrients
Organic Triple Greens serves up a bountiful menu of organic vegetables and fruits loaded with beneficial nutrients known to support health.* Research on the effects of phytonutrients (nutrients from plants) is increasingly uncovering a wide scope of potential health benefits. The results of this research suggest individuals consuming the highest levels of phytonutrients can look forward to robust health and longevity. Certified organic fruits and vegetables are the cream of the crop! In addition to their nutritional richness, they give us the peace of mind that comes with their higher level of purity.
Dark Greens, Super Fruits and Fiber for Cleansing and Fortification
Everyone agrees that dark greens are among Nature's most nutritious foods. Super fruits like blueberries nourish and fortify good health with a plethora of wellness factors. Dark greens and fruits contain flavonoids, natural compounds that impart color to plants and protect us with antioxidant activity. These superfoods also support cleansing and healthy detoxification. Organic Triple Greens goes even further by supplying fiber to assist with optimum regularity and colon health.*
Laboratory-Tested Immune and Antioxidant Support*
While the benefits of phytonutrient-rich green foods and fruits are well-documented, specific laboratory tests were performed on Organic Triple Greens to study how this formula can benefit the health of cells and tissues, while also supporting immune function. The findings showed that Organic Triple Greens promotes antioxidant protection inside immune cells, enabling these cells to effectively perform their immune system functions.*
Locking in the Goodness
Preserving the purity of Nature's vital nutrients and antioxidants requires the most gentle 21st Century processing. The Freeze Drying and RapiDry™ technologies immediately lock in the goodness of nature...right on the farms...and right after the harvest! TargeTest™ bio-testing platform allows us to ensure the safety and specific bio-activity of our ingredients.
Organic Integrity & Certification
Each ingredient used in Organic Triple Greens™ is carefully selected from Certified Organic farmers to ensure the highest quality product available. Organic Triple Greens™ is USDA Certified Organic. Any product bearing the USDA Organic seal must be certified by a USDA accredited certifying agency; such as Quality Assurance International (QAI), a global leader in Organic Certification. QAI provides independent, third-party certification of products labeled as Organic, as mandated by the USDA's National Organic Program Final Rule.
Each individual ingredient used bears its own Certified Organic status, having proven to meet strictly defined Organic standards for sourcing, growing, cultivating and processing. With QAI certification, you are assured that Organic Triple Greens™ is a superior product, with the Organic integrity of each ingredient guaranteed.
Certified Organic Triple Greens™ Features & Benefits:
The Nourishing, Cleansing Power of Chlorophyll-Rich Green Foods*
Supports antioxidant protection in cells*
Helps cells defend against free radicals*
Supports effective immune function*
Green Tea for healthy energy support*
Super Greens like Spirulina, Barley Grass and Wheat grass.
Great-tasting, easy to mix phytonutrient drink
Here's a sampling of the Wholesome, Nutritious Superfood Concentrates in Organic Triple Greens:
Certified Organic Spinach, Kale and Broccoli
Berries Galore: Certified Organic Acai, Blueberry, Bilberry, Raspberry and Cranberry Powder
Certified Organic Barley Grass, Wheat Grass and Alfalfa
Certified Organic Aloe leaf
Certified Organic Parsley
Certified Organic Flaxseed
Certified Organic Papaya and Pineapple
Certified Organic Spirulina
This product contains wheat.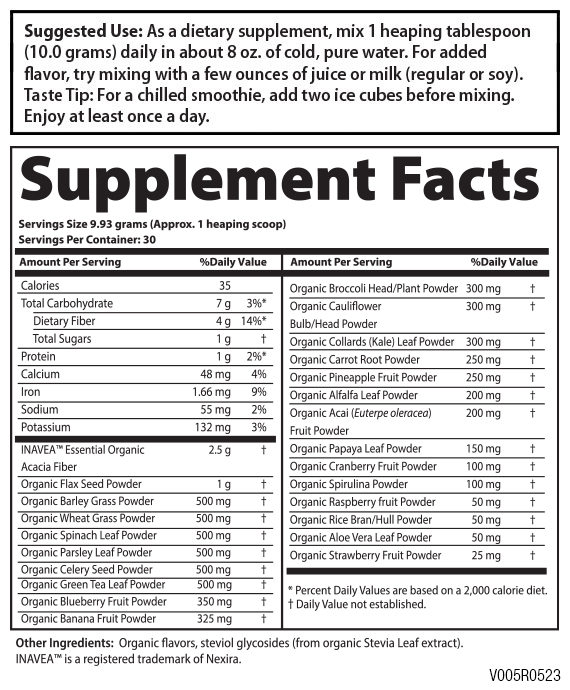 The Super Saver Advantage:
Super Saver saves you 25% and Discounted Shipping
With Super Saver you enjoy the convenience of automatic delivery and you save at least 25%! You will automatically receive a fresh supply at the shipping frequency you select. You are in charge, and you can customize or cancel your order at any time.
Order Line (24 Hr): 1-800-256-6102 Customer Care: 1-888-769-7873
Customer Care Hours: Mon-Thu 9am-9pm ET,
Fri 9am-7pm ET, Sat 9am-5pm ET
200 Terminal Drive, Plainview, NY 11803 © 2014 Purity Products
*These statements have not been evaluated by the Food and Drug Administration. These products are not intended to diagnose, treat, cure or prevent any disease.