Cardio Super Formula
Natural Cholesterol Support+
Supports Cardiovascular Health*
Promotes Healthy Circulation*
Cardio Super Formula provides advanced cardiovascular support with the power of natural plant sterols in combination with high allicin buffered garlic.
Read More
Package Description:
60 capsules, 30 day supply
Serving Size:
1 capsule (twice a day)
Number of Servings:
60
Availability:
IN STOCK
Leaves warehouse
in 1-2 business days.
By managing your cholesterol now, you may protect your future health more than you realize. Exercise and a low-fat diet are essential for the health of your heart. But how many of us eat enough fruits and vegetables each day? And did you know that by reducing the amount of certain high-fat foods you eat, you may lessen your intake of natural plant sterols, which play an important role in heart health?
That's why we're proud to introduce Cardio Super Formula. Cardio Super Formula offers natural Plant Sterols combined with the heart and circulation supporting properties of Garlic in one dynamic formula.
Natural Heart Support
Natural plant sterols, including those found in Cardio Super Formula are important to the health of your heart. These beneficial fat-like substances occur naturally in vegetables and fruits. They're especially concentrated in vegetable oils, legumes, nuts, and grains. Not only do plant sterols lower "bad" cholesterol (LDL), they do it without affecting "good" cholesterol (HDL) levels. The U.S. National Cholesterol Education Program recommends sterol-rich foods to boost your diet's LDL-supporting power.
Understanding Plant Sterols
Plant sterols are naturally found in many fruits, vegetables, nuts, seeds, cereals, legumes, vegetable oils, and other plant sources. Its molecular structure is almost identical to cholesterol (animal sterols). Because our bodies can't tell the difference, they accept plant sterols as though they were cholesterol, blocking the absorption of dietary cholesterol into the bloodstream. Concentrated levels of plant sterols are also associated with foods high in fat. When you remove these high-fat foods from a heart healthy diet, you also reduce a significant source of plant sterols, creating a need for supplementation. Research shows that plant sterol supplements, combined with exercise and a low-fat diet can support healthy cholesterol levels
The U.S. Food & Drug Administration (FDA) has recognized the benefits of plant sterols, and has authorized a health claim linking them with the reduced risk of heart disease.
The Power of Garlic
For many centuries, people have been using garlic and garlic-based supplements to support cardiovascular health, healthy blood pressure already within the normal range, and gastrointestinal health.* Garlic is most recognized for its supportive effects on cardiovascular health; playing an important role in supporting arterial and blood vessel health.*
Garlieze™ High Allicin Buffered Garlic is produced from an exclusive variety of premium grade garlic, Allium sativum L., specially grown for its nutraceutical marker content. This garlic is gently dehydrated to preserve key actives using a proprietary process that virtually eliminates garlic odor.
Cardio Super Formula Provides:
Natural Cholesterol Support+
Cardiovascular Support*
Circulatory Support*
†Dietary supplements containing at least 400 mg per serving of plant sterols, taken twice a day with meals for a daily total intake of at least 800 mg, as part of a diet low in saturated fat and cholesterol, may reduce the risk of heart disease. A serving of Cardio Super Formula supplies 400 mg of plant sterols.
**If you have high cholesterol or are taking prescription medication to control your cholesterol, please consult your health care professional before taking this product**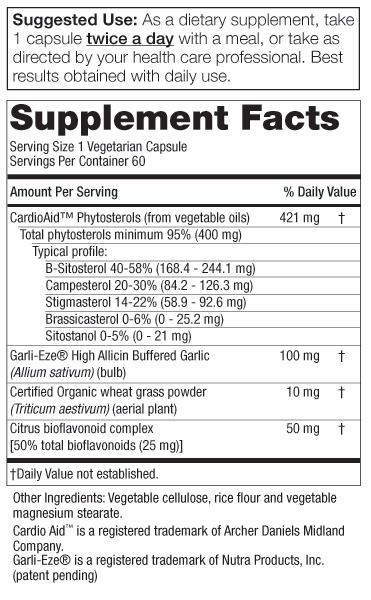 The Super Saver Advantage:
Super Saver saves you 25% and Discounted Shipping
With Super Saver you enjoy the convenience of automatic delivery and you save at least 25%! You will automatically receive a fresh supply at the shipping frequency you select. You are in charge, and you can customize or cancel your order at any time.
Order Line (24 Hr): 1-800-256-6102 Customer Care: 1-888-769-7873
Customer Care Hours: Mon-Thu 9am-9pm ET,
Fri 9am-7pm ET, Sat 9am-5pm ET
200 Terminal Drive, Plainview, NY 11803 © 2012 Purity Products
*These statements have not been evaluated by the Food and Drug Administration. These products are not intended to diagnose, treat, cure or prevent any disease.