Cal-Advantage Plus - Orange Flavored
Supports Strong Bones and Bone Density*
Supports Healthy, Relaxed Muscles*
Promotes Energy and Vitality*
Purity's Cal-Advantage Plus is a superbly balanced, powerful bone and muscle fortifying formula.*
Read More
Package Description:
300 grams, 30 day supply
Serving Size:
10g
Number of Servings:
30
Availability:
IN STOCK
Leaves warehouse
in 1-2 business days.
Cal Advantage Plus™ features Calcium Citrate and Magnesium Citrate to fortify and support your bones and muscles. Cal Advantage Plus™ also delivers complimentary nutrients including Boron, Vitamin D, Vitamin C, Inositol and Lecithin to maximize bone hardness and density.*
Cal Advantage Powerfully Supports:
Strong Bones and Bone Density*
Healthy, Restful Sleep*
Healthy, Relaxed Muscles*
Energy and Vitality*
This product contains soybean.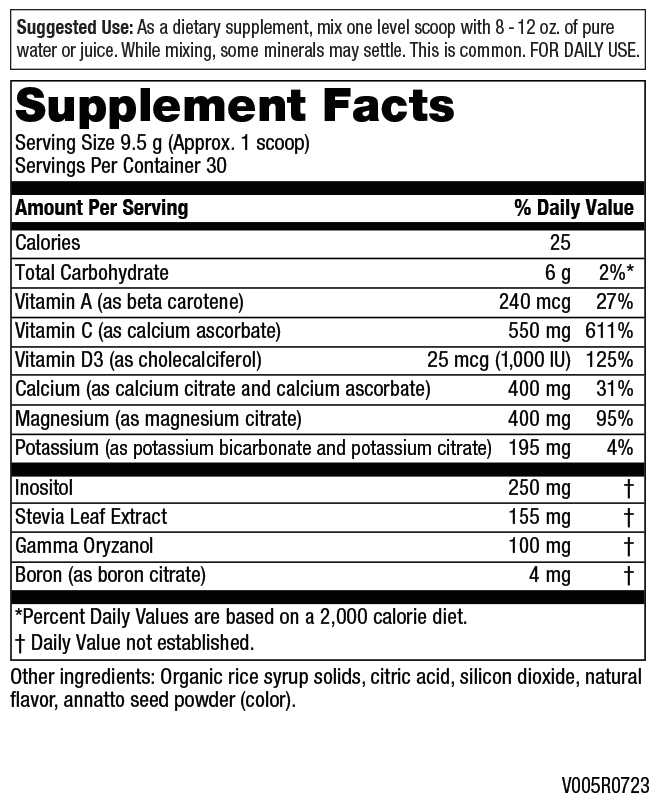 The Super Saver Advantage:
Super Saver saves you 25% and Discounted Shipping
With Super Saver you enjoy the convenience of automatic delivery and you save at least 25%! You will automatically receive a fresh supply at the shipping frequency you select. You are in charge, and you can customize or cancel your order at any time.
Order Line (24 Hr): 1-800-256-6102 Customer Care: 1-888-769-7873
Customer Care Hours: Mon-Thu 9am-9pm ET,
Fri 9am-7pm ET, Sat 9am-5pm ET
200 Terminal Drive, Plainview, NY 11803 © 2014 Purity Products
*These statements have not been evaluated by the Food and Drug Administration. These products are not intended to diagnose, treat, cure or prevent any disease.