Brain Vitality Powder
Supports Cell Membrane Signal Receptors and Healthy Mental Alertness*
Promotes Healthy Recall, Focus and Positive Mood*
Supports Concentration and Mental Clarity*
The cutting edge ingredients in the Brain Vitality Super Formula™ supports healthy memory, focus and recall*
Read More
Package Description:
50 Grams Powder, 50 day supply
Serving Size:
1 gram
Number of Servings:
50
Availability:
IN STOCK
Leaves warehouse
in 1-2 business days.
The cutting edge ingredients in the Brain Vitality Super Formula™ supports healthy memory, focus and recall*. By harnessing two top nutritional factors for supporting brain health, we have created a world class brain formula to support neuron health and healthy neurotransmitter activity.*
Brain Vitality Super Formula™ Supports:
Cell Membrane Signal Receptors and Healthy Mental Alertness *
Healthy Recall, Focus and Positive Mood*
Concentration and Mental Clarity*
**
This product should not be used by those with seizure disorders as it supports brain activity.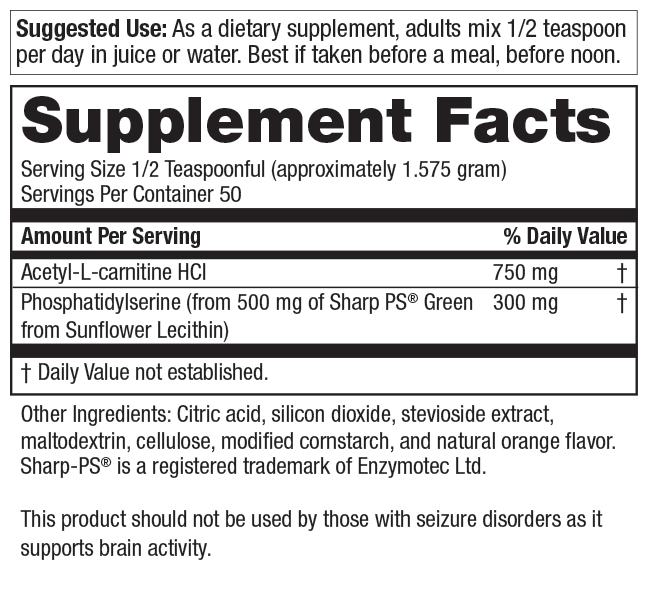 The Super Saver Advantage:
Super Saver saves you 25% and Discounted Shipping
With Super Saver you enjoy the convenience of automatic delivery and you save at least 25%! You will automatically receive a fresh supply at the shipping frequency you select. You are in charge, and you can customize or cancel your order at any time.
Order Line (24 Hr): 1-800-256-6102 Customer Care: 1-888-769-7873
Customer Care Hours: Mon-Thu 9am-9pm ET,
Fri 9am-7pm ET, Sat 9am-5pm ET
200 Terminal Drive, Plainview, NY 11803 © 2012 Purity Products
*These statements have not been evaluated by the Food and Drug Administration. These products are not intended to diagnose, treat, cure or prevent any disease.