Amazing Oranges - Powder - with 500mg Vitamin C
Supports Healthy Energy Levels*
Promotes Endurance and Stamina and a Healthy Immunity*
Supports Healthy Cardiovascular Function*
This antioxidant rich, triple action blend features 3 classes of phytonutrients - Carotenoids, Polyphenols and Bioflavonoids - amplified with Vitamins C and D to support healthy energy, endurance and mental clarity.
Read More
Package Description:
279g, 30 day supply
Serving Size:
1 scoop, 9.3 grams
Number of Servings:
30
Availability:
IN STOCK
Leaves warehouse
in 1-2 business days.
Amazing Oranges™ Citrus Burst Helps To Support:
Healthy Energy Levels*
Endurance and Stamina*
Mental Clarity*
Healthy Cardiovascular Function*
Healthy Immune Function*
Alive, Alert, Active, and Vital
Enjoy an energizing glass of Amazing Oranges anytime you want to feel alive, alert, active and vital. This antioxidant-rich blend features a wide array of phytochemicals and is lushly endowed with Bioflavonoids and Carotenoids, two classes of very biologically active compounds naturally found in plants. The formula is amplified with Vitamins C & D and augmented with the addition of time-tested botanical ingredients to support healthy energy levels, endurance, cognitive activity, cardiovascular wellness, and optimal immune function.*
Try our new Amazing Orange Stick Packs in bottled water (see link on the right) or mix a tablespoon of Amazing Oranges from the canister in pure water and – PRESTO – you have a delicious drink that provides a cornucopia of fruit and vegetable concentrates, along with vitamins and energizing herbs such as Rhodiola, Panax ginseng, and Green Tea.
New & Improved - The Amazing Orange Difference
Amazing Oranges™ delivers 500 mg of Vitamin C per serving - that's over 6X more than a glass of orange juice. Vitamin C is essential for the formation of healthy connective tissue and cartilage as well as supporting healthy immunity.* With 7X more Vitamin C than the leading Vitamin C fortified Sports Drink and 80X more Vitamin C than an Apple, fuel your body with an elite array of super fruits, Vitamin C, Vitamin D and Beta Carotene found only in Amazing Oranges™.
With Color Comes Flavor and Health!
Amazing Oranges is bursting with numerous orange and yellow fruits and vegetables that provide more than just color—they provide Health! Polyphenols and Carotenoids are colorful components of the fruits and vegetables that keep this formula packed with healthful factors. Purity's "patented flavor technology" has also locked in great taste from some of nature's prized fruits: oranges, peaches, tangerines, cantaloupe, pineapple, clementines, papaya, apricot, mango, kumquat, persimmons, and nectarines. Contributing to the orange-yellow carotenoid theme in Amazing Oranges are several vegetables: carrots, yams, pumpkin, butternut squash, and rutabaga.
Provitamin Activity and Beyond
Fruits and vegetables spanning the yellow-orange-red spectrum are bestowed with many health-promoting qualities in part due to the carotenoid pigments providing their color. Some carotenoids, such as beta-carotene, have "provitamin A" activity because they can be converted into vitamin A in the intestine. Amazing Oranges provides a superior method of attaining vitamin A since provitamin A will not lead to a potentially unhealthy excess of the vitamin in your body that is sometimes seen in people consuming "preformed vitamin A" supplements. Carotenoids are still being extensively researched, but so far we know that they have great antioxidant capacity, and that both non- and provitamin types of carotenoids support immune response.*1
Biofavonoids = Polyphenols in Action
Bioflavonoids are the most prominent of the polyphenols, including antioxidant-rich citrus flavonoids such as naringenin, hesperetin, chrysin, tangeretin, and rutin. Some of these flavonoids work towards cardiovascular health by promoting relaxation of blood vessels, while some reinforce other antioxidants—like vitamin E—that contribute to the health of blood vessels.2 Additionally, citrus flavonoids like hesperetin provide antioxidant support for the brain.*3
Another ingredient in Amazing Oranges, Green Coffee Bean Extract (GCE), has been shown to support cardiovascular health by directly acting on blood vessels. GCE wields polyphenolic action in its chlorogenic and ferulic acids, acting on nitric oxide in blood vessels in addition to usual antioxidant functions.*4
A Unique Proprietary Energy Blend
Purity has managed once again to formulate a unique blend of "old" & "new": adaptogen botanicals that have been used for centuries are combined in this formula with ingredients that have gained credibility through recent research. Adaptogens like Ginseng and Rhodiola have been consumed in China, India, and other areas of the world for thousands of years to afford the consumers with a healthy "non-specific" response to the stressors and bodily insults of everyday life. In other words, a steady intake of adaptogens over time is thought to work slowly in the background to help strengthen your constitution and eventually achieve an optimal reaction to whatever comes your way.*5
Tradition Meets Today's Demands
Many scientists agree that Panax ginseng root acts to promote homeostasis in the human state of health.6 Maintenance of mental qualities is one area where this botanical ingredient has shown some intriguing results; attentiveness, responsiveness, and several other parameters of cognitive function were affected in research subjects taking ginseng.7 Several studies have also shown that many ginsenosides (constituents of ginseng) have a positive impact on the immune status of subjects in clinical trials.*7, 8
Rhodiola rosea is another adaptogen featured in Amazing Oranges that has been traditionally used in northern regions of Eurasia for ages—and scientifically investigated in those parts of the world for decades. Russian researchers and trainers have concluded that Rhodiola is capable of enhancing physical endurance and energy resources of the body.9 Rhodiola rosea has gained a reputation not only as a physical tonic, but as an means of relieving everyday stress and fatigue that affects the mind too.* 10
Taurine—although it is just a simple amino acid—has gained some recognition for its promotion of cardiovascular health and antioxidant activity when given as a supplement in clinical studies.11 Taurine is responsible for a wide range of critical processes, including cellular functions in the brain and defense of mitochondria (cellular powerhouses) against stress.*12, 13
Fibersol-2
Amazing Oranges contains a special form of low viscosity, water-soluble, indigestible dextrin called Fibersol-2. One thing that makes this ingredient special is its prebiotic activity: it provides food for Bifidobacterium, the type of gut flora that you want more of in your gastrointestinal tract.14 Healthy gut flora contributes to better immune function and promotes overall health.15 Furthermore, because it is fiber, Fibersol-2 has been associated with some of the cardiovascular benefits of fiber.* 16
Powerful Exotic Fruit Blend
To round up and add the perfect finish, we've augmented further with a proprietary blend of organic fruits—two native to South America and one to Southeast Asia—all notable for their extremely potent antioxidant activity. Maqui berry provides antioxidant support for intracellular oxidative stress, while also showing immune-supportive potential.17 Amla fruit has been used traditionally in India for thousands of years, where it is still used in over 100 herbal formulations.18 Acai berry is the famed fruit from the Amazon containing over 3000 phytochemicals, providing superior antioxidant activity and the scientifically-backed benefits that you can expect from an abundant accumulation of phytochemicals.*19
This product contains no milk, eggs, soy, wheat, tree nuts, fish, shellfish or gluten.
References
Perera, C. and G. Yen, Functional Properties of Carotenoids in Human Health. International Journal of Food Properties, 2007. 10(2): p. 201-230.
Benavente-Garcia, O. and J. Castillo, Update on uses and properties of citrus flavonoids: new findings in anticancer, cardiovascular, and anti-inflammatory activity. J Agric Food Chem, 2008. 56(15): p. 6185-205.
Hwang, S.L. and G.C. Yen, Neuroprotective effects of the citrus flavanones against H2O2-induced cytotoxicity in PC12 cells. J Agric Food Chem, 2008. 56(3): p. 859-64.
Ochiai, R., et al., Green coffee bean extract improves human vasoreactivity. Hypertension Research, 2004. 27(10): p. 731-737.
Winston, D. and S. Maimes, Adaptogens: Herbs for Strength, Stamina, and Stress Relief. 2007, Rochester: Healing Arts Press. 324.
Choi, K.T., Botanical characteristics, pharmacological effects and medicinal components of Korean Panax ginseng C A Meyer. Acta Pharmacol Sin, 2008. 29(9): p. 1109-18.
Kiefer, D. and T. Pantuso, Panax ginseng. Am Fam Physician, 2003. 68(8): p. 1539-42.
Tan, B.K. and J. Vanitha, Immunomodulatory and antimicrobial effects of some traditional chinese medicinal herbs: a review. Curr Med Chem, 2004. 11(11): p. 1423-30.
Abidov, M., et al., Effect of extracts from Rhodiola rosea and Rhodiola crenulata (Crassulaceae) roots on ATP content in mitochondria of skeletal muscles. Bulletin of Experimental Biology and Medicine, 2003. 136(6): p. 585-587.
Perfumi, M. and L. Mattioli, Adaptogenic and central nervous system effects of single doses of 3% rosavin and 1% salidroside Rhodiola rosea L. extract in mice. Phytother Res, 2007. 21(1): p. 37-43.
Xu, Y.J., et al., The potential health benefits of taurine in cardiovascular disease. Exp Clin Cardiol, 2008. 13(2): p. 57-65.
Smayda, R., Contemporary review of therapeutic benefits of taurine. Journal of Applied Nutrition, 1999. 51(2): p. 27-60.
Palmi, M., et al., Taurine, taurine analogues, and mitochondrial function and dysfunction. Adv Exp Med Biol, 2006. 583: p. 469-79.
Fastinger, N.D., et al., A novel resistant maltodextrin alters gastrointestinal tolerance factors, fecal characteristics, and fecal microbiota in healthy adult humans. J Am Coll Nutr, 2008. 27(2): p. 356-66.
Ruemmele, F.M., et al., Clinical evidence for immunomodulatory effects of probiotic bacteria. J Pediatr Gastroenterol Nutr, 2009. 48(2): p. 126-41.
Prosky, L., When is dietary fiber considered a functional food? Biofactors, 2000. 12(1-4): p. 289-97.
Schreckinger, M.E., et al., Berries from South America: A Comprehensive Review on Chemistry, Health Potential, and Commercialization. J Med Food, 2010.
Kumaran, A. and R.J. Karunakaran, Nitric oxide radical scavenging active components from Phyllanthus emblica L. Plant Foods Hum Nutr, 2006. 61(1): p. 1-5.
Schauss, A.G., Açai: An Extraordinary Antioxidant-Rich Palm Fruit. 2008: BioSocial Publications. 119.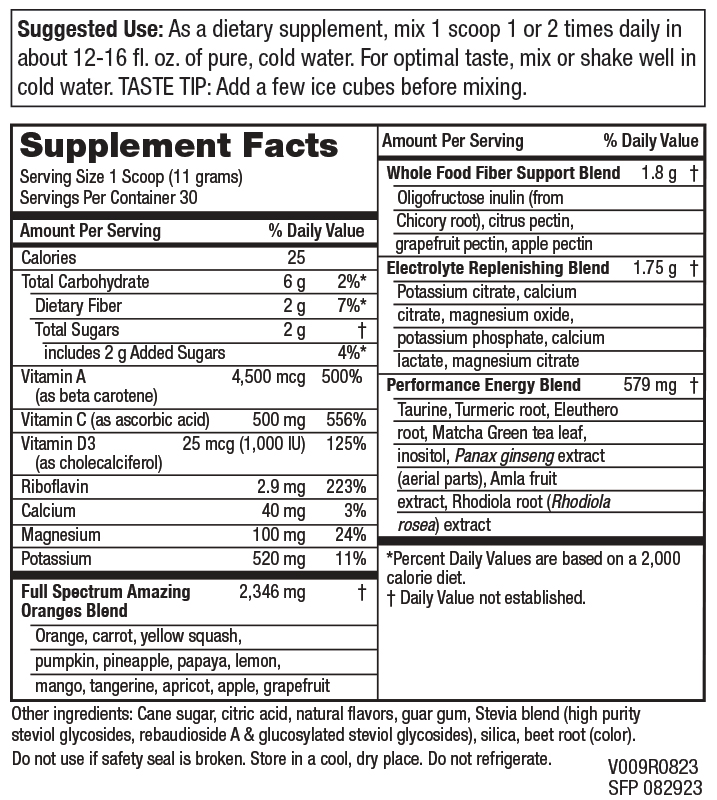 The Super Saver Advantage:
Super Saver saves you 25% and Discounted Shipping
With Super Saver you enjoy the convenience of automatic delivery and you save at least 25%! You will automatically receive a fresh supply at the shipping frequency you select. You are in charge, and you can customize or cancel your order at any time.
Order Line (24 Hr): 1-800-256-6102 Customer Care: 1-888-769-7873
Customer Care Hours: Mon-Thu 9am-9pm ET,
Fri 9am-7pm ET, Sat 9am-5pm ET
200 Terminal Drive, Plainview, NY 11803 © 2014 Purity Products
*These statements have not been evaluated by the Food and Drug Administration. These products are not intended to diagnose, treat, cure or prevent any disease.