Ultimate Curcumin Formula
Featuring the scientifically advanced, patented bioavailable BCM-95® Bio Curcumin®
Supports Joint Comfort, Joint Health and Healthy Cellular Function*
Supports Cardiovascular Health, Brain Health and Liver Health*
This dynamic formula includes 500 mg of BCM-95
®
Bio-Curcumin
®
combined with 300 mg of Alpha Lipoic Acid, 1,000 IU of Vitamin D3, 2,000 mcg of Biotin, and 111.11 mg of FruiteX-B
®
PhytoBoron.
Read More
Package Description:
60 caps, 30 day supply
Serving Size:
2 Capsules
Number of Servings:
30
Availability:
IN STOCK
Leaves warehouse
in 1-2 business days.
BCM-95® Curcumin® – Your Joints and Cells Best Friend
In the pantheon of evidence based nutritional supplements you will find ingredients like Omega-3 Essential Fatty acids, Vitamin D, Co-Enzyme Q10, Fiber and other select nutrients. But this list would be incomplete if it did not include – well absorbed CURCUMIN -- a new rising star in the family of nutraceuticals validated by multiple trials and human clinical studies. While Curcumin has had dozens of studies conducted on its benefits for healthy cells and joints, curcumin has one limitation: ordinary curcumin extracts are poorly absorbed, which means you need to take large amounts to see the benefits found in studies. However, the absorption and retention of BCM-95® Bio-Curcumin® found in the ULTIMATE CURCUMIN FORMULA has been demonstrated in published human clinical trials to deliver superior bio-availability.
As a modulator and influencer of genes and cells, Curcumin plays a vital role in upstream pathways promoting wellness by helping to support the body's natural biochemistry that maintains healthy joint tissue comfort and function. Included in the pathways that Curcumin can help modulate is the over-expression of a protein molecule calls Nuclear Factor-Kappa B or NF-kappaB. Like a switch, properly absorbed Curcumin can support healthy levels of these proteins ultimately supporting one of Curcumins most prized benefits – its ability to keep joints healthy, comfortable and limber.*
Turmeric extracts and curcumin have been researched in numerous scientific studies and clinical trials and shown to support:
Joint Comfort and Function*
Healthy Immune Function*
Cellular Health*
Cardiovascular Health*
Liver Health*
Healthy Aging*
BCM-95® Curcumin® – Several TIMES Better Absorption than Regular Curcumin - see Graph
The subject of published, cross-over, clinical trials, BCM-95® Curcumin® is a superior standardized extract of Curcuma longa rhizome that contains 95 percent Curcumin in a highly bioavailable form. BCM-95 is several times better absorbed than regular curcumin based on nutritional research conducted in published trials. Note area under curve in diagram below. Curcumin is a family of highly beneficial active ingredients found in the popular spice Turmeric. Commonly sold as a bright yellow powder, Turmeric, the underground stem (rhizome) of Curcuma longa, belongs to the same family as ginger. With a historical use stretching back over at least three centuries, Turmeric has long been prized as a valued herb in the folk traditions and in the diet of the Far East.
Alpha Lipoic Acid - the "Universal Antioxidant"
Its broad-reaching benefits for maintaining healthy tissues throughout the body make curcumin a valuable dietary ingredient for healthy aging.* As an antioxidant and tissue health protector, alpha lipoic acid is an ideal partner to Curcumin that works to regenerate antioxidants in the body, thus giving the Ultimate Curcumin Formula a dynamic one-two punch for knocking out free radicals and promoting wellness.*
Alpha lipoic acid, also called "lipoic acid or simply "A.L.A.", is a vitamin like fatty acid related to the B-complex vitamins. ALA is known as the "Universal Antioxidant" due to its ability to neutralize free radicals in both watery environments, such as the interior of the cell, and fatty environments like the cell membrane. This property makes ALA a highly beneficial nutrient for protecting the entire cell against oxidative stress caused by free radicals.* ALA functions as a co-enzyme in the energy-generating mechanism within the cells that produces energy for cellular metabolism.* Research on ALA is extensive, with studies showing it has other beneficial properties in addition to its role as an antioxidant. ALA helps maintain levels in the cell of glutathione, a tripeptide protein that works as a workhorse in the cells antioxidant defense system.* Experience the benefits of the the Ultimate Curcumin Formula, featuring 500 mg of BCM-95® Bio-Curcumin®, plus A.L.A, Taurine, Vitamin D and Biotin. Enjoy a host of health benefits this truly wondrous combination formula affords to those who discover it.
Don't Forget Boron
A British scientist in the late 20th century looked at data from several countries and realized that joint and bone health are adversely affected by modern agricultural and food processing practices. Specifically, he was concerned about lower amounts of the element Boron in our food supply. Ultimate Curcumin™ includes FruiteX-B®, a patented boron/calcium complex that has been shown to maintain joint comfort and flexibility and promote healthy bones.* FruiteX-B® is our flagship, patented, plant mineral Boron complex, and represents a significant nutritional breakthrough for joint and bone support. FruiteX-B® boasts clinically measured bioactivity and bioavailability, with over a dozen published studies on its unique properties and potential health benefits, especially for conditions linked to joint comfort, bone health and cardiovascular function. Extensive and ongoing research indicates FruiteX-B® improves WOMAC and McGill Joint Comfort scores in as little as 7 days.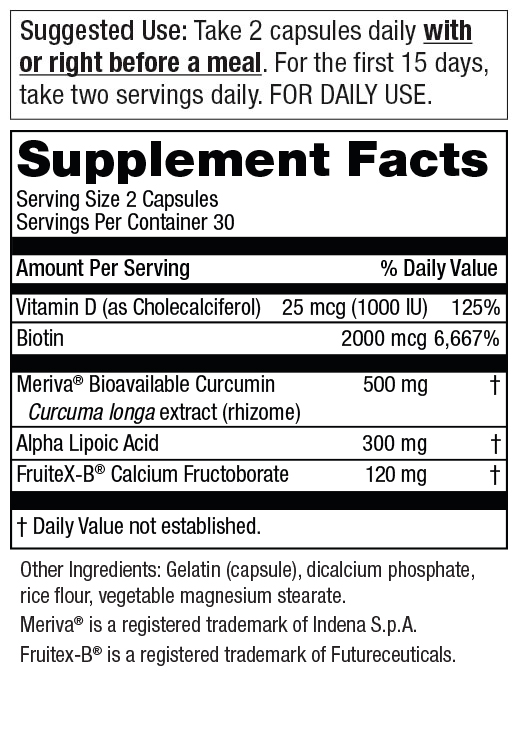 The Super Saver Advantage:
Super Saver saves you 25% and Discounted Shipping
With Super Saver you enjoy the convenience of automatic delivery and you save at least 25%! You will automatically receive a fresh supply at the shipping frequency you select. You are in charge, and you can customize or cancel your order at any time.
Order Line (24 Hr): 1-800-256-6102 Customer Care: 1-888-769-7873
Customer Care Hours: Mon-Thu 9am-9pm ET,
Fri 9am-7pm ET, Sat 9am-5pm ET
200 Terminal Drive, Plainview, NY 11803 © 2014 Purity Products
*These statements have not been evaluated by the Food and Drug Administration. These products are not intended to diagnose, treat, cure or prevent any disease.