Advanced D for Canada without Vitamin K
Advanced Bone and Muscle Support*
Natural Immune Support*
Cardiovascular, Brain and Energy Support*
Advanced D for Canada without Vitamin K provides a healthy dose of cholecalciferol (Vitamin D3) backed by nutrients that work in tandem with this crucial vitamin to support the health of numerous systems within the body.
Read More
Package Description:
60 Veg. Caps
Serving Size:
2 Capsules
Number of Servings:
30
Availability:
IN STOCK
Leaves warehouse
in 1-2 business days.
The Vitamin D3 Revolution
Vitamin D's influence on key biological functions vital to one's health and well-being mandates that Vitamin D3 supplementation can no longer be ignored by individuals striving to achieve and maintain a greater state of health. The research on this vitamin keeps coming: cardiovascular health, immune support, bone and joint health, and much more.* This advancement in scientific knowledge about D3 is especially notable when we consider that we are living in a time of widespread Vitamin D insufficiency.1 Formulated by John Cannell, MD, Purity's Vitamin D complex is a synergistic blend of targeted nutrients to complement many of Vitamin D3's health benefits.
Why Dr. Cannell's Advanced D is Best in Class
Advanced D™ provides a powerful dose of cholecalciferol (Vitamin D3) backed by nutrients that work in tandem with this crucial vitamin to support the health of numerous systems within the body. At the foundation of its design as an answer to widespread Vitamin D deficiency are found a set of other nutrients - key cofactors - added to compliment the physiological actions of D3. Dr Cannell's Advanced D™ orchestrates combined actions to make sure that optimal influence is present towards bone, muscle, and metabolic function.*
The Advanced D Difference - Key CoFactors
Vitamin D is a team player inside the human body, relying on proper levels of other nutrients - key cofactors - to fulfill its potential in supporting several areas of health. Magnesium is needed by enzymes that metabolize Vitamin D. Magnesium is another nutrient that may run low in the diet. Low dietary Magnesium can contribute to lower levels of circulating Vitamin D.
Dr Cannell's Advanced D™ presents a highly bioavailable form of the mineral magnesium as Magnesium Citrate. Zinc plays a role in the Vitamin D receptor, and Boron supports Vitamin D metabolism.*
Going Beyond D3
In addition to the powerful dosage of Vitamin D3, Dr. Cannell's Advanced D Formula™ delivers a combination of several cutting edge nutritional ingredients shown to synergistically help promote proper Vitamin D metabolism and utilization in the body.
Magnesium Citrate
As is the case with Vitamin D, knowledgeable healthcare providers are starting to learn that contemporary dietary patterns leave much of the population with insufficient magnesium consumption. Low dietary magnesium may also contribute to a lower level of circulating Vitamin D—yet another barrier to conserving an ideal, strong skeletal structure.2 Magnesium is involved in over 300 enzymatic processes in human cells, and Dr. Cannell's Advanced D Formula™ features Magnesium Citrate because it is a form of the mineral shown to be advantageous in terms of absorption.3 Magnesium is well known for its contributions to bone health, neuromuscular function, cardiovascular health, and many other essentials of whole-body health, while also becoming recognized for its relation to healthy energy levels and other aspects of a normal metabolism.4, 5*
Taurine
Taurine is an important amino acid found in many organs, being most concentrated in the heart and the retina of the eye. Taurine is active in muscle function, as well as in maintaining optimal function of nerve tissue, lending itself to neurotransmitter balance. Extensive experimental information has been gathered (from both animal and human studies) in examining the positive, beneficial relationship between taurine supplementation and cardiovascular health.6*
Don't Forget Boron
A British scientist in the late 20th century looked at data from several countries and realized that joint and bone health are adversely affected by modern agricultural and food processing practices. Specifically, he was concerned about lower amounts of the element Boron in our food supply.7, 8 Dr. Cannell's Advanced D Formula™ includes FruiteX-B®, a patented boron/calcium complex that has been shown to support normal Vitamin D metabolism, maintain joint comfort and flexibility, and promote healthy bones.* Pilot clinical studies described improvement in Vitamin D status and more freedom of movement—an expression of joint function—in subjects consuming FruiteX-B&reg:.9
Support for Your Bones and Muscles*
Without adequate Vitamin D intake, the body cannot properly metabolize Calcium. Vitamin D strengthens bones and also may enhance muscle strength because of its direct effect on calcium transport in muscles. Because of its unique interplay with Calcium, Vitamin D can support the health of both of these important structures. Other ingredients in Dr. Cannell's Advanced D Formula™ further support the skeletal and muscular systems.*
Powerful Immune Support*
Vitamin D also has an interesting role as a regulator of the immune system.10 D3 has unique immune-modulating properties that can support long-term health and wellness by supporting innate immunity. For additional support, Dr. Cannell's Advanced D Formula™ contains Zinc, another immune-supporting nutrient. The poor performance of immune cells seen in zinc deficiency emphasizes the importance of this mineral for good health.11*
Heart and Cardiovascular Support*
Recent research is increasingly pointing towards the importance of Vitamin D in maintaining healthy heart function, as individuals having a better Vitamin D status tend to have more healthy function of the cardiovascular system.12 This D3 premise of Dr. Cannell's formulation is complimented by the Zinc, Quercetin and FruiteX-B® functioning as antioxidants, doing their parts in enhancing the stability of cell membranes throughout the cardiovascular system.13*
Now Available Without Vitamin K2
Dr. Cannell's Advanced D is now available without Vitamin K. For those customers on blood thinning medications or advised by their doctors to avoid Vitamin K, this is the ideal Vitamin D supplement for you.*
---
Humans make thousands of units of vitamin D within minutes of whole body exposure to sunlight. From what we
know of nature, it is unlikely such a system evolved by chance.



Whoever wishes to investigate medicine properly should proceed thus: in the first place to consider the seasons
of the year.

Hippocrates, the father of medicine (circa 400 B.C.).
---
References
Goldstein, D., The epidemic of Vitamin D deficiency. J Pediatr Nurs, 2009. 24(4): p. 345-6.
Rude, R.K., F.R. Singer, and H.E. Gruber, Skeletal and hormonal effects of magnesium deficiency. J Am Coll Nutr, 2009. 28(2): p. 131-41.
Lindberg, J.S., et al., Magnesium bioavailability from magnesium citrate and magnesium oxide. J Am Coll Nutr, 1990. 9(1): p. 48-55.
Musso, C.G., Magnesium metabolism in health and disease. Int Urol Nephrol, 2009. 41(2): p. 357-62.
Volpe, S.L., Magnesium, the metabolic syndrome, insulin resistance, and type 2 diabetes mellitus. Crit Rev Food Sci Nutr, 2008. 48(3): p. 293-300.
Xu, Y.J., et al., The potential health benefits of taurine in cardiovascular disease. Exp Clin Cardiol, 2008. 13(2): p. 57-65.
Newnham, R.E., Agricultural practices affect arthritis. Nutr Health, 1991. 7(2): p. 89-100.
Newnham, R.E., Essentiality of boron for healthy bones and joints. Environ Health Perspect, 1994. 102 Suppl 7: p. 83-5.
FruiteX-B. Scientific investigation of FruiteX-B (Calcium fructoborate). 2009 March 4, 2010;
Cantorna, M.T., et al., Vitamin D status, 1,25-dihydroxyVitamin D3, and the immune system. Am J Clin Nutr, 2004. 80(6 Suppl): p. 1717S-20S.
Prasad, A.S., Zinc: role in immunity, oxidative stress and chronic inflammation. Curr Opin Clin Nutr Metab Care, 2009.
Judd, S.E. and V. Tangpricha, Vitamin D deficiency and risk for cardiovascular disease. Am J Med Sci, 2009. 338(1): p. 40-4.
Scorei, R., et al., In vitro effects of calcium fructoborate on fMLP-stimulated human neutrophil granulocytes. Biol Trace Elem Res, 2007. 118(1): p. 27-37.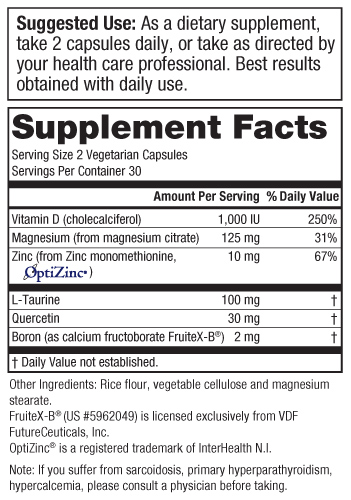 The Super Saver Advantage:
Super Saver saves you 25% and Discounted Shipping
With Super Saver you enjoy the convenience of automatic delivery and you save at least 25%! You will automatically receive a fresh supply at the shipping frequency you select. You are in charge, and you can customize or cancel your order at any time.
Order Line (24 Hr): 1-800-256-6102 Customer Care: 1-888-769-7873
Customer Care Hours: Mon-Thu 9am-9pm ET,
Fri 9am-7pm ET, Sat 9am-5pm ET
200 Terminal Drive, Plainview, NY 11803 © 2014 Purity Products
*These statements have not been evaluated by the Food and Drug Administration. These products are not intended to diagnose, treat, cure or prevent any disease.