Advanced Cal HA Bone and Joint Formula
Supports Strong Healthy Bones*
Healthy Joint and Cartilage Support*
Supports Healthy Connective Tissue*
Purity's Advanced Cal-H.A. is an advanced Calcium and Hyaluronic Acid Formula which delivers powerful nutritional support for bone health and healthy flexible joints.
Read More
Package Description:
90 Tablets, 30 day supply
Serving Size:
3 Tablets
Number of Servings:
30
Availability:
IN STOCK
Leaves warehouse
in 1-2 business days.
The Benefits of Advanced Cal-H.A.™
Purity's Advanced Cal-H.A™. is an advanced Calcium and Hyaluronic Acid (H.A) Formula which delivers powerful nutritional support for bone health and joint health*. By blending the joint-supporting power of Hyaluronic Acid with a comprehensive slew of key bone-supporting nutrients, including Calcium, Magnesium, Boron, Vitamin C, D, and more, we've taken bone and joint support to an entirely new level*.
H.A. & Joint Health
In the body, Hyaluronic Acid is responsible for the cushioning properties of healthy joint cartilage. This important gel-like substance, which plays an important role in supporting joint health, often diminishes as a result of normal aging.* Hyaluronic Acid functions as the "glue" that keeps your cells together. It is the key component of collagen and fills the spaces between your cells.
Calcium and Key Co-Factors For Healthy Bones*
Purity's Advanced Cal-H.A™. Formula also delivers specially targeted nutrients including 800 IU of Vitamin D, Magnesium and Boron to maintain both bone density and joint health.*
Hylauronic Acid supports healthy joint function*
Calcium helps build strong bones*
Vitamin D and Calcium together strengthen normal bone density*
Calcium and magnesium are essential for the function of every cell throughout the body*
Magnesium is a cofactor for hundreds of essential metabolic reactions in the body*
Vitamin C is required for collagen synthesis, an important structural component of bones, tendons, and ligaments*
H.A. is Not Only for Joints, It's Also for Beauty From Within
Hyaluronic acid is not just for joints, but also an essential component of skin that keeps it healthy, supple, hydrated and youthful. Now there's dramatic visible proof of the power of BioCell Collagen® as a safe, nutritional source of H.A. that works effectively from within to help keep skin beautiful.*
A recent 12-week clinical trial was conducted to learn more about how taking BioCell Collagen® daily changes skin appearance for the better. A study group of 26 healthy women, aged thirty five to fifty nine, took 1000 mg of BioCell Collagen® per day (the exact same dose as found in Purity's HA Formulas).
New Study Illustrates How HA Visibly Reduces Wrinkles within 12 Weeks
After just 12 weeks of oral supplementation with 1000 mg of BioCell Collagen®, improvements were seen in facial aging signs such as wrinkling and lines, as well as the collagen content of the dermal skin layer. Using both quantitative and qualitative measurements, the investigators found that BioCell Collagen ® produces healthier, younger looking facial skin through multiple key mechanisms. BioCell Collagen® helps increase hydration and collagen to reduce wrinkles and unwanted lines, resulting in a healthier, smoother skin texture. Additionally, it reduces dryness and scaling and promotes optimal microcirculation in the skin. BioCell Collagen® thus improves beauty on the outside by supporting healthy skin from the inside.*
As they say, a picture is worth a thousand words, and the striking photos below are positive proof of the beautification power of BioCell Collagen®.
Advanced Cal-H.A.™ Bone and Joint Formula Supports:
Healthy Bones*
Healthy Joints and Cartilage*
Healthy Connective Tissue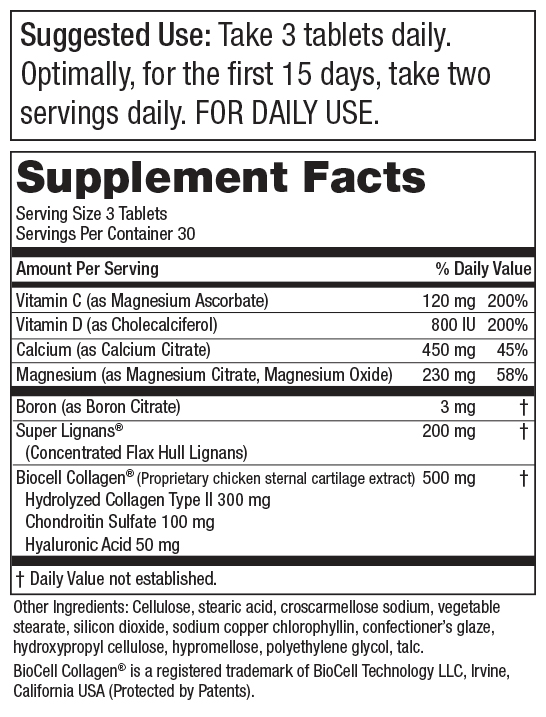 The Super Saver Advantage:
Super Saver saves you 25% and Discounted Shipping
With Super Saver you enjoy the convenience of automatic delivery and you save at least 25%! You will automatically receive a fresh supply at the shipping frequency you select. You are in charge, and you can customize or cancel your order at any time.
Order Line (24 Hr): 1-800-256-6102 Customer Care: 1-888-769-7873
Customer Care Hours: Mon-Thu 9am-9pm ET,
Fri 9am-7pm ET, Sat 9am-5pm ET
200 Terminal Drive, Plainview, NY 11803 © 2012 Purity Products
*These statements have not been evaluated by the Food and Drug Administration. These products are not intended to diagnose, treat, cure or prevent any disease.