Relax & Calm for Dogs
A Fast-Acting Calming Anti-Stress Supplement for Dogs
Helps Alleviate Stress Related Behavior Problems
Helps Decrease Behavior Problems Such as Anxiety, Hyperactivity, Excess Barking, Excessive Scratching, and Destructive Behavior.
Relax & Calm for dogs helps alleviate stress related behavior problems without changing your dog's personality.
Read More
Package Description:
4 ounces
Serving Size:
See description below.
Number of Servings:
Varies by size of dog.
Availability:
IN STOCK
Leaves warehouse
in 1-2 business days.
To achieve the highest standard in specifications of finished product, our manufacturer adheres to the highest quality control measures, including:

·Animal products- We follow NASC regulations & are NASC certified (Best Manufacturing Practices Certification) and Audited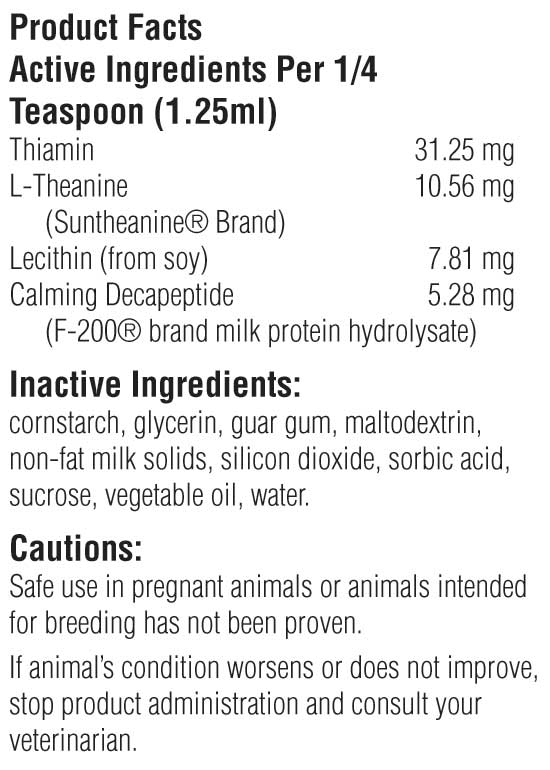 The Super Saver Advantage:
Super Saver saves you 25% and Discounted Shipping
With Super Saver you enjoy the convenience of automatic delivery and you save at least 25%! You will automatically receive a fresh supply at the shipping frequency you select. You are in charge, and you can customize or cancel your order at any time.
Order Line (24 Hr): 1-800-256-6102 Customer Care: 1-888-769-7873
Customer Care Hours: Mon-Thu 9am-9pm ET,
Fri 9am-7pm ET, Sat 9am-5pm ET
200 Terminal Drive, Plainview, NY 11803 © 2012 Purity Products
*These statements have not been evaluated by the Food and Drug Administration. These products are not intended to diagnose, treat, cure or prevent any disease.